Gujarati movie Come On Baka promotion in Ahmedabad
Recently in Ahmedabad, movie promotion of Come On Baka was held.
The movie is about giving a  call to netizen who needs to run for country and do something progressive.
The Gujarati movie is made under the banner of Raj Films Frameworks. It is produced and directed by Bharg K Shah.
The movie is featuring Ratna Rabari, Atul Lakhani, Ramzan Rahuma and Raja Christian.
Background music is by Jaldeep Shah.
Starcast of the movie interacted with media during a press meet.
The movie is released on 25th August in theaters.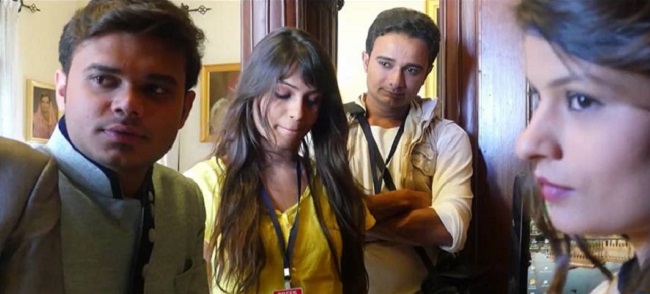 SIMILAR LINKS "Gujarati","movie","promotion","Ahmedabad"
Gujarati Movie Come On Baka Film #promotion in #Ahmedabad; interaction with starcast https://www.youtube.com/watch?v=U9pJGBNuNbg&t=53s
Poster Launched of upcoming Gujarati Film "#ShubhAarambh" in #Ahmedabad more at http://goo.gl/vHC5Va
Gujarati Film "#CarryOnKesar" Trailer launched in #Ahmedabad watch video at https://goo.gl/8WSZoX #COK18Nov
#Gujarati Film #JePanKahishESachujKahish Trailer Launched in #Ahmedabad watch video at https://goo.gl/xXkQ4m
#Gujarati Film #PelaAdhiAkshar Music Launched in #Ahmedabad watch video at https://goo.gl/cOuzT9
#Ahmedabad: #Music #launch of Duniyadari Gujarati #film https://goo.gl/KnN1C0
#Gujarati film "Tuu To Gayo" Music Launched in #Ahmedabad watch video at http://goo.gl/9ZRmcn #TuuToGayo
#Gujarati film "#FodiLaishuYaar" #Trailer and #Music Launched in #Ahmedabad watch video at https://goo.gl/idA6nX
Singer #DevangPatel launches music of his upcoming #Gujarati Film #GrandHali in #Ahmedabad watch video at https://goo.gl/hTH1CC
Urban #Gujarati Film #Lavari Trailer Launched in #Ahmedabad watch video at https://goo.gl/4bCj4i
#Gujarati Film "#ShubhAarambh" Music Launched in #Ahmedabad watch video at http://goo.gl/nHaJf5
#Gujarati Film #Superstar Trailer and Music launched in #Ahmedabad more at https://goo.gl/KnZmek #RashamiDesai #DhruvinShah
Urban #Gujarati film #Commitment's #Music and #Trailer launched in #Ahmedabad watch video at https://goo.gl/ytPn5Y
#Gujarati Film "#AapneTohChhieBindaas" music launched in #Ahmedabad more at http://goo.gl/nV2b4g
#Ahmedabad: #Gujarati Film #DaavThaiGayoYaar #Music and #Trailer Launch more at http://goo.gl/lYWpVW
#Ahmedabad: #Director #DhwaniGautam announces new #Gujarati film '#TuuToGayo' watch video at http://goo.gl/r9TQve
Watch Upcoming #Gujarati Film #AapneTohChhieBindaas promotion in #Ahmedabad at http://goo.gl/a9jvSs
#Gujarati Film #OTaareee rolls out its official trailer in #Ahmedabad watch video at https://goo.gl/vNYLJP
#Ahmedabad: #Gujarati Film #ThaiJashe's #Censor Copy leaked; #FIR lodged more at http://goo.gl/GLUxSO
RJ Dhvanit plays Gujarati Film "Vitamin She"; movie promotion in Ahmedabad https://www.youtube.com/watch?v=mKkPPaDAZaI&t=71s
#Ahmedabad #Gujarati #Film promotion #policy welcome by Abhishek Jain-Gujarati https://youtu.be/T-SP_KT_wKE
#Ahmedabad #Gujarati Film promotion #policy welcome by Aarti Vyas-Hindi https://youtu.be/NUrwAjoC0xk
#Ahmedabad actor Manoj Joshi talks on new #Gujarati #Film promotion #policy https://youtu.be/In_qA_PrKko
#Ahmedabad: #Gujarati Iconic #Film #Awards #GIFA 2016 on 17th #December https://goo.gl/0aZSNv
#Gujarati #Literature #Festival on #Film based Theme in #Ahmedabad from Jan 8 to 10 http://goo.gl/B1KwyI #GLF
Watch Video: Music Launch event of #GujaratiFilm "#ThaiJashe" in #Ahmedabad at http://goo.gl/ovDl6O