Today early morning in Ahmedabad Gujarat CM Vijay Ruapni and Dy CM Nitin Patel took blessings of lord Jagannath before start of Rath Yatra procession.
Morning Aarti and Pa Hind ceremony were perfomred at Jagannath temple. Seva by Gujarat CM was done by sweeping with golden broom. Pa Hind ceremony was done by Gujarat CM for the first time.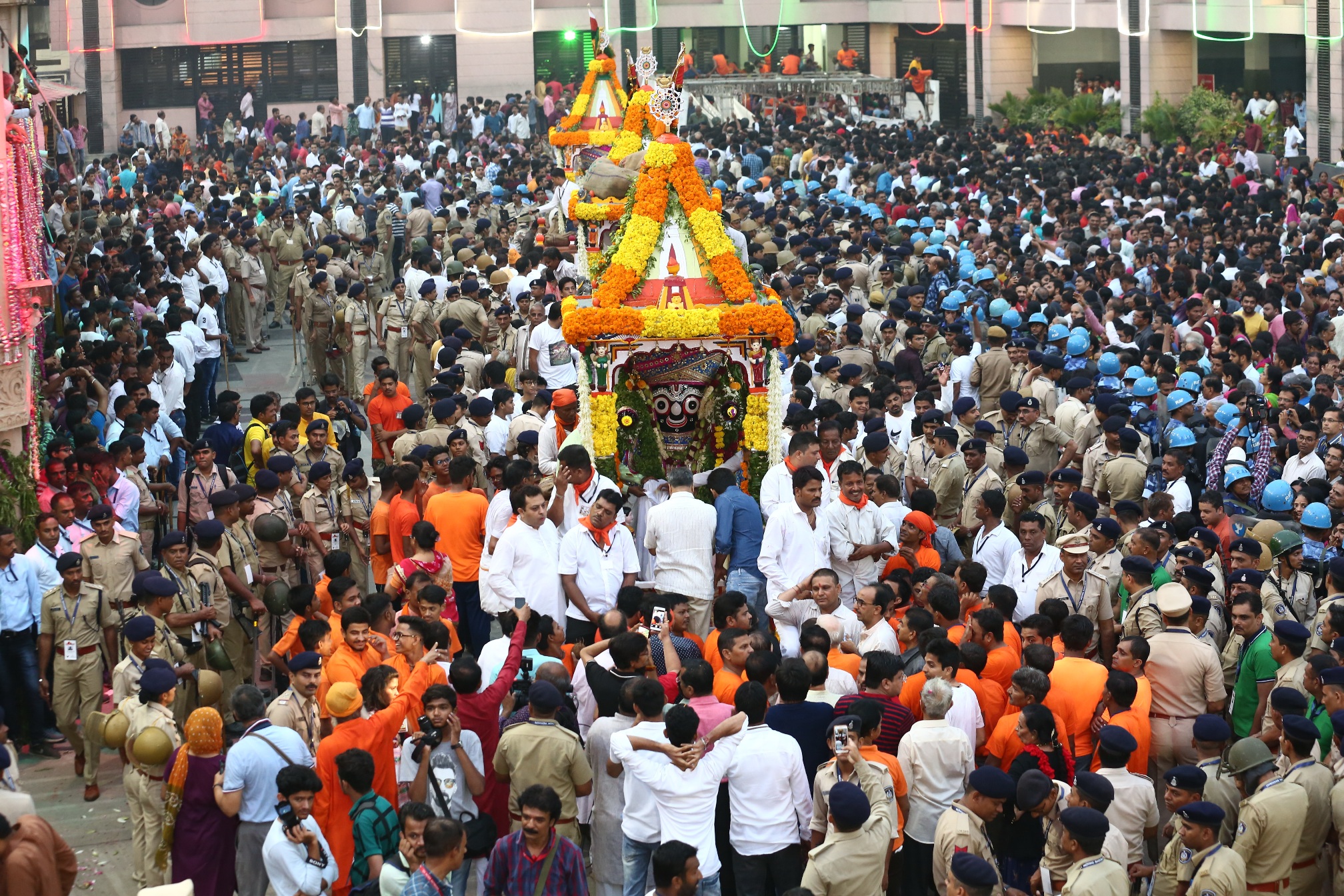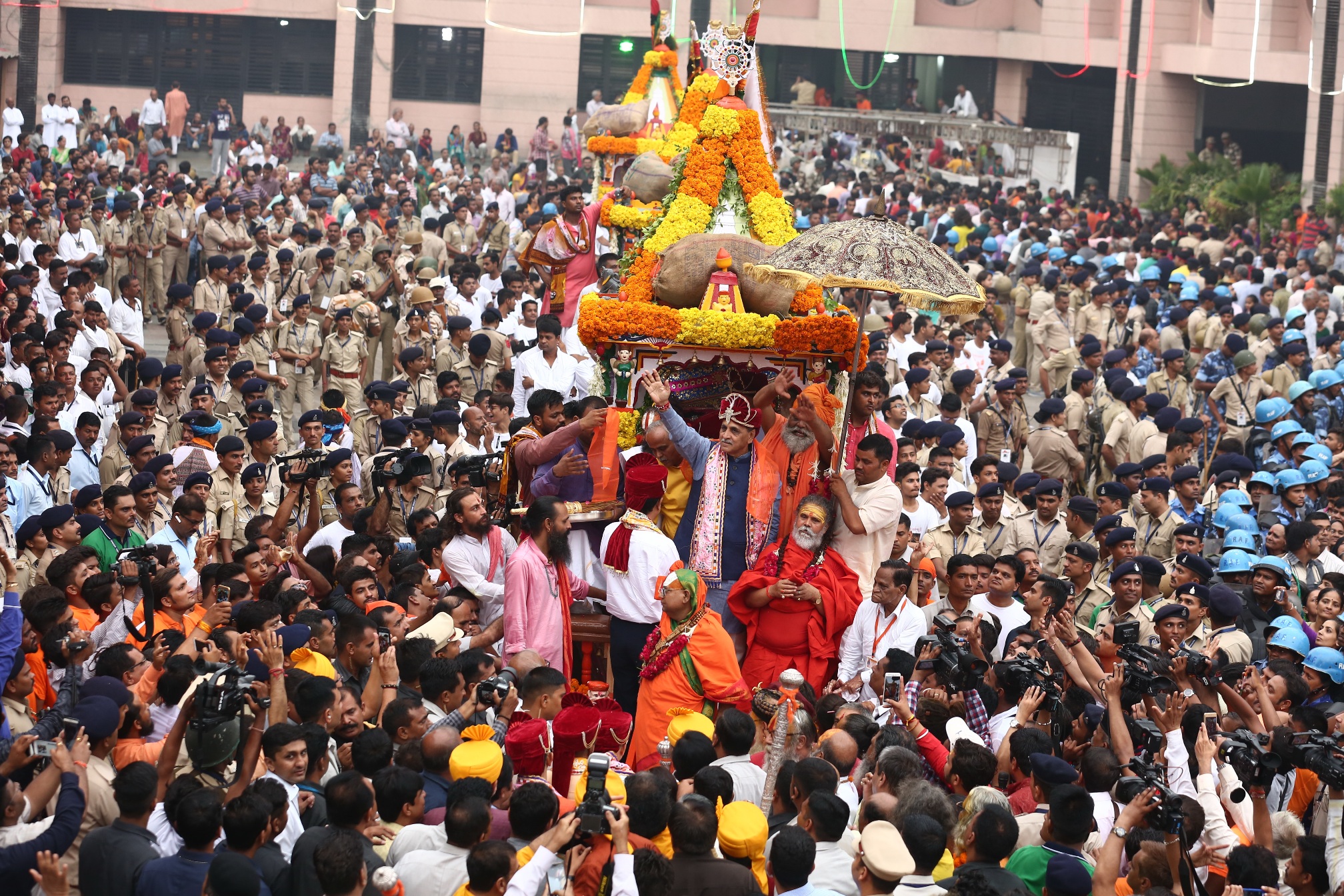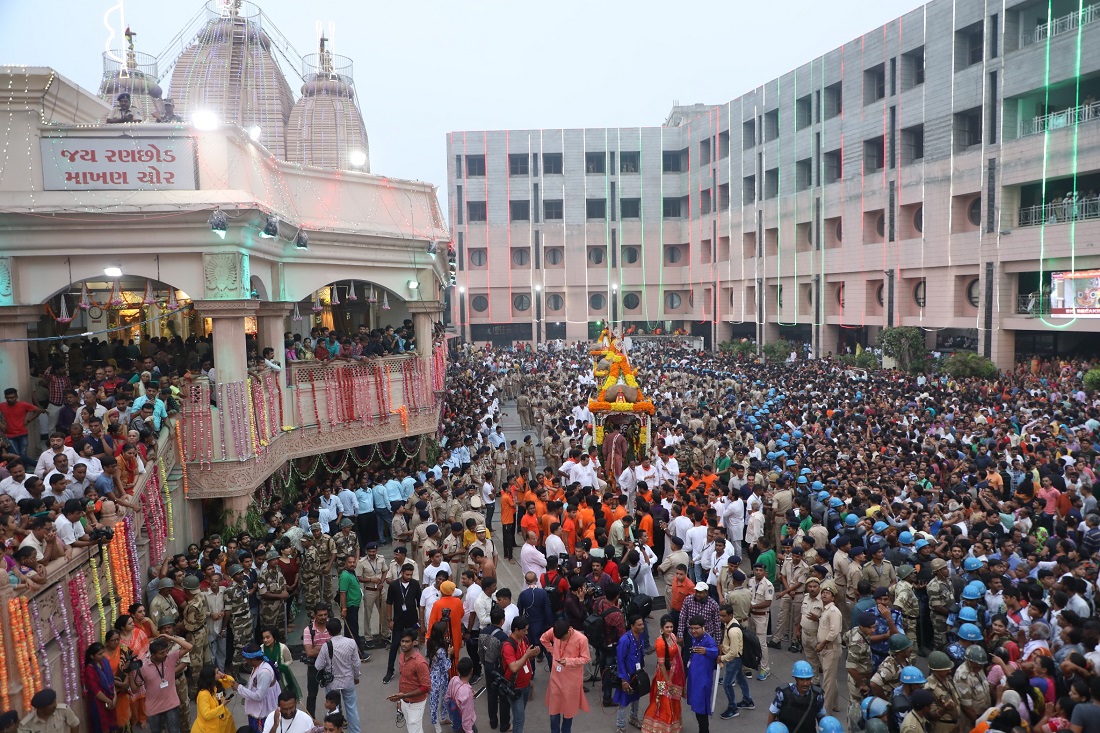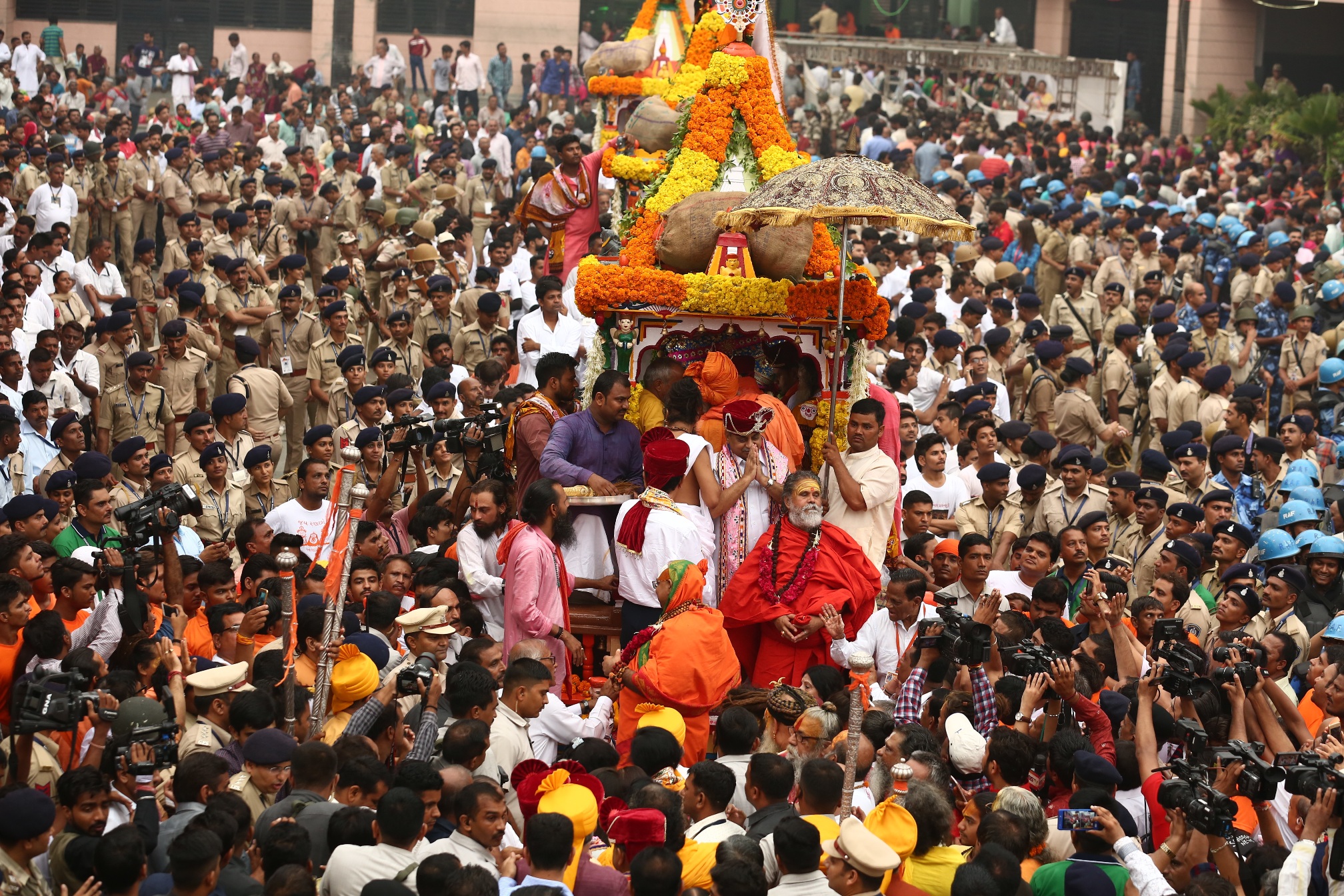 Rath Yatra started with slogans and chanting of Jay Ranchhod Makhan Chor by devotees.
Mahant Dilip Dasji Maharaj of Jagannath temple ties lords eyes with cloth during Netrotsav ceremony.

Preparations for 141th Rath Yatra procession of lord Jagannath is on in Ahmedabad city.
Early morning at 4:30 am prasad of Khichadi will be offered to lord Jagannath and at 5:45 am lord will be established in the chariot.
Rath Yatra will start at 7 am in the morning with Pahind ceremony by Gujarat Chief Minister Vijay Rupani and Deputy Chief Minister Nitin Patel at lord Jagannath temple in Jamalpur.
Benefit of  Darshan and Maha Aarti is taken by many devotees. They rush at the temple and offer their services in pulling Chariots of lord Jagannath, brother Balram and sister Shubhadra.
Prasad of 500 kg mug, 300 kg mango and 400 kg of cucumber will be served to devotees and people who come for Darshan of Rath Yatra procession.
In city, the Yatra will go along 22 km route from Jamalpur, God Limda, Astodia, Manekchowk, Raipur, Sarangpur, Kalupur, Prem Darwaja, Saraspur, Dariapur and Shahpur.  Saraspur is maternal home of lord Jagannath, will take rest for a few hours. Devotees will consume prasad of Dal, Bhat, Puri, Shak, Mohanthal, Phulwadi.  Devotees join the yatra with full enthusiasm and pull the chariots of lord Jagannath.
In the evening Rath Yatra will return to Jagannath temple and Mangla Aarti again will be performed. Prasad of Mug, Jamun, Pomegranate is served all throughout the Yatra.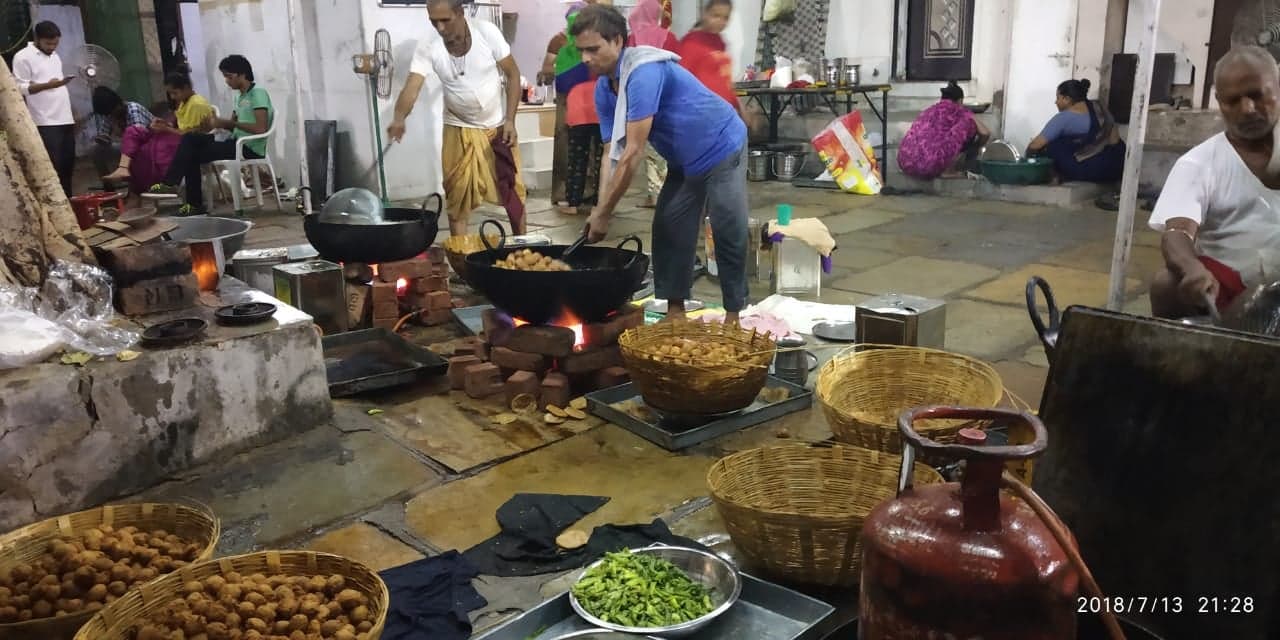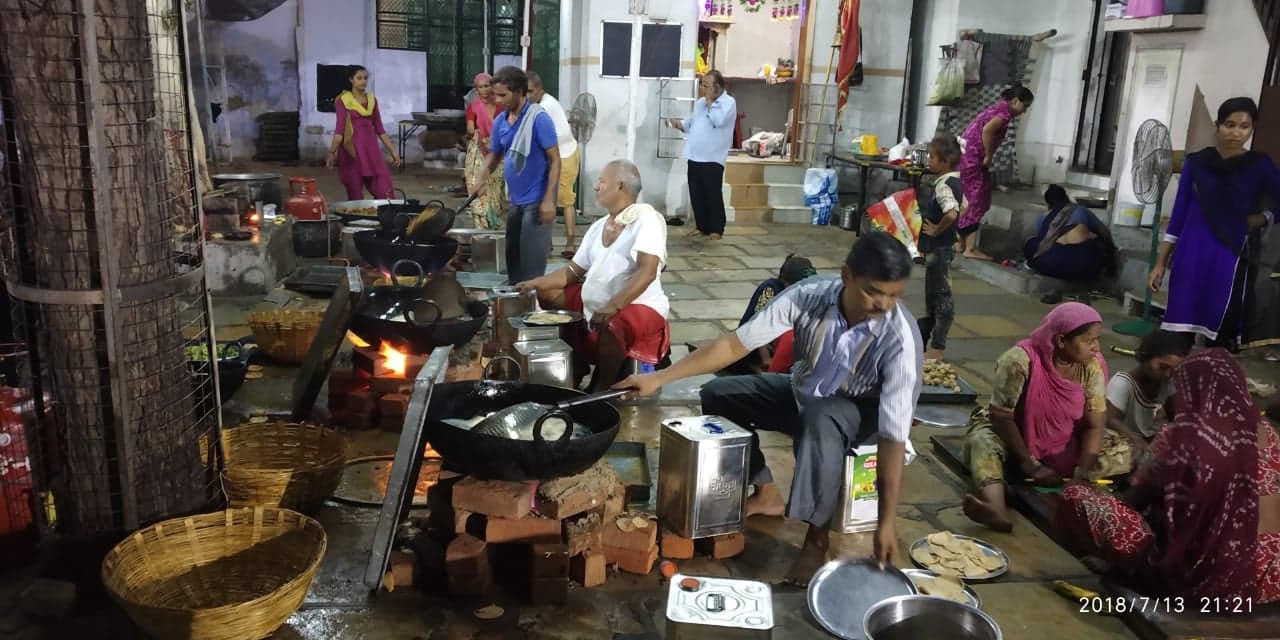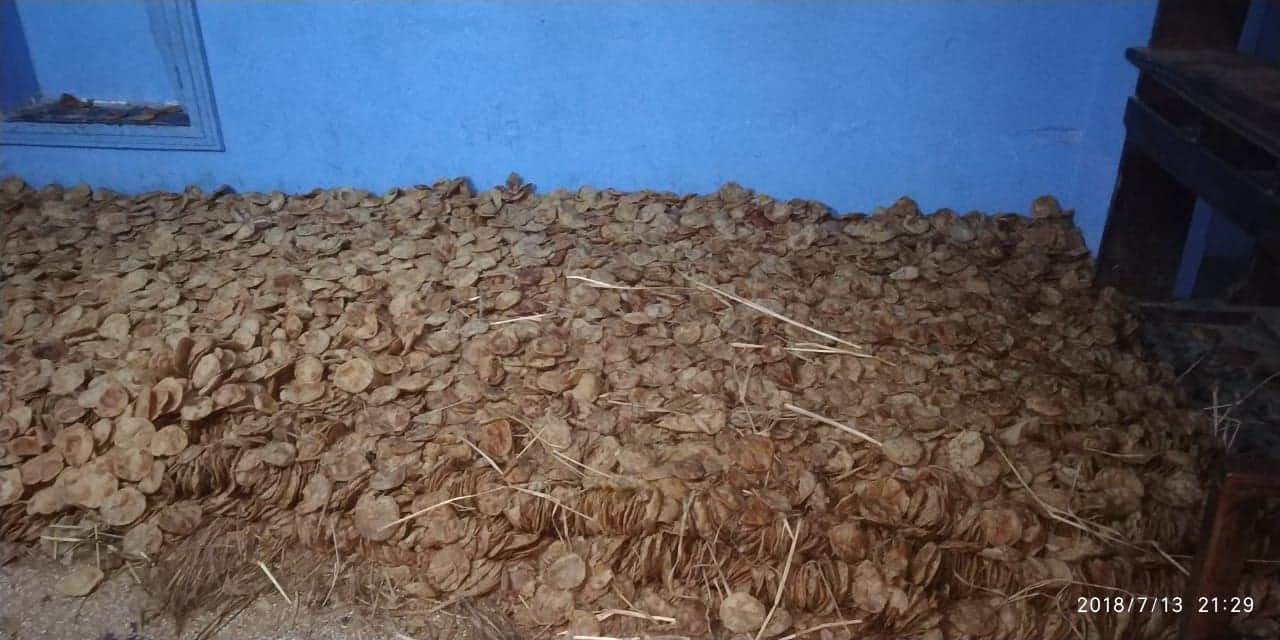 Rath Yatra will 3 chariots pulled by lakhs of devotees, it will also have 18 Gajrajs, trucks,  30 Akhadas, 18 Bhajan Mandalhis, 2,500 saints, police vehicles, chetak commandos.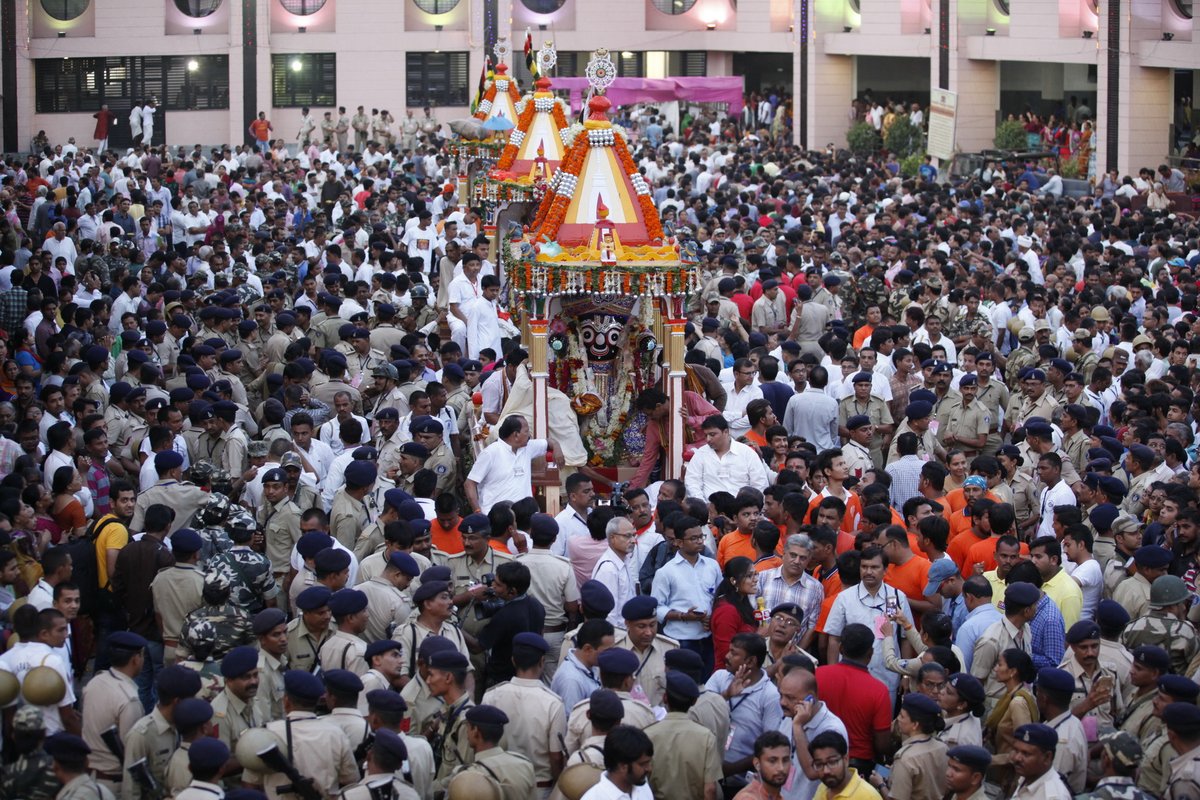 Gujarat police and security agencies has deployed forces along the route of Rath Yatra. Ahmedabad Police commissioner and his team has made through check. More than 12,000 police force have been deployed who will use latest technology and tight security has been imposed along the route.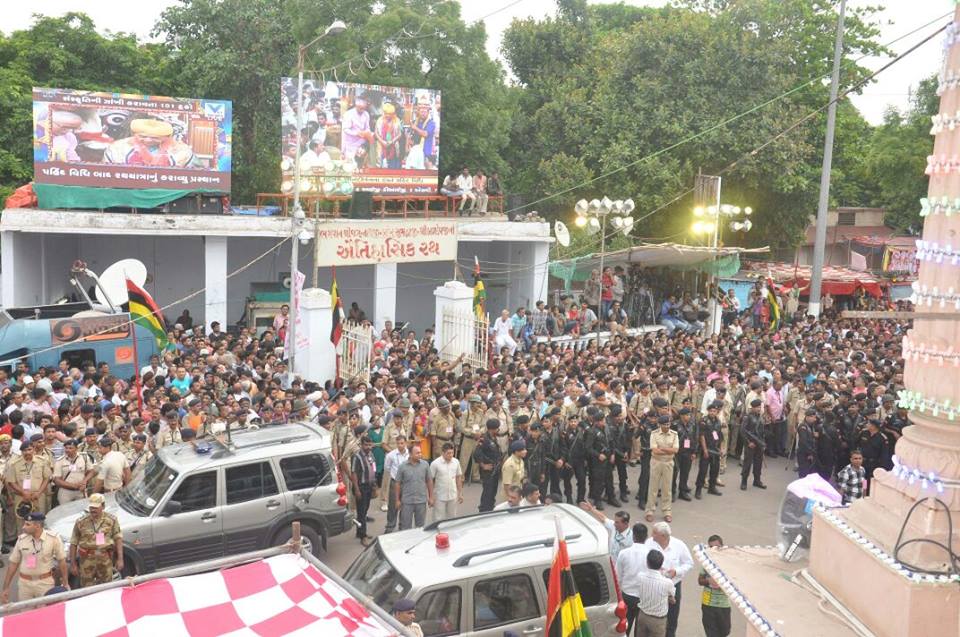 About 10,000 history sheeters and anti socials have been nabbed and a list is prepared as a precautionary measure.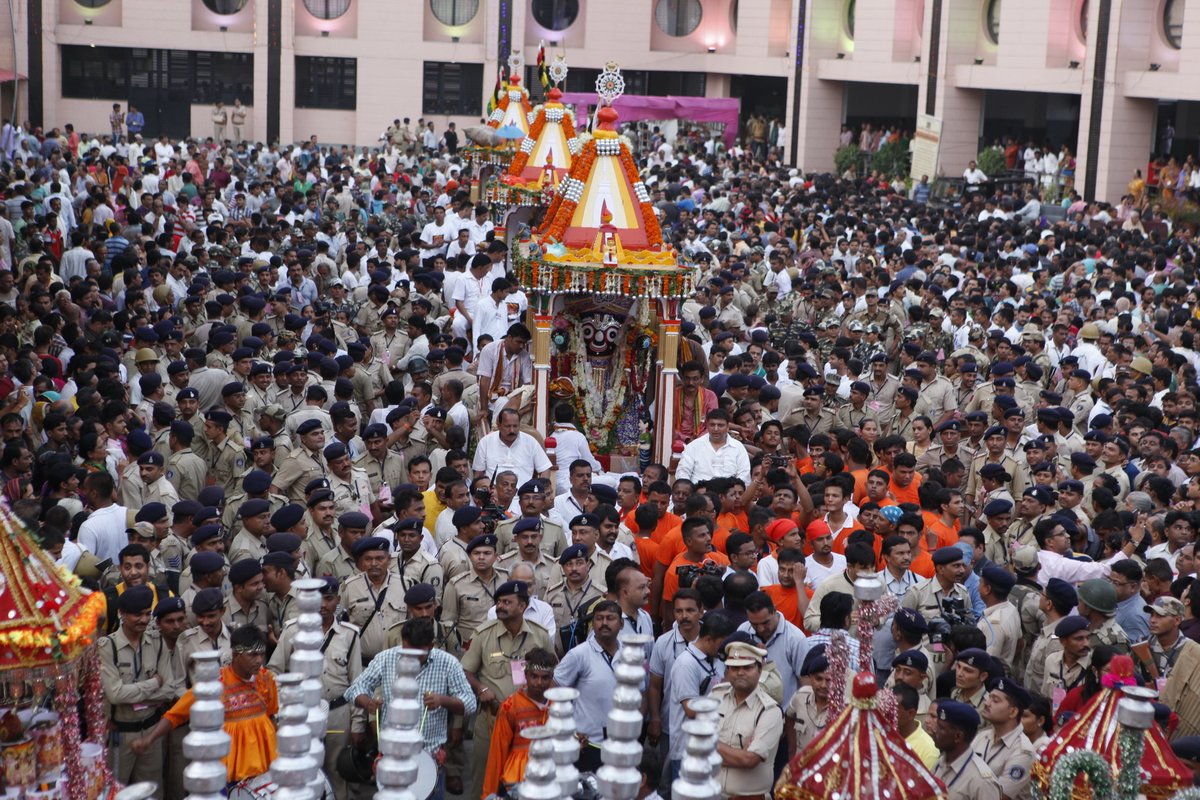 As a novel effort, this time police will use Multi Barer Launcher during Rath Yatra. PI Police Inspector vehicle will be fitted with Barer Launcher, 3 chariots and nearby vehicles will mounted with GPS Geographical Position System. Aslo body scan camera will be used.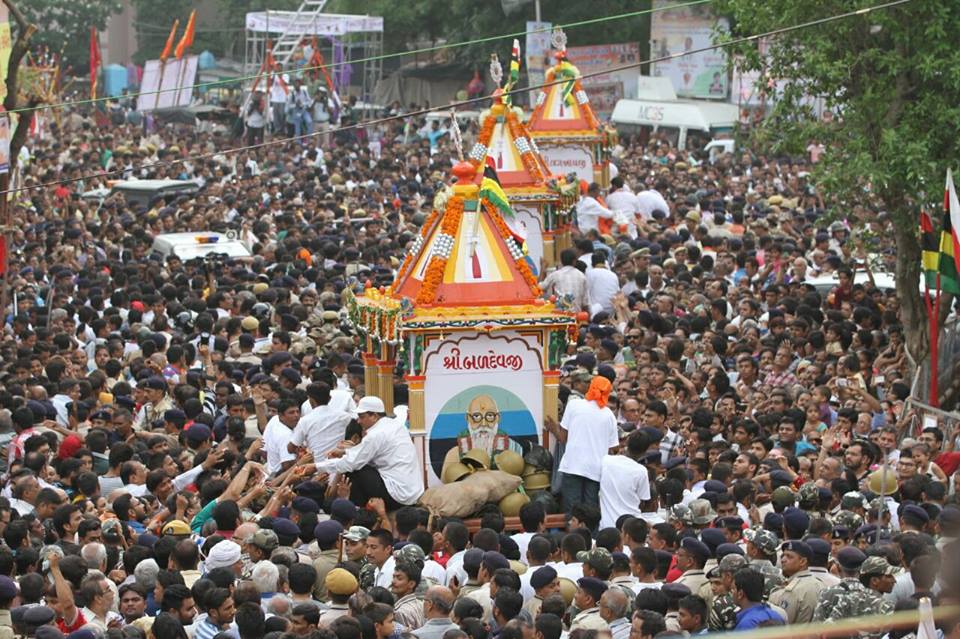 For security of 141 st Rath Yatra of lord Jagannath in Ahmedabad, 9 IG, DIG, 32 SP, 84 DySP, 70 ACP, 300 PI , 500 PSI, 5600 Home Guards, 64 companies of RPF, CRPF, RAF, CISF, BSF with 300 police vehicles, 2 snorkel, will be deployed during the procession.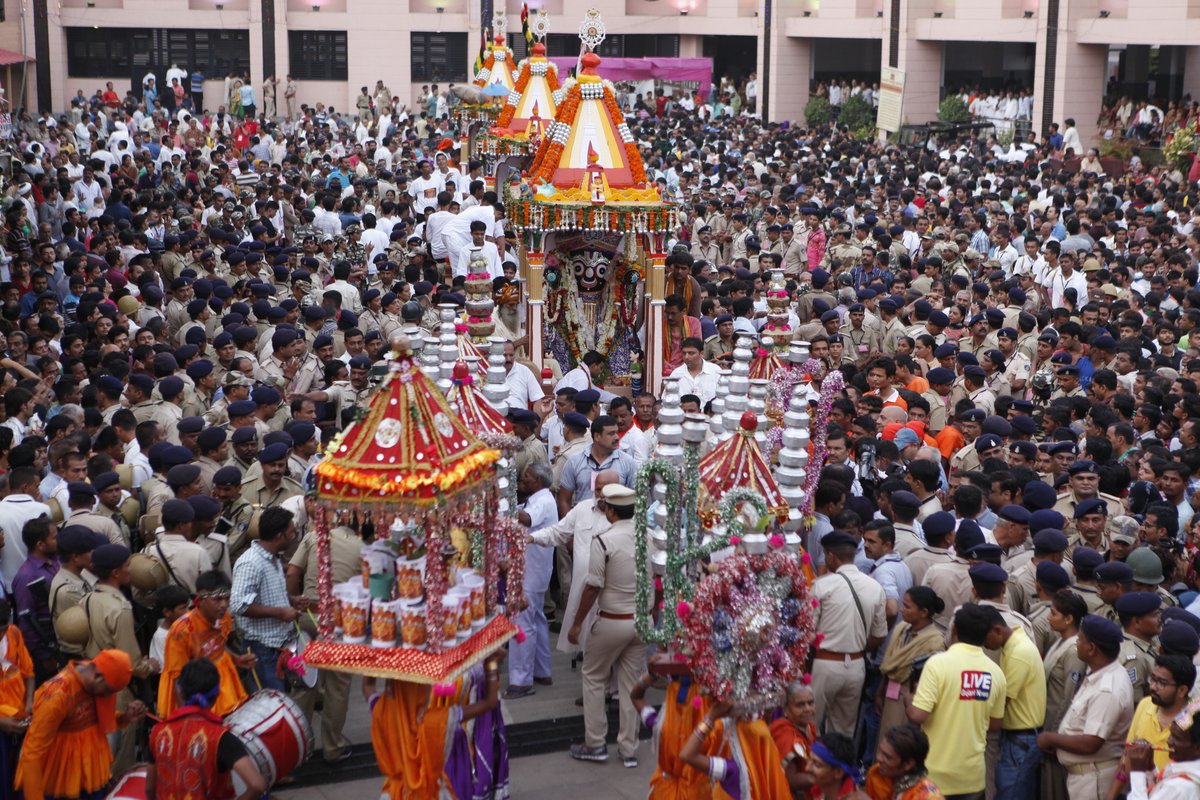 Also, 500 CCTV cameras, 2 teams of 50 Chetak Commandos, 3 Camera Mounted Vehicles, 3 BDDS, 5 Netra, 10 dog squad,  3 control rooms (commissioner office,tent office, Saraspur),  5,000 Volunteers and 16,000 police force will support peaceful Rath Yatra in Ahmedabad.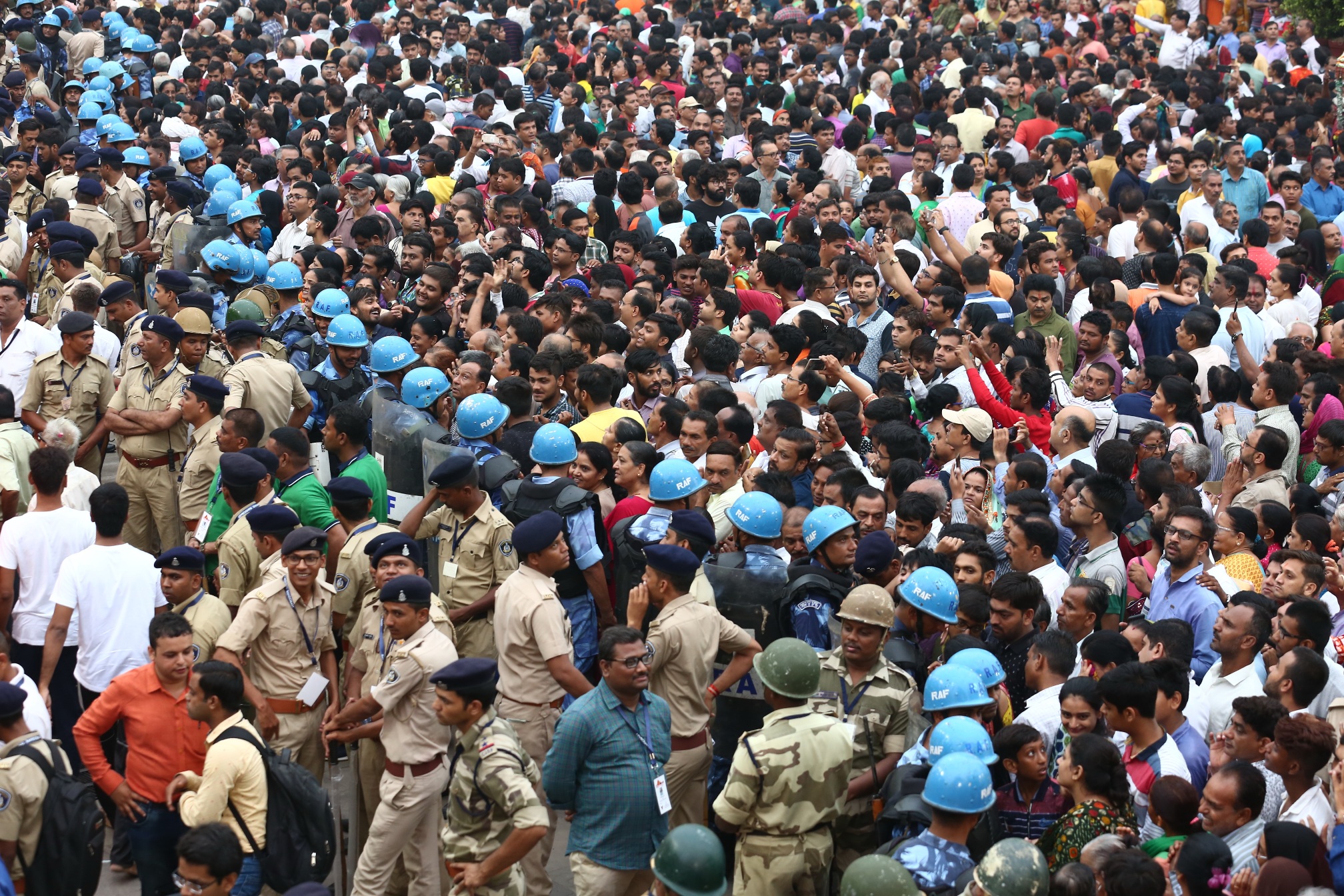 Rs 1.5 crore worth of insurance of Rath Yatra procession has been taken this time.