India has secured its place in the finals of the ICC Men's ODI World Cup 2023. India has won 10 matches in a row including semi-final. Ahmedabad has turned into a sporting site. Cricket fans are rushing for last moment ticket purchase.
It is also learnt from reliable sources that Prime Minister Narendra Modi is likely to watch ICC World Cup 2023 final in Ahmedabad to be played at Narendra Modi stadium. Union Home Minister Amit Shah is likely to watch Ahmedabad match along with PM Modi.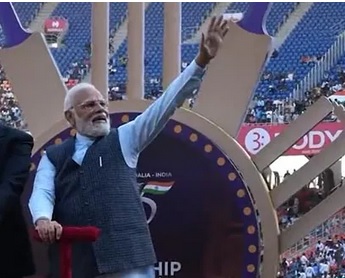 Gujarat chief minister Bhupendra Patel held high level meeting with top officials and cop on law and order and security arrangements on 19th November for the final cricket match of ICC World Cup 2023.
Due to arrival of Indian and Australian cricket team in Ahmedabad and likely visit of Prime Minister, Home Minister security has been beefed up in the city.
Team India is also the first team to qualify for the final of the 2023 fifty-overs World Cup match. Team India seems to be in terrific form.