By Darshana Jamindar
Bollywood movie Chechre featuring Amitabh Bachchan, Emraan Hashmi, Annu Kapoor, Krystle D'Souza, Rhea Chakraborty, Dhritiman Chatterjee, Raghubir Yadav and Siddhanth Kapoor has been released in theatres on 27th August. Premier show was aired in Ahmedabad at PVR Cinema.
The movie is Directed by Rumy Jafry and produced by Anand Pandit.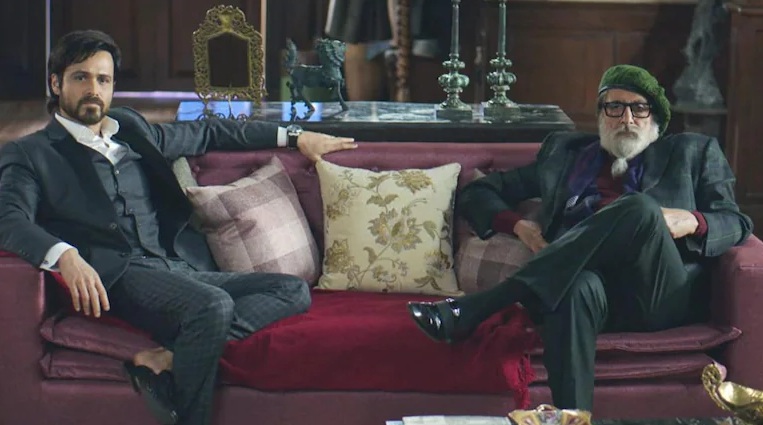 It is a psycho thriller movie with very interesting and a novel plot.
Producer Pandit narrated interesting story about making of Chehre movie. He appreciated the fact that Amitji did not take fees for the movie. He called me up and said I have very interesting plot and we are doing the movie. Also there is a fantastic performance of Big B with 14 minutes uncut shot taken in just one take. About Emraan Hashmi he sad since Amitji was there Emraan did the movie even without narration of story of the movie.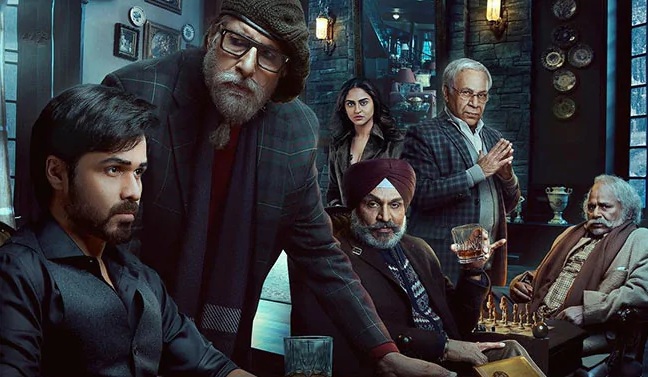 There are four superannuated court officials – the men congregate in an ex- judge's sprawling bungalow in a remote, sparsely populated hill station some 300 kilometers from Delhi – arrogate to themselves the authority to play games with the law and an unsuspecting guest. The result is a whiny, preachy film that begins to feel like a terrible trudge even before it has run one-fourth of its course.
On a day of relentless snowfall, when visibility is very low and the road is slippery, an ad agency head walks into a trap laid by the wizened quartet. The stranded wayfarer drops his car keys as he strides towards the house that stands in splendid isolation on an elevated perch. You instantly know the guy is walking into big trouble. Thus begins Chehre, as outlandish a chamber drama as any you will ever see.
Helmed by Rumy Jafry and written by the director in collaboration with Ranjit Kapoor, Chehre is a verbose and vacuous film trapped in a hokey construct designed to trot out ho-hum notions about crime and culpability. A cast of seasoned actors is reduced to hamming their way through an enervating drama that is all vainglorious bluster.
The law in our country, says erstwhile public prosecutor Lateef Zaidi (Amitabh Bachchan), does not deliver justice, it only delivers verdicts. In the company of retired Justice Jagdeep Acharya (Dhritiman Chatterjee) and former defense counsel Paramjeet Singh Bhullar (Annu Kapoor), his pals for decades, he takes upon himself the task of setting things right and proceeds to make mincemeat of logic.
The trio has a flute-playing Hariya Jatav (Raghubir Yadav) for company. The unassuming man not only completes the fearsome foursome, he also stands by grinning and grimacing by turns, suggesting in the bargain that there is much more to him than he is willing to let on.
The young man who is caught in the muddle is Sameer Mehra (Emraan Hashmi), who, after he has downed a peg of rum and a glass of sangria, is led to believe that he is in a harmless fireside game. The encounter takes an ominous turn as an incident from his past is dug up and made an integral part of the battle of wits that Zaidi and his canny cohorts have devised for the guest who knows not what he has let himself into.
There are two other characters in the house – a mysterious housekeeper (Rhea Chakraborty) and a mute factotum (Siddhant Kapoor). Both have backstories but neither of them has any chance of evolving into characters of substance. That is not what they are here to do. They are mere appendages. The girl cackles like a hen when she receives a surprise gift from the guest. The guy glowers threateningly at the man in the dock when the occasion demands.
A large chunk of Chehre, supposedly set in the hills of north India, has been filmed in Poland. The mansion in which the action – or, to be precise, the lack thereof – takes place is cavernous enough to conceal many secrets. It is littered with telltale signs to suggest that Sameer Mehra isn't the first man that the four have toyed with, nor will he be the last.