Today reacting to the speech of BJP Bharatiya Janta Party President Amit Shah in Ahmedabad, Gujarat Congress President Bharatsinh criticised it.
Solanki said in the speech of Shah there was no mention of secuirty of women in state and issue of unemployment. BJP claims to be providing 8 hours of electricity to Gujarat farmers, which is not correct. In fact, rate of electricity is the highest in the state. During UPA rule 50,000 crores were earmarked  for electrification. In BJP rule, no new power generators have been setup. Dhuvaran Thermal Power Station has been shut down. Electricity of Gujarat is sold to other states.
Rahul Gandhi is our youth leader who is committed to public welfare. They do not have anyone comparable to Rahulji.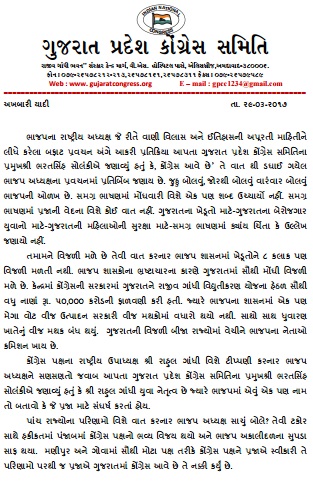 By comparing Modi and Shah with Gandhiji and Sardar Patel is an insult of great national leaders.
In 1000 days of BJP, there were 790 ceasefire violations, 153 soldiers were martyred and more than 12 army officials lost lives. Election mandates of 2007, 2012 and 2014 have not been practised by BJP added Solanki.