British Council Director meets Gujarat Chief Minister and discuss on Skill Development
Today Alan Gemmell, British Council Cultural Affairs Minister and Director of India meets Gujarat Chief Minister Vijay Rupani in Gandhinagar.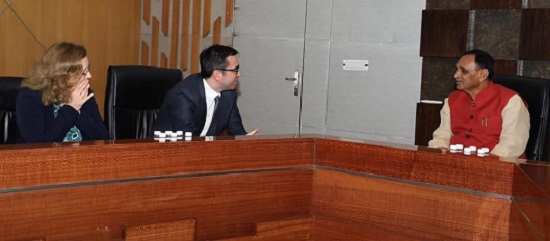 British Council Director and Gujarat CM discussed about Skill Development and English language training programmes.

Mementoes were exchanged between Gujarat CM and British Council Director on the occasion.
MORE ON "Gujarat","British",UK","delegation"
#UK #Delegation Meet #Gujarat #CM Vijay #Rupani in Gandhinagar https://www.youtube.com/watch?v=7TcWemeniZk
VIDEO:Delegation from UK meets Gujarat CM Anandiben Patel https://www.gujaratheadline.com/delegation-from-uk-meets-gujarat-cm-anandiben-patel/
#Rajkot: #Gujarat #CM #Rupani, #Anurag #Thakur watch #test #match against England https://goo.gl/ALVdUq