Millennial Events announces the biggest Indoor Food Festival "Hungryस्तान" in Hamilton of Ontario, Canada during long weekend of September 2 and 3. The Food Festival is going to do wonders among foodies,food lovers of Canada.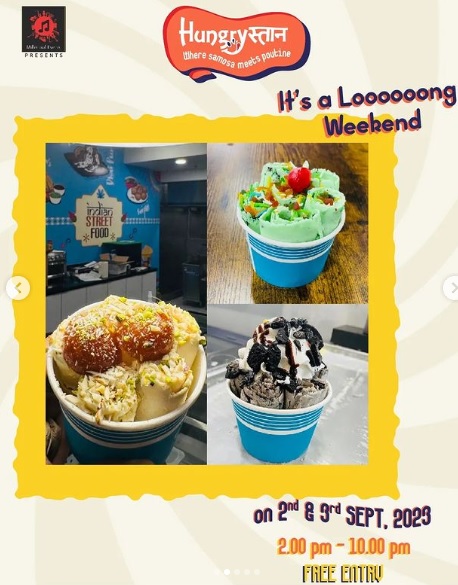 This event promises a delightful trip down memory lane with a variety of carnival games that will transport you back to your childhood. One of the highlight attractions is the GIANT JENGA! The anticipation and excitement as the tower teeters on the brink of collapse will surely bring out the competitive spirit in everyone.
Event Date – 2nd and 3rd September
Event Venue – Hamilton Convention Center
And of course, no carnival experience would be complete without mouthwatering food offerings. So, gather your loved ones, embrace your inner child, and head over to Hungryस्तान Food Festival.
https://www.instagram.com/p/CvumfZyLuRH/
Why you should be a part of this exciting event?
Food
Performances
Indoor Games
1. Stand hp comedy show of Smit Pandya aka Kishor Kaka
2. Cultural dance performances
3. Singers
4. Bollywood Dance
5. Guitarist
Ane aava bija ghana nana mota performances
So don't forget to share your Artist friends.
https://www.instagram.com/p/Cv2SxWGAwUd/
Get ready to Unleash Your Taste Buds at Our Food Fest.
Blast your friend groups with messages, set reminders, and get ready for ultimate fun!
https://www.instagram.com/p/CwAbGyDrtiW/
Make sure to visit their booth and savor the flavors that will surely leave you craving for more. Don't miss out on this delectable experience!
Tag your friends and share your favorite dishes you want to eat at your very own Hungryस्तान Food Festival.
https://www.instagram.com/hungrystan_/
There are ample of attractions including Indoor Games including Giant Jenga, Dart,Board Games, opportunity to enjoy hilarious jokes and bites of Deep Vaidya,
https://www.instagram.com/p/CwanyhMKHRE/
https://www.instagram.com/p/CwXlp3tqj5I/
For stalls or sponsorship inquiries please contact –
Hitarth Pandya – +1 (306) 581-4719 and
Jaydeep Patel – +1 (519) 992-9567
https://www.instagram.com/p/CwZDwLugbyJ/
Millennial Events is a leading Event Management company of Hamilton,Ontario Canada run and managed by young entrepreneurs , Hiral Jamindar, Hitarth Pandya, Jaydeep Patel and Social Media Influencer and Dhawal Patel has made brilliant kick start by establishing a firm with a  philosophy to cater to Young Gujarati Indian keep abreast with Gujarati Indian Culture, serve them with Gujarati Indian Cultural traditional values with a touch of contemporary values thereby conducting very famous events of Garba Festivals of Lead Performers, Comedy Shows by Ace Standup Comedians in the field, Unique and Novel Food Festivals with a Fusion of Fun and Food theme.