BY DARSHANA JAMINDAR
Tejas C Joshi President of Credai Ahmedabad Gihed said that Ahmedabad is one of the leading cities in Gujarat in terms of development in construction sector in the state. Due to increase in urbanization and migration to cities for employment opportunities, more housing needs are being generated.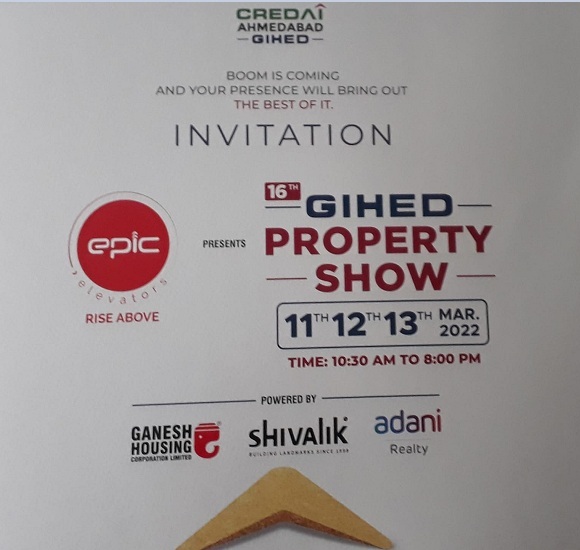 During 11th, 12th and 13th March, Ganesh Ground, Thaltej, SG Highway in Ahmedabad. Property show, organized attracts a large number of citizens, including investors who have bought Houses, Offices and Plots.
Coincidentally, since mega property event is taking place after two years, it is obvious that this year there will be more attraction among people and we are also expecting it.
More than 60 leading Developers of Ahmedabad city are participating in this 16th Gihed Property Show organized by the organization. More than 250 Properties will be displayed in the periphery of Ahmedabad city, including newly developed projects as well as Residential, Commercial, Plotting and Weekend Villas. Financial Institutions are also included in the property show to facilitate citizens who want to buy property by visiting the property show and also to get loan easily.
Urban Committee Summit has been organized on 13-3-2023 at 4-00 pm in which Chief Minister of Gujarat Bhupendra Patel as the Chief Guest and Minister of Revenue Rajendra Trivedi and Minister of Urban Development Vinod Moradia as a Special Guest will be present. During three-days event, Secretaries and RERA Chairman, Collectors, Municipal Commissioners, Mayors, Top Officials of the state and many dignitaries will visit Gihed Property Show.
More than 1 lakh crore projects pertaining to Real Estate Urban Summit-2022 have been uploaded on the portal of Gujarat Government and out of them, about 500 projects worth Rs 60,000 crore includes Residential, Commercial, Combined use and other real estate projects. In order to expedite implementation of projects uploaded through this scheme CGDR.
For the approval of Revenue and Environment Clearance, the Government will get benefit of Green Channel Fast Track and its data will be available Online for Committee, facility of reviewing will be available every month. OSD Urban (CMO), Urban Secretary, Revenue Secretary, Gujarat Rera Chairman and Joint Committee of Credai Ahmedabad and Credai Gujarat team which will meet every 3 months and project monitoring and analysis can be done every month. Committees of five zones should be formed and Credai Ahmedabad Gihed should be represented in main role in this whole process. If this process is implemented, development of entire Gujarat including Ahmedabad will get more momentum.
In addition to planning of Property Show, Broker meet has been organized on 12-03-2022 at 11 am.
An Urban Summit has been organized on 13-03-2022 at 4:00 pm under chairmanship of Chief Minister of Gujarat Bhupendra Patel and Revenue Minister Rajendra Trivedi and Minister for Urban Development Vinod Mordia.
Aayoga Drama has been organized for members of CREDAI Ahmedabad Gihed on 12th March, 2022.
Above drama is planned for sales of partner and property show stroll holders on 13th March, 2022.