In a Major operation of Gujarat ATS Anti Terror Squad. The ATS has seized Rs 600 crores worth of Heroin from Zinjuda village in Morbi district. In entire case, ATS has arrested 3 accused and started interrogation. After Dwarka case, crores of drugs have been seized from Zinzuda village of Morbi. According to information received, ATS carried out the operation at midnight. In which 3 persons have been detained with the crores of drugs. A search of two houses in village has revealed that drugs worth crores of rupees have been seized. Top officials of ATS and local police are currently silent on the whole matter.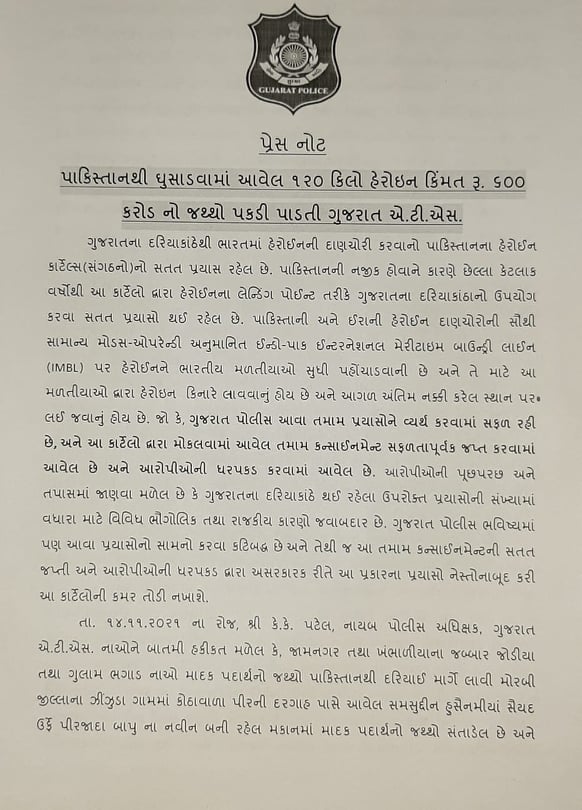 Drugs were hidden in a house near Kothawada Pir Dargah in Zinjuda. Where an ATS team raided two houses on Sunday night. Arrested persons include Gulab Hussain, Shamsuddin, Mukhtar Hussain alias Jabbar. Gulab Hussain is a resident of Salaya, Jamnagar. Mukhtar Jabbar is a resident of Jodia, Jamnagar. Preliminary investigations have revealed that Gulab and Mukhtar had ordered drugs from Pakistan. Investigations have revealed that drugs were hidden in a house in the inner village of Morbi as police raids increased in coastal areas. It has been found that this quantity of Heroin is also found outside Gujarat. The matter has been reported to central agencies.
The way drugs have been seized in Gujarat for some time now, it seems that Gujarat is becoming a safe passage for smuggling drugs into the country. After Mundra, Dwarka, drugs worth crores of rupees have been seized from Morbi. It is learned that 2 persons were detained with 120 kg of heroin in Zinjuda village of Morbi. It is estimated that these drugs are worth between Rs 500 crores and Rs 600 crores. Talking about this operation, a successful operation of ATS and SOG was carried out in Zinjuda in Morbi.
Gujarat DGP Ashish Bhatia held a press conference. Bhatia said Gujarat has become transit point of drugs.