Edge '23 – a Fashion Show exhibiting works of graduating students of Fashion and Styling was the Grand Finale &highlight of Grad Show '23! On display were amazing & awe-inspiring design projects of all Departments of UID
Ahmedabad, May 10, 2023: Karnavati University observed 'the Graduate Show 2023', last week, showcasing graduation projects of the graduating batch – "class of 2023". On Display at the show included projects of students of Bachelor and Master of Design Courses from the Departments of Fashion & Lifestyle, Industrial Design, Automobile and Transportation Design, Communication Design, Animation and Digital Media, Lifestyle Accessory Design, Communication Design & Interior  Design. The display was organized at the lush green, creatively designed and sprawling campus of Karnavati University in Uvarsad, Gandhinagar. Karnavati University is a state-private university dedicated to excellence in teaching and is focused on interdisciplinary learning.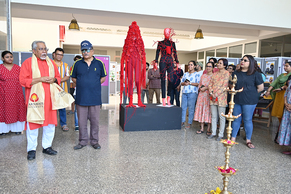 The event was indeed a celebration of design and the students' creative expressions and artistic explorations, as it showcased their projects including exquisite ensembles, riveting jewellery and accessories, and cutting-edge designs, among various others.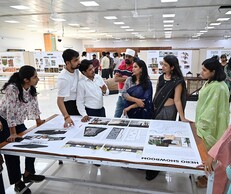 The highlight of the students' showcase was 'Edge'23' – a fashion show exhibiting works of graduating students in Fashion and Styling. Edge is an annual showcase that celebrates Fashion & Lifestyle with a multi-sensory and multi-hued visual display of their stunning ensembles sashayed on the ramp by an array of top models.
The 2023 edition of Edge was a mixed bag of varied elements and designs that defines established norms and is non-confirmative. Nine sequences of beautifully crafted garments were showcased from across the GenZ Neon's to Indian crafts, from rugged street styles to ethereal gowns and dramatic avant-garde pieces. The efforts and creativity of students were acknowledged through design awards conferred upon them by the Chief guests, fashion designer Mr. Aseem Kapoor, Mr. Umang Hutheesing, noted textile revivalist and costume historian & cultural revivalist, and our special guest, Mrs. Neeti Hada.
Among other projects featured at the Graduation Showcase 2023 include an impressive range of projects, spanning animated films, game design, immersive virtual reality experiences along with Interactive apps, product branding, ethnographic documentation, book design, film design, social awareness campaigns to wayfinding design among others. The students of Lifestyle Accessories design showcased beautiful collections in pure gold – inspired by Gujarat's rich architectural heritage and its travelogues and even precious men's jewellery.
The exhibition also encompassed a range of interesting interior design projects, including Hospitality, Retail, and Work spaces, as well as Furniture design and Speculative design projects. This comprehensive approach ensured that visitors were exposed to a wide spectrum of innovative and thought-provoking design concepts.
Commenting on the occasion, Shri Ritesh Hada, President, Karnavati University, said, "The Graduation Showcase 2023 commemorates the efforts of the students who have pushed the boundaries of designs while breaking stereotypes and monotony, one project at a time. At Karnavati University, it is our constant endeavour to create a conducive environment for students and let their creativity and innovation flourish to be able to address real-world concerns and showcase the power of design to make the world a better place. I take immense pride that our varsity has hosted yet another edition of the showcase, and it surely bears testimony to the hard work and dedication of our faculty members who strived to bring out the best in students."
In addition to the visual exhibition, the Graduation Show also featured the launch of two significant publications: a book showcasing the Graduation projects and a book of abstracts. These publications not only documented the students' projects and the event showcase in detail but also highlighted the depth and breadth of the student's research and design thinking.
This annual event celebrates the diverse range of design possibilities and interests of the students, in their respective design domains, as they embark upon their independent creative career pathways. Their projects reflected innovation, creativity and experimentation with evolving and emerging themes on sustainability, and futuristic design concepts addressing contemporary design solutions. The display was indeed a thoughtful amalgamation of themes and professional skills, highlighting the acquired academic knowledge and skills and catalyzing their transition into designers, fully equipped for the exciting and dynamic creative industry with all the diversification it offers.