Gujarat Assembly Polls 2017: Congress forms 4 member Screening Committee
Today in Delhi,  All India Congress President Sonia Gandhi has constituted 4 members  Screening Committee in wake of upcoming Gujarat Assembly Polls 2017.
Assembly polls are likely by December this year and would be contested on all 182 seats.
Shri BalaSaheb Tharot, MLA & ex-minister Maharashtra as Chairman
Shri Ajay Lallu, MLA & CLP leader UP as member
Shri Girish Chodankar, Secretary, AICC as member
Ms Meenakshi Natarajan, ex-MP as member
The notification was issued by Janardan Dwivedi MP & General Secretary.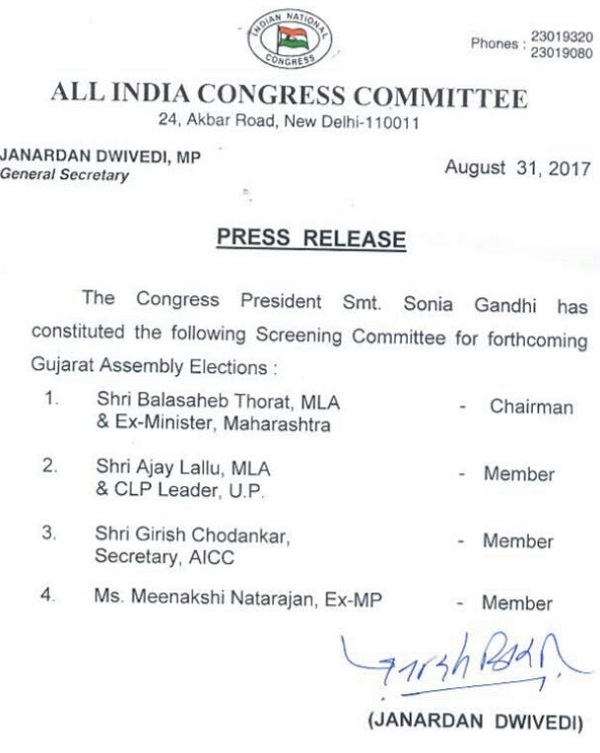 SIMILAR LINKS
#Sonia #Gandhi,Congress hits out at PM #Modi https://www.gujaratheadline.com/sonia-gandhicongress-hits-out-at-pm-modi/
Modi insulting Assam, BJP-led alliance communal,divisive says Sonia Gandhi https://www.gujaratheadline.com/modi-insulting-assam-bjp-led-alliance-communaldivisive-says-sonia-gandhi/
Sonia Gandhi in National Herald case: Not feared, I am Indira's daughter-in-law https://www.gujaratheadline.com/sonia-gandhi-not-feared-i-am-indiras-daughter-in-law/