Today afternoon in Gandhinagar, Gujarat's Deputy Chief Minister present Gujarat Budget for year 2017-18 in Gujarat Assembly. Government of Gujarat Highlights of the Budget 2017-18 are as follows:
Theme of budget :-"Optimize inclusive development of human resources and trunk infrastructure through effective and transparent implementation".
Door step delivery of Public Services through Seva Setu and Pragati Setu programs.
The distinction of plan and non-plan expenditure has been done away with from FY 2017- 18. Also, the concept of outcome budget is being introduced from 2017-18. § 21.83% increase in VAT income post Demonetization.
Budget size of `1,72,179 cr during FY2017-18, which is `20,327 cr more than the previous year.
Fiscal Deficit was 2.31 % of GSDP in the year 2015-16, which is being estimated to be 1.82% of GSDP during FY 2017-18.
Surplus on Revenue Account is estimated to be `6065.60 Cr.
Overall budget surplus is estimated to be `239.16 Cr.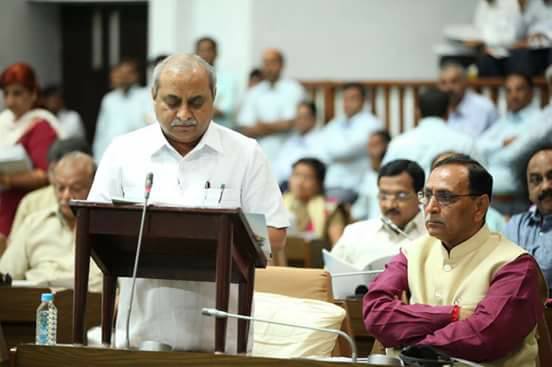 Education
Providing tablets to all students taking admission in Colleges and polytechnics at a token price of `1,000 for which there is an allocation of `200 cr.
`1,100 Cr for Mukhya Mantri Swanvalamban Scheme.
To promote ICT based education under the Digi School Scheme, 2400 classes of 7th and 8th standards to be covered in 1200 primary schools.
Scheme for providing interest subvention on educational loan during moratorium period for students from Gujarat to study in foreign Universities.
Two new Sainik school proposed at Veraval and tribal taluka in Surat district.
`1068 Cr. for Mid-day meal scheme.
In addition to 50% assistance in tuition fees under Mukhya Mantri Swavalamban Yojana,girl students of self financed medical colleges will get 50% assistance in tuition fees from Kanya Kelvani Nidhi. So they will get medical education free.
7,44,152 girl students of class 9–12 will be provided free education in 5374 GIA schools.
A new college for engineering and associated courses will be opened on PPP basis at Dholka in Ahmedabad district.
Health & Family Welfare
Provision of `119.15 Cr. for Maternal & Childcare.
`102 Cr for "Eradication of Vector Born Diseases" by 2022.
Increase the coverage under MA & MA Vatsalya Scheme by raising the existing annual income limit of `1.2 lakh to `1.5 Lakh and covering neurological diseases and additional procedures.. For this the allocation has been doubled to `500 Cr.
`466 Cr for providing essential medicines free of cost to all the patients in public hospitals.
Provision of `15 Cr for increasing the number of Deendayal Generic Drug Store from 52 to 500.
`15 Cr for allocating 43 additional ambulances to public hospitals and to add 70 new ambulances to 108 emergency services.
Provision of `129 Cr for modernization of Civil Hospital, Ahmedabad
Provision of `100 Cr for establishing super specialty hospitals, nursing homes, diagnostic centers and medical colleges.
For setting up of pediatric cardiac services at U N Mehta Institute of Cardiology, `100 cr is provided.
Provision of `51 cr for increasing 220 seats in government medical colleges at Surat, Vadodara and Jamnagar.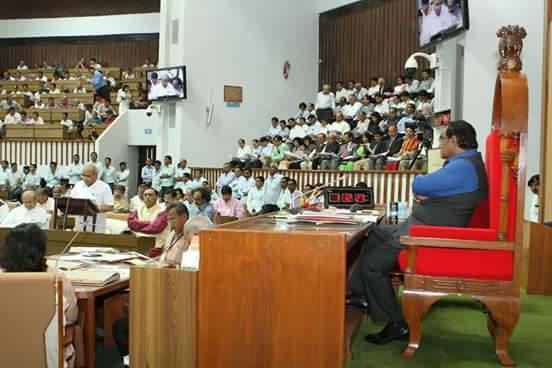 Agriculture, Animal Husbandry and Fisheries
"Agriculture and Cooperation Department" to be renamed as as "Agriculture, Cooperation and Farmers Welfare Department".
Provision of `313 Cr for enhancing the State assistance under micro irrigation scheme from 50 % to 70% and further from 75% to 85% for SC and ST farmers.
Provision of `82 cr for setting up of Organic University and covering agriculture of Vansada, Kaprada, dharampur talukas and Dangs district under organic farming.
Provision of `200 cr for erecting wire fencing on the boundaries of farms for saving crops from Roz and pigs.
Provision of `500 cr for providing crop loan merely at 1% interest to about 14 lakh farmers eligible farmers.
Provision of `418 cr for providing assistance for farm inputs and farm mechanization.
Assistance for planting materials for horticulture is enhanced from 50% to 90% for promoting diversification and high value horticulture.
Provision of `92 cr for reforms, regulation and development of agricultural marketing.
Provision of `38 cr for providing additional assistance to dairy sector.
For providing subsidized kerosene to fishermen for the first time using Fiber Reinforced Boats, provision of `22.50 cr is made.
Provision of `268 cr for new harbours and O&M of existing harbours.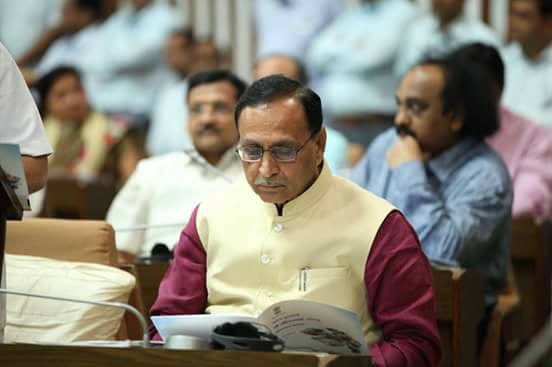 Industries and Mines
Special package of `1000 cr for MSME sector.
Capital assistance and assistance for rental charges, Enterprise Resource Planning and ICT, technology acquisition, market development, fees reimbursement for Credit Guarantee Trust for Micro and Small Enterprises, raising finance through SME exchange and additional assistance for power connection.
Special package of Bharatratna Dr Babasaheb Ambedkar Udyog Uday Yojna for SC and ST beneficiaries, which includes additional support for 360 degree entrepreneurship training with mentorship and sustenance allowance, assistance for new power connection, support for industrial infrastructure.
5000 "plug and produce" multi storied sheds with common infrastructure facilities to be constructed with the options of higher purchase and rental work premises with easy exit route, out of which 1000 sheds to be reserved for SC and ST beneficiaries.
Establishment of a new Commissionerate for MSME.
Special package for conventional service provider communities like Vanand, Dhobi, Suthar, Luhar, Darji, Mochi, Kumbhar and others. Provision of `10 cr.
For supporting and encouraging traditional handicrafts a special provision of `10 cr is made.
For providing skill up gradation training, identity cards and secured market place to workers of leather industry, provision of `50 lakh is made.
Provision of `17 crore for Startup policy.
Provision of `200 cr for Industrial incentive scheme, Defense and Aerospace policy and modified scheme for plastic industries.
Provision of `570 cr for Textile policy .
Redevelopment of Gandhinagar railway station including hotel facilities of global standards.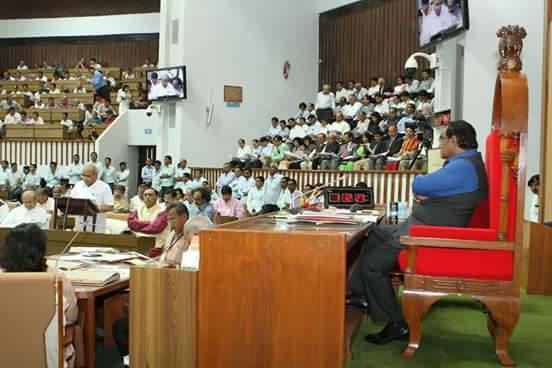 Tourism & Civil Aviation                       
Provision of `25 cr to commemorate the centenary celebrations of Sabarmati Ashram for reinforcing Gandhian values.
Provision of `10 cr for Ek Bharat Shrestha Bharat for exchange of tourists between Gujarat and Chhattisgarh to strengthen the thread of unity for our country.
Provision of `10 cr for Border Tourism at Nadabet.
A provision of `35 cr is made for providing incentives under Tourism Policy 2015- 20.
Provision of `20 cr to provide amenities for transforming popular tourist destinations of Saputara, Devmogara, Dakor, Ambaji, Dwarka-Bet Dwarka, Somnath, Palitana Sasan-Gir as Smart Tourist Destinations.
Provision of `20 cr for imparting training in tourism and hospitality sector and create employment opportunities for ten thousand youths
Provision of `4 cr for Shravan Tirth Darshan Yojna for senior citizens for pilgrimage tour package in Gujarat.
Provision of `132 cr to augment the infrastructure of airstrips and provide night flying facilities along with all-weather landing and take-off capabilities.

Labour and Employment
Provision of `50 cr under Shramik Annapurna Scheme for providing nutritious and good quality subsidized food to 50,000 construction workers.
Unorganized labourers to be covered under MA and MA Vatsalya schemes. Dhanvantri ambulance services will also be provided to them.
Monthly old age support of 1000 for construction workers above the age of 60 years.
Provision of `29 cr for skill training of 20,000 trainees under Pradhan Mantri Kaushalya Vikas Yojana. § Provision of `10 cr for increasing the seats from 20,000 to 45,000 for service related training courses. § 100 employment camps to be organized for the benefit of 3,00,000 youths.
Road and Building
Provision of 2500 cr under Mukhya Mantri Gram sadak yojna to strengthen rural road network connecting 18,000 villages and 16,245 habitats with good quality all weather roads.
Provision of `1151 crores for converting 58 roads of 730.14 km length into four lane.
Construction of 37 new works of bridges to be undertaken in 2017-18 in addition to 36 bridges in progress.
`210 cr is allocated for converting 317 km of State highways into two lane.
`200 cr is provided for World Bank assisted Gujarat State Highway Project.
State wide 9 long corridors of Pragati path linking east – west and north –south of Gujarat to be converted into four lane at the total project cost of `2087 cr for which in 2017-18 `241 cr is allocated.
Some of the important four lane corridors will be
Ahmedabad- Bagodara – Dhandhuka – Vallabhipur – Bhavnagar
Mehsana – Visnagar – Ambaghata – Ambaji – state border
Paliad – Sayla – Muli – Surendranagar – Malvan – Patdi – Dasada
Badhla – Rajula – Hindorana
Chavand – Lathi – Amreli
Chikhli – Vaghai – Ahwa – Chinchali – state border
It is proposed to construct bridges on big rivers at total project cost of `554 cr, out of which `91 cr is allocated during 2017-18. Some of the important bridges are
Bridge across Banas river on Harij – Totana road
Bridge across Tapi river on Unn – Kosadi road
Bridge across Mahi river on Ambav – Galateshwar road
Bridge across Shetrunji river on Timana – Dantrad road
Ahmedabad-Bagodra-Rajkot road will be converted into six lane road with debt equity ratio of 70:30 for which `50 cr is allocated during 2017-18.
Ports & Transport
Provision of `24 cr for the completion of the project of RoRo ferry service between Ghogha and Dahej in 2017.
Narmada Parikrama Jetty
Provision of `410 crore for purchase of 1600 new buses by GSRTC for strengthening transportation in rural and interior areas.
Provision of `150 cr for renovation and modernization of 28 bus depots.
"Gujarat Road Safety Society" to be set up for which `5 cr. is provided.
Narmada, Water Resources, Water supply & Kalpsar
Provision of `234 cr for D-network water supply schemes to provide Narmada water to 156 villages of Upleta, Jam Kandorna, Dhoraji and Jetpur blocks and 5 towns of Bhayavadar, Jetpur, dhoraji, Jam Kandorna and Upleta.
Provision of `10 cr forsetting up of desalination plant on pilot basis in PPP mode for 100 MLD that will partially ensure water security for Devbhumi Dwarka, Porbander, Rajkot, Morbi and Kutch districts.
Provision of `438 cr for providing irrigation to 24300 hectares of land in tribal areas of Surat district and 10,000 hectares of land in Dahod and Mahisagar districts.
Provision of `1698 cr for filling up 63 dams in 10 districts of Surashtra region to strengthen irrigation in 194,000 hectares of land.
"Sujalam Sufalam" to be further enhanced to cover 3000 hectares of Gandhinagar and 14,700 hectares of Mehsana in 5 lift irrigation schemes – Piyaj to Unad, Dhadhusan to RedLakshmipura, Bhasariya to Sametra, Kherava to vishnagar – at the total cost of `1063 cr, out of which `210 cr is provided in 2017-18.
A barrage across Narmada river at the project cost of `4050 cr to be constructed at Bhadbhut, for which `100 cr is provided during 2017-18.
A high level Gora bridge near Sardar Sarovar dam will be constructed, for which `142 cr is provided.
Science & Technology
Provision of `25 cr to provide a "Cloud Infrastructure" at the State Data Center, which will create scalable infrastructure, minimize cost of hosting applications and ensure better service delivery.
Provision of `55 cr for IT/ITeS policy 2016-21, Gujarat Electronics policy 2016-21, Start Up Policy and Gujarat State Biotechnology Policy-2016-21.
Provision of `85 cr for phase -II of science city development.
Internet connectivity to Municipalities – `25 cr
Energy and Petrochemicals :
Provision of `2000 cr for 125,000 agri power connections which is an increase of 25% over previous year.
Provision of `181 cr for providing assistance to 4500 farmers for installation of solar pump sets. 12000 Solar PV Systems will be installed under "Solar Home Lighting Scheme".
In 2017-18, about 130,000 household PNG connections will be given and 50 CNG stations will be established by Gujarat Gas Ltd.
The entire power requirement of Modhera village to be met through Solar power.
Urban Development and Urban Housing
`4026 cr for Swarna Jayanti Mukhya Mantri Shaheri Vikas Yojna for providing civic infrastructure in urban areas.
`100 cr for Redevelopment of Kharicut canal in Ahmedabad city.
`10 cr for developing Alfred high school complex of Rajkot as a world class museum on the life of Mahatma Gandhi , where Gandhiji studied for several years.
`500 cr allocated under AMRUT for providing basic civic amenities in 31 cities.
`597 cr under Smart city mission for Ahmedabad, Surat and Vadodara cities.
`35 cr for providing on-line building plan approvals and Building Use permissions with auto General Development Control Regulations mechanism and promoting ease of doing business.
`1340 cr is earmarked for providing 100,000 affordable houses in urban areas
45,000 affordable houses in partnership will be constructed under Pradhan Mantri awas yojna and Mukhya Mantri Awas Yojna.
`100 cr for enhanced State support as interest subvention for Middle Income families for buying a house in urban areas.
`255 cr for providing automated super sucker machines and other equipment in every district and municipal corporations under Solid waste management.
`10 cr for setting up Mobile cleanliness Squads with a vehicle, solid waste equipment and trained manpower.
`15 cr for sustaining ODF status .
10 % increase in Octroi compensation grant for 6 Municipal Corporations and 162 Municipalities as per the base year 2014-15.
Panchayat, Rural Housing & Rural Developemnt.
`10 cr for transforming 250 villages into "Vrindavan Gram.
`100 cr for transforming 296 villages into smart villages, selected on the basis of improvement in 15 socio economic parameters.
`1373 cr for constructing 1.10 lakh houses under "Pradhan Mantri Awas Yojana", which assistance has been increased from `75,000 per house to `120,000 per house.
`380 cr for generating 340 lakh man-days employment covering 6.1 lakh families under "Mahatma Gandhi National Rural Employment Guarantee Scheme".
`66 cr for providing various trade related training to 25000 trainees under RSETI and for constituting 4000 Sakhi Mandal.
`73 cr grant for the fourth time to samaras village panchayats.
Tribal Development
`12560 cr provision for Van bandhu kalyan yojna
`998 cr for empowering and mainstreaming of tribal population and education.
Setting up of Tribal University in Narmada.

Social Justice and Empowerment:
`1032.40 cr for the welfare of Scheduled Castes.
The present assistance under Kuvarbainu Mameru Scheme increased to `12,000 from `10,000 to all eligible beneficiaries as well as increase of annual income limit to `1 lakh.
`1119 cr for Developing Castes Welfare
social security to differently abled students and senior citizens is provided for the following:-
o Monthly support to differently abled students increased from `400 to `500,
o Monthly pension of senior citizens up to 80 years increased from `400 to `500
o Monthly pension of senior citizens more than 80 years increased from `700 to `1000
o Setting up of a new corporation for welfare of differently abled persons.
Monthly honorarium of about 7328 workers of GIA hostels under SC welfare, ST welfare & Developing caste welfare enhanced by 1000 & 500 for warden & cooks respectively.
Women & Child Development:
Honorarium of 1,04,258 Angandwadi workers and 53,023 Anganwadi Helpers enhanced as below:
o Angandwadi workers from `4750/-to `5500/-
o Anganwadi Helpers from `2400/- to `2800/-
o Mini Angandwadi workers from `2800/- to `3200/-
Provision of milk for 13 lakh children and mothers of 102 blocks of 20 districts under Doodh Sanjeevani scheme.
Setting up 270 women courts for disposal of women related issues.
Forest & Environment
Cleaner production assessment and research will be undertaken in Changodar GIDC for identification of issues related to environment.
Community level interventions such as construction of community hall and kitchen shed, developing of gardens and other welfare activities will be undertaken in 10 villages each of SC & ST under Panchavati scheme.
Climate Change:
Installation of Solar Water Heaters in Government residential schools and hostels.
Installation of off-grid Solar Roof Top systems at 135 primary health centers for uninterrupted power supply.
Assistance to 4000 students for battery-operated two wheelers.
Sports, Youth and Cultural Activities
`10 cr for organizing State Level Kala Maha Kumbh for promoting and indentifying art and cultural talent in youth and children
`118 cr for different activities related to Sports and physical education.
Revenue:
A System to make available Digital Property Card and Rural Property Card will be implemented.
Home:
`200 cr. is allocated for installing CCTV cameras on important crossroads, traffic circles, entry-exit points and strategic locations of Ahmedabad, Vadodara, Surat & Rajkot for video surveillance and traffic monitoring. CCTV cameras will also be installed in all District headquarters as well as 6 holy towns.
1000 traffic policemen will be recruited.
Legal:
New courts will be set up at Keshod , Halol and Limkheda .
Four family courts to be set up at Gir somnath (Veraval), Aravalli (Modasa), Morbi and Devbhumi Dwarka (Khambhaliya)
Two special courts at Aravalli (Modasa) and Gir somnath (Veraval) for the trial of atrocity cases.
General Administration:
Stipend for civil services examination extended to all. 10 Information and Broadcasting
Families of accredited journalists to be covered under MA Vatsalya. Insurance cover for journalists accredited by Information department will be increased from `50,000 to `500,000.