PAAS Leader Hardik Patel was on late Friday shifted to New Civil Hospital in Surat from Lajpore Central Jail by the authorities where he is lodged in connection with a sedition case. He is on a hunger strike for two days. Hardik had launched an indefinite hunger strike at the Lajpore Jail in Surat, where he is lodged since September in two sedition cases, demanding reservation to his community in Government jobs and education under OBC category. Prison authorities said Hardik had written to Jail Superintendent R N Pandey on February 16 stating that from February 18 onwards he would go on an indefinite fast, demanding immediate release of all quota stir leaders who are in jails across Gujarat, and reservation benefits for the community.
The surprise move by Hardik came at a time when his close aides have expressed willingness to hold talks with the BJP Government in Gujarat over the quota issue. Three of Hardik's close aides – Ketan Patel, Chirag Patel and Dinesh Bambhaniya – who are also behind bars in sedition case, wrote a letter to Chief Minister Anandiben Patel recently and expressed willingness to hold talks. Since the letter did not have the signature of Hardik, speculation is rife the 22-year-old may have felt betrayed by his own men and decided to undertake indefinite fast.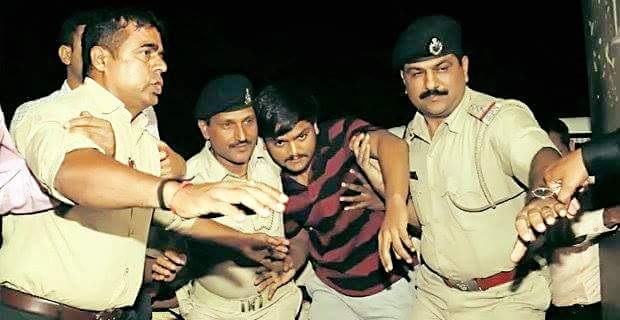 According to jail authorities, the 22-year-old Patidar leader refused to take food or water since morning. They, however, said his condition was "alright". Hardik, convener of Patidar Anamat Andolan Samiti, has been kept in a separate barrack."We tried to convince him to eat something, but he denied. He had given me a letter on February 16, demanding immediate release of Patidar youths from different jails and a decision on the reservation issue. Our medical team examined him and his health is at present normal. There is nothing to worry about. We have asked a team of doctors to monitor his health continuously. We have also informed the higher authorities," said the jail superintendent."Hardik also said Patel youths (who took part in the stir) have been wrongfully arrested by the Government," said jail superintendent, adding the young quota leader is under constant watch of medical officers inside the jail.
On October 19 last year, police in Surat had arrested Hardik on charges of sedition for allegedly inciting fellow activist Vipul Desai to kill a handful of policemen instead of committing suicide. The alleged statement was made on October 3. Two Patidar youths — Vipul and Chirag Desai — were also arrested in January this year in connection with the case and they are lodged in Surat district jail. Another accused Alpesh Katheriya has gone "underground". Hardik is also facing another sedition case which has been lodged by Ahmedabad Detection of Crime Branch.