Gujarat Swine Flu: death toll reached 254 with 12 more deaths in state
In Gujarat state, menace of swine flu continues. Today in Patan, One year old kid died of swine flu during treatment. In Rajkot, following swine flu outbreak, police commissioner orders to close all public fairs from Monday. In the state 1513 swine flu pateints are under treatment, out of which 10 are under ventilator. 12 more deaths were reported and Total death toll reached 254. In Kutch, one prisoners of Galpadar was tested swine flu positive.
Gujarat Swine Flu: death toll reached 242 in state since January
Yesterday Gujarat Chief Minister Vijay Rupani visited Isolation Ward at Ahmedabad, Vadodara, Surat and Rajkot after spread of Swine flu in the state. He held meeting with district collector and state officials and ensured necessary medical facility to swine flu patients.
As on 18.08.2017 Swine flu Report is as follows:
New case registered 228 with AMC- 111, VMC-40, SMC-07, RMC -05, Kutch-06, Anand – 06, BMC-05, Bhavnagar-06, Gandhinagar-05, Panchmahal-04 (Ahmedabad, Surat-03 each) (Rajkot,Vadodara,Jamnagar corp, Bharuch, Mehsana, Gir-somnath, Amreli, GMC, Kheda – 02 each) (Surendranagar, Patan, B.K.,Valsad, Botad, Aravalli, Porbandar, Morbi,Chhota udepur -01 each)
Today death reached 12 withAMC-04, VMC-04, (Ahmedabad, Mehsana, GMC, Patan – 01 death)
Progressive from date 01.01.2017
Total cases registered 2500, Cured 959 patients Under treatment 1299 and Death toll reached 242.
One died of swine flu in Vadodara before CM visit
Today before visit of Gujarat Chief Minister Vijay Rupani at Sayaji Hospital in Vadodara, one patient died of swine flu.


Today due to swine flu one child of Amreli died in Rajkot Civil Hospital. There are 31 swine flu patients under treatment out of which 29 have been tested positive.



Gujarat Chief Minister Vijay Rupani visited Surat Civil Hospital and held meeting with health authorities. He obtained information on Laboratory Reports.
Gujarat Chief Minister in Vadodara, at SSG Sayaji General Hospital checked on adequate arrangements for medical oxygen are made. On an average daily 60 jumbo cylinders are provided to swine flu ward. Routinely, oxygen cylinders were supplied twice a day, if required it is supplied more than twice. We have 25 ventilators out of which 20 are adult type and five pediatrics. 6 multipara monitors, dedicated X Ray and USG machines were equipped for the patients.
Swine flu Report in Gujarat state as on 17.08.2017 is as follows:
New cases – 177, with AMC-74, VMC-24, SMC-13, GMC-11, BMC-06, Gandhinagar-05 (Vadodara, JMC, Bhavnagar each-04 case) (Amreli, Patan, Banaskantha each-03 case) (RMC, Kutch, Junagadh, Ahmedabad, Valsad, JUMC each-02 case) Rajkot, Anand, Mehasana, Jamnagar, Sabarkantha, Surendranagar, Surat, Botad, Dahod, Panchmahal, Chhotaudepur, each-01 case)
Today death toll reached at 10 (AMC-03, (Amreli, RMC, kutch, JUMC, Rajkot, Anand, Sabarkantha each-01 death)
Progressive from date 1 January 2017
Total case – 2272 Cured – 857 Under treatment – 1225 and Death toll reached 230.

Menace of the disease continues in the state with death toll reaching 11 and swine flu cases to be 327.
Health department is on run to control the disease.
Media claims that now enough masks have been made available after highlighting the issue on their medium.

Gujarat swine flu: 746 cured and death toll rises to 220
Today Swine flu claims one more life in Valsad. Death Toll in Valsad reached 3. One 36 year old man died in Valsad.

As far as Swine flu Report as on today is concerned.
There were toll 212 New cases of swine flu with AMC-91, VMC-31, SMC-15, Gandhinagar-9, Kutch-8, Ahmedabad-7, (Vadodara, Mehasana each 6 cases), (Junagadh, Anand, Patan, Banaskantha each-3 cases) (RMC, Bharuch, JMC, Surat, GMC, Mahisagar, Narmada, each-2 cases) and (Rajkot, Sabarkantha, Amreli, Valsad, Kheda, Botad, Dahod each- 1 case).
Death toll has reached 12 (AMC-4, Ahmedabad-2) (SMC, Kutch, Gir Somnath, BMC, Bhavnagar, Navsari each-01 Death) Progressive from 1st January 2017.
Total cases registered were 2095, Cured 746, Under treatment 1129 and Death Toll reached 220.
Swine flu death toll 138 in Gujarat in 2017, Vijay Rupani holds meeting
Yesterday in Gandhinagar, Gujarat Health Minister Shanker Chaudhary has tried to spread awareness through a press conference on how to combat with spread of swine flu.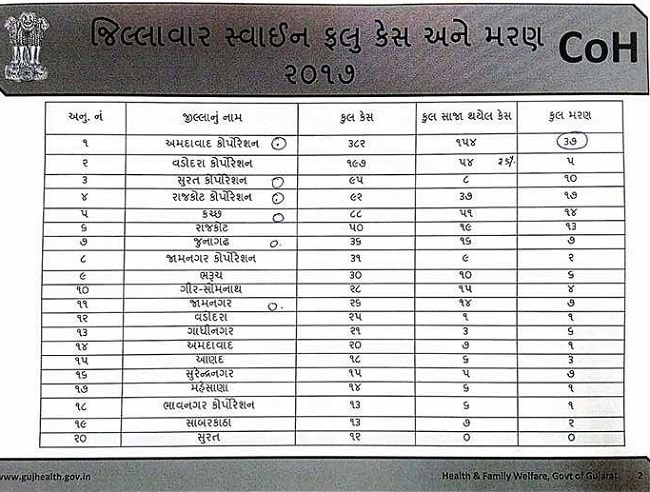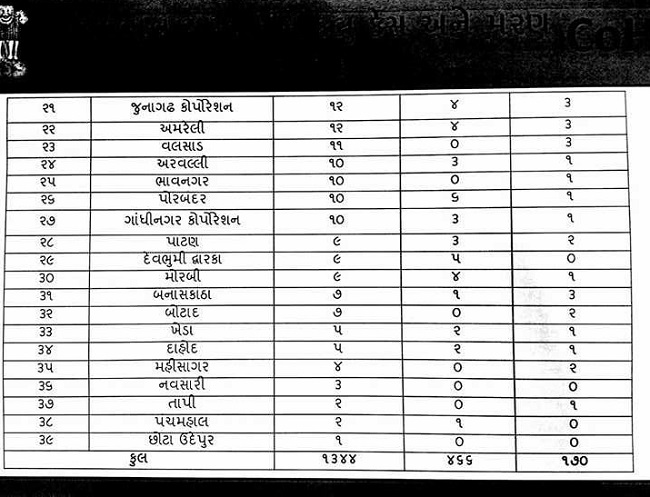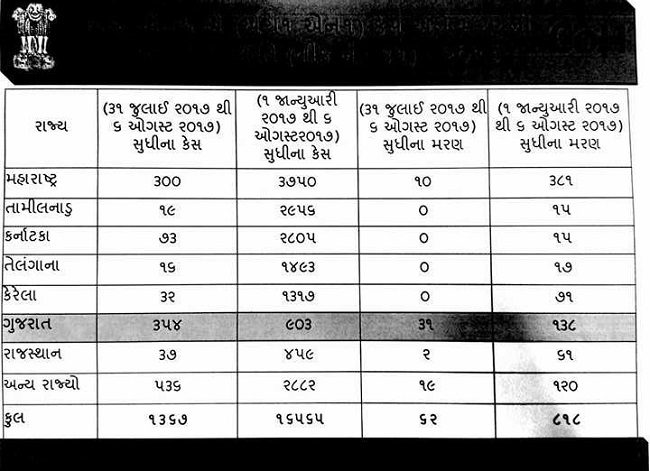 For swine flu control service of 104 will be launched and it will coordinate with 108 Ambulance. Also, a team of 5,000 doctors and 40,000 Asha workers will be deployed in the state.

Till now in the state, 1,344 swine flu cases were registered, out of which 466 have been cured and death toll is 138.

There are cases of swine flu in Saurashtra and Kutch. 680 patients are under isolation ward.

In Ahmedabad, there are 46 swine flu patients. Gujarat Chief Minister Vijay Rupani talked to Ahmedabad Collector and Ahmedabad Municipal Commissioner through Video Conference. More than 1,300 Asha Workers have started surveying for symptoms of swine flu by door-to-door visit.

Gujarat Health department goofs up by prescribing Tamiflu in swine flu treatment
After menace of swine flu in Gujarat, particularly in Rajkot and Ahmedabad, health department has become alert and on run to curb the spread of epidemic-like situation. Post floods in Banaskantha and Saurashtra health department of Gujarat government has created a major goof-up by prescribing Tamiflu' medicine for cure of swine flu. It is noteworthy that Tamilfu is common medicine which can be taken without doctor's prescription.

On Friday, Gujarat government's health department issued a press release, through information department, with misleading information about Tamiflu medicine in the public domain. The false information is enough to create major havoc in an epidemic-like situation in swine flu affected state. Till now 1,214 registered swine flu cases in Gujarat and death toll has reached 160.
Health team visited with a 10-member team at Rajkot to take the stock of swine flu situation in Saurashtra region.
According to medical experts, Tamiflu cannot be taken without prescription of a doctor.
As per Ahmedabad Civil Hospital, Tamiflu cannot be taken without doctor's prescription.
Rajkot: 238 swine flu Positive cases registered and Death toll 49
In Rajkot, from January to till now, 238 swine flu Positive cases were registered and Death toll reached 49. Till now 65 patients are under treatment Gujarat.
More than 1000 positive cases were reported and 150 died due to swine flu in Gujarat.
In Sabarkantha, 7 years old boy was tested swine flu positive in Prantij. He was admitted to civil hospital in Ahmedabad.
50 years old lady died due to swine flu of Jasdan.
Rajkot: 25 years old lady died of swine flu, death toll reaches to 46
Today in Rajkot, with death of one 25 years old lady of swineflu in a Private hospital, death toll reaches to 46.
In 5 days 3 persons died of Swine Flu in Rajkot. Total 195 positive cases were registered till now.
On the situation health department said that swine flu bacteria has changed its symptoms and we are trying to give as much awareness as possible. Still there is some lack of awareness among people. The decease is prominent in olderly people and kids.

Recently one 65 year old lady died in Rajkot Civil Pandit Dindayal Hospital.

Whenever, we get to know about such type of case we try to give vaccine to the patient and even distribute medicine free of cost to them added heath authorities.
Health department of RMC Rajkot Municipal Corporation was run after spread of the decease.
MORE ON "Swineflu","Rajkot","Ahmedabad"