Hardik Patel gets support from Umiyadham and Arvind Kejriwal on Day 10 of fasting
Today on 10th of fasting by Patidar leader Hardik Patel, support from Umiyadham biggest religious entity of Patidar community has come. Umiyadham is backed by Kadva Patidar.
Leaders of Umiyadham has extended their support to Hardik Patel. In general meeting , a decision was taken. Other entities likely to come forward in support of Patidars. They will even bear expense of legal charges.
Dilip Patel trustee of Umiyadham said when a Patidar is protesting for good cause, he naturally gets our support.
किसानों की क़र्ज़ा माफ़ी और आरक्षण की माँग को प्रदेश की सबसे बड़ी पटेल समाज की संस्था एवं कुलदेवी श्री उमिया धाम मंदिर ने भी समर्थन किया,यह तो सिर्फ़ अंगड़ाई है आगे और लड़ाई हैं।धीरे धीरे प्रदेश के हर एक व्यक्ति में संपूर्ण लोक क्रांति की ज्वाला जलेंगे,बुरी ताक़त को ध्वस्त करेंगे

— Hardik Patel (@HardikPatel_) September 3, 2018
Recently, Delhi chief minister and AAP Aam Aadmi Party Chief Arvind Kejriwal also has supported move of Hardik Patel in favour of Gujarat Farmers and said his efforts would not go in vain.
किसानों की क़र्ज़ माफ़ी होनी चाहिए। हार्दिक पटेल ग़रीब किसानों की लड़ाई लड़ रहे हैं। सभी किसान और पूरा समाज उनके साथ है। उनकी तपस्या व्यर्थ नहीं जाएगी। प्रभू उन्हें शक्ति दे। https://t.co/NSN1GQ8XTx

— Arvind Kejriwal (@ArvindKejriwal) September 3, 2018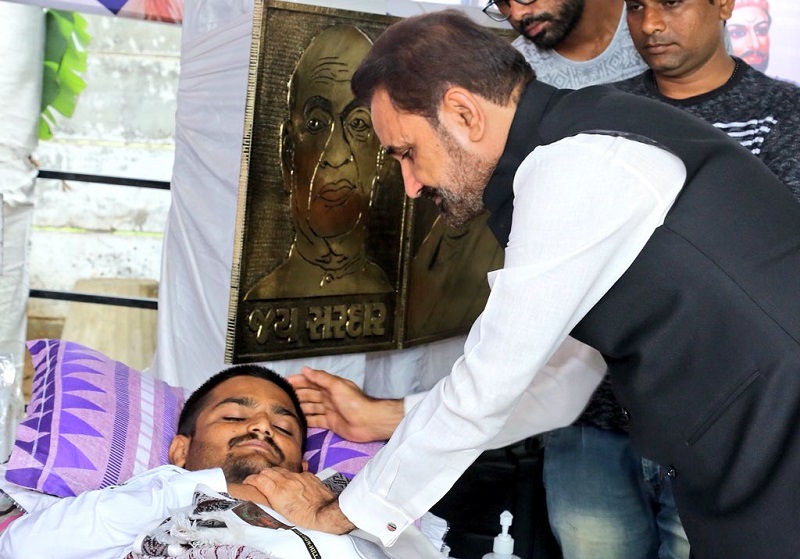 Congress leaders Shaktisinh Gohil, Shailesh Parmar and Jayrajsinh Parmar visited Hardik and inquired about his health.
Shaktisinh Gohil said people coming to meet Hardik are being stopped.
Due to lathicharge on people coming to meet Hardik, today he refrained to get medical checkup by doctors. A team of Sola Civil hospital was sent back.
Geeta Patel said that with support from Umiyadham our morale has been boosted and we have got new energy.
Many young people, shave off their head in support of agitation by Hardik Patel.
Hardik Patel is fasting for loan waiver to Gujarat farmers and reservation to Patidars in Gujarat.
Condition of Hardik is said to be serious.