Indian Coast Guard Ankit apprehended Pakistani boat 'Yaseen' with 10 crew members in Indian waters at Arabian Sea during Night Operations on 08 Jan Boat being brought to Porbandar for further interrogation.
Defence PRO of Gujarat intimated through his official tweeter handle about the seizer of Pakistani boat with crew members.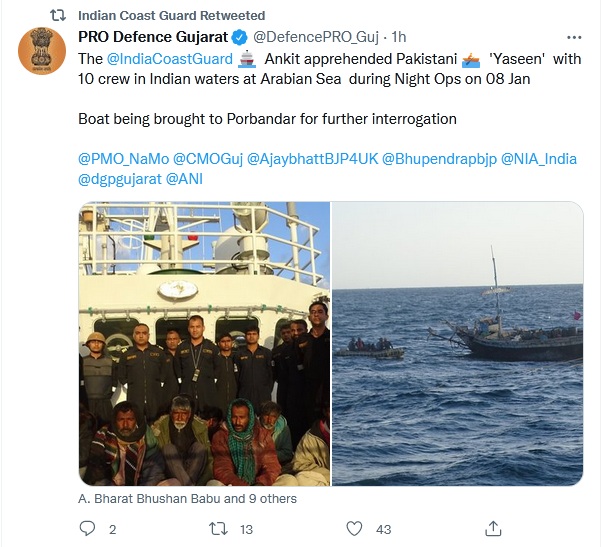 Pakistanis, including boats, are being brought to Porbandar for further investigation. It is not the first time a Pakistani boat has been apprehended. Earlier, a boat was caught off the coast of Gujarat in September last year. There were 12 Pakistani crew members.
Another Pakistani boat has been seized in 2 days. Earlier on Friday, BSF Border Security Force had seized a Pakistani boat at border in Punjab's Ferozepur district. A BSF official,said that the boat was intercepted at international border during a patrol. Such boats are used to transport consignments of drugs. During the winter, Pakistanis take advantage of the dense fog and supply medicines. Many Pakistani drones have been intercepted in Punjab in recent days.