With today's poll results in 5 state assembly elections including UP Uttar Pradesh, Uttarakhand, Manipur, Goa and Punjab shows lead by BJP Bharatiya Janta Party.
Poll results shows effect of Modi wave and policy of growth.
In UP, BJP getting more than 300 seats itself endorses faith of people in BJP led by Narendra Modi. Also lead in northeastern state of Manipur and Uttarakhand trends BJP high among peers.
Magic of Equating old political parties and their possible allies for political gain did not work.
BJP partymen and workers in all states and throughout the country enjoy in big way by turning up on roads, visiting at party office.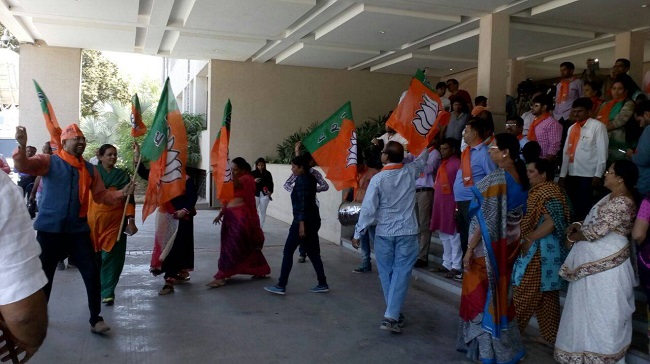 Somewehere, BJP workers bursted crakers, they played holi sang and danced and congratulated Modiji for big success in political battle.
Also in Vijay Muhirat of 12:39 pm, victory celebration at all BJP party office will be done.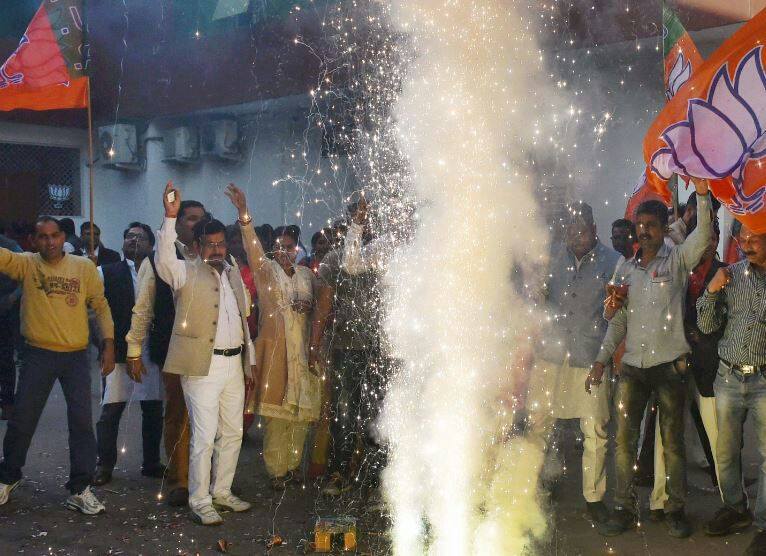 Yesterday's Exit Poll results showed trend in favour of BJP in assembly elections.
#Punjab #PollResults 117/117 seats: Akali-20(leading),Congress-70,AAP-26 and Others-1
#Uttarakhand #PollResults 70/70 seats: BJP-55,Congress-10 and Others-5
#UP #UttarPradesh #PollResults 403/403 seats: BJP-306 (leading),SP-71(leading),BSP-18 and Others-8
#Manipur #PollResults 35/60 seats: Congress-12,BJP-16 and Others-7
#Goa #PollResults 25/40 seats: Congress-12,BJP-8(leading),AAP-1 and Others-4