Municipal School teacher rape minor girl in Ahmedabad
Today in Ahmedabad, complaint of rape by Municipal School Teacher on 7 years old minor girl has come up.
The complaint of rape by Municipal School Teacher on minor girl is from Shahpur area of Shanker Bhuvan. Class teacher Sunil teased and raped minor girl of 7 years old from Shahpur School No 5-6 (English Medium School).

As per victim girl's father first time the incident happened on Thursday 14th September. Parents had doubt for the first time on seeing girl's clothes but anyway they washed away the clothes as they had only one pair. Girl in the mean time was complaining of stomach pain at that time her parents had gone to temple and relatives called them over phone, parents advised girl to get medicine and good food and advised her to take rest.
Next time it happened again on Saturday 16th September, they went to doctor with girl's cloths. On seeing the cloths, doctor advised parents to lodge FIR before evidence gets destroyed or it becomes too late.
Victim girl is taken to Civil hospital.
People have gathered outside Municipal School with shock. They threw stone on school teacher Sunil when he was taken out by police.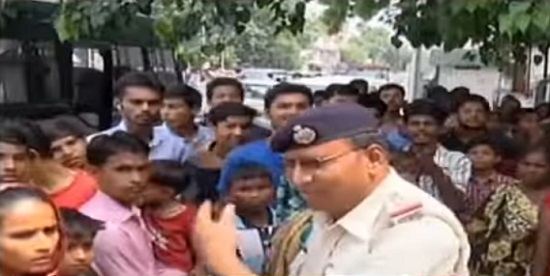 Lady police officer Usha Rada is investigating the case. She assured of complete investigation and justice in the case.
Teacher Sunil is booked under section IPC 369 and POCSO The Protection of Children from Sexual Offences Act (POCSO Act) 2012 provisions.
SIMILAR LINKS "Minor Girl","rape"
#Ahmedabad: #minor #girl #raped by neighbour in #Vejalpur https://www.gujaratheadline.com/ahmedabad-minor-girl-raped-by-neighbour-in-vejalpur/ #Gujarat
#Mumbai: #Minor #girl #raped in Bhandup https://www.gujaratheadline.com/mumbai-minor-girl-raped-in-bhandup/
#Ahmedabad; #neighbor #raped #minor #girl in Rakhial; police investigates https://www.gujaratheadline.com/ahmedabad-neighbor-raped-minor-girl-in-rakhial-police-investigates/ #Gujarat
#Minor #girl #raped in #Ahmedabad on pretext of #cooking business https://www.gujaratheadline.com/minor-girl-raped-in-ahmedabad-on-pretext-of-cooking-business/