By Darshana Jamindar
On 26th November 2021,Security and Scientific Technical Research Association (SASTRA), Rashtriya Raksha University (An Institute of National Importance) organized a National Stakeholders Meet on Small Arms and The Indian Ecosystem, An initiative towards Atmanirbhar Bharat in National Security. The event was graced by the presence of Prof (Dr) Bimal N Patel, Vice -Chancellor, RashtriyaRaksha University; Lt Col. Bansod, ARDE; Mr PSSRK Prasad, Scientific "G" Group Director (Infantry Weapons); Col Amitoz Singh SM, Director, Infantry-8; Col Dheeraj K Singh, ADG Acquisition (Tech), MoD; Shri NarsimhaKomar, ADG Law and Order, Gujarat Police.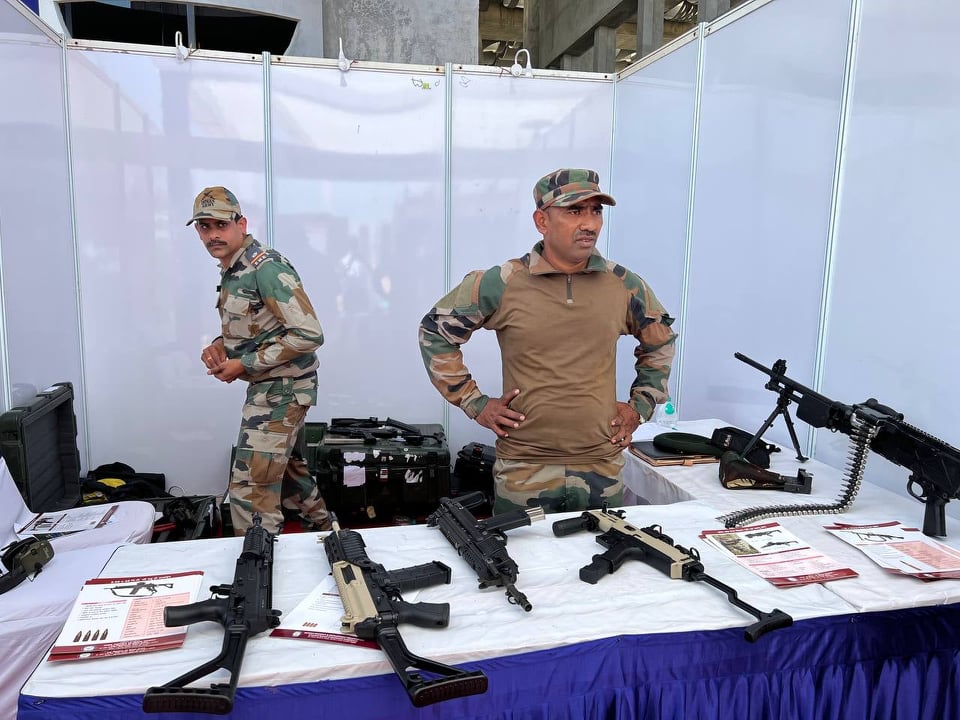 The ceremony was commenced by MrKonark Rai, Managing Director, SASTRA. He briefed about SASTRA and how can all the indigenous companies who are working towards National Securitycan come together and make the world a better place.
Followed by that, Mr PSSRK Prasad, Scientific"G"Group Director (Infantry Weapons)briefed about the small arms and its classification through a PowerPoint Presentation.
Then Lt Col. PrasadBansod, VSM, ARDE talked about Classifications of Small Arms, He mentioned about Pistols, Carbines, Rifles, LMG, MMG. He emphasized on the Designations of small arms and ammunitions. He talked about the features of Bullet and its Classifications.Operational needs of Small Arms materials, barrels, and also he proposed the new JV model of ARDE.
Col Amitoz Singh SM briefed about the Advantages of small Arms (Atmanirbhar). The challenges faced by the Officers.
Prof (Dr) Bimal N Patel, Vice-Chancellor, RashtriyaRaksha University mentioned about the Small Arms and the Indian Ecosystem and SASTRA. Prof Patel also gave us an insight about the Training and Structure of RashtriyaRaksha University.
In the end, the Vote of thanks was given by DrDharaThakore, Project Development Manager, SASTRA.
After the Inauguration Ceremony, the Opening of the exhibition took place and the firing range was visited by all the Dignitaries. A Round-Table Discussion on Challenges Associated with Small Arms in India took place among the Chiefs and SASTRA.
After that, Simulator Demonstration and Training took place where all the dignitaries took part in the fire range.