Prime Minister Narendra Modi inaugurated India's new Parliament building today morning. Dressed in a traditional attire, Modi performed a "Ganapati Homam", along with Lok Sabha Speaker Om Birla. Download our special commemorative poster on India's Parliament House.
PM Modi sought blessings from high priests of various Adheenams in Tamil Nadu and then installed the 'Sengol' spectre near the Lok Sabha Speaker's chair in the new Parliament building. The prime minister also unveiled a plaque inaugurating the new building and honoured workers who helped built it. Union Ministers Amit Shah, Rajnath Singh, S Jaishankar and BJP national president JP Nadda were present.
The new Parliament building is part of the revamped Central Vista project, the construction of which started in 2019. Built at an estimated cost of Rs 1,200 crore, the new Parliament has three storeys and a built-up area of 64,500 sqm. During the ceremony today, the Union Finance Ministry will also launch a Rs 75 coin to mark the inauguration of the new Parliament.
The Prime Minister has shared the video of new Parliament with voiceover carried out by citizens conveying their thoughts as requested by the PM.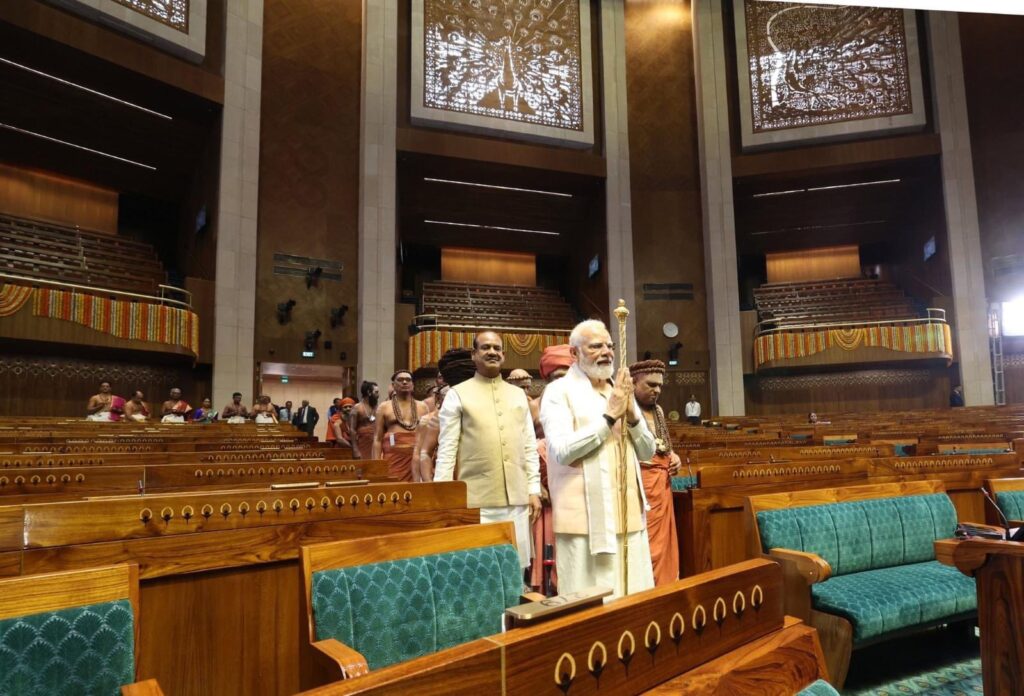 He also shared the voiceover video by Union Minister, Shri Hardeep Singh Puri, Lok Sabha Speaker, Shri Om Birla, and other celebrities.
Retweeting the videos via his Twitter handle, the Prime Minister said:
"Several people are expressing their joy on #MyParliamentMyPride. Through very emotional voice-overs they are conveying a spirit of pride that our nation is getting a new Parliament which will keep working to fulfil people's aspirations with more vigour."
"May this Temple of Democracy continue strengthening India's development trajectory and empowering millions. #MyParliamentMyPride"