Today wife of PSI Devendrasinh Rathod has announced in a press conference in Ahmedabad, that she would also commit suicide as no progress has been made in suicide of her husband after harassment by his senior officer Patel of Karai Police Academy.
No progress has been made in the case after assurance from chief minister.
Even today family of PSI Rathod was complaining that Post mortem report, suicide note and things recovered from the room of Devendra Rathod is kept in custody of Sola police,who is trying to defend and safeguard DySP NP Patel.
Family of PSI Rathod complains that DySP NP Patel is not yet suspended and he is in the job, police department is trying to protect his top official and keeping him away in the case. They also have a doubt that evidence in the case will be destroyed by police to make the case weak in court.
Further family warned to leave Gujarat without accepting dead body of Devendra and migrate to Uttar Pradesh to their native by today evening after informing AK Singh Ahmedabad police commissioner , if they do not get justice from police and government.
Family can move high court today. Most of family members of PSI served for Army and Police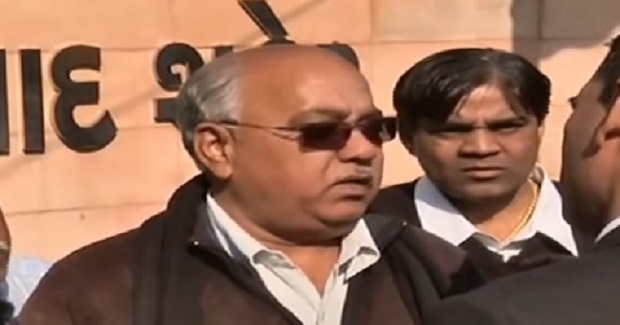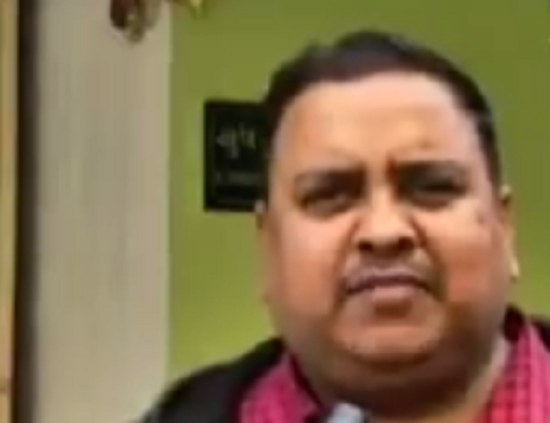 family of psi complain of sola policeWife Dimple Rathod of victim PSI Devendra Rathod made shocking revelation about DySP NP Patel of Gujarat Police Academy, that Patel wanted to develop sexual relationship with her husband Devendra.

When Devendra was remaining upset for last so many days, wife could smell something fishy on happenings. When Dimple asked husband giving name of her son, Devendra told the shocking truth that DySP is interested in keeping sexual relation with him and because of his such type of perverted interest DySP was firing and insulting him in public by calling Devendra in his office. Patel also was threatening to take away his job.
Dimple has given her statement before police and ready to give statement in front of Gujarat chief minister. She has warned of self emmolation, if justice is not done in the case.
On asking DySP Patel about the allegation, he denied them and said he was not troubling Devendra, but Devendra was upset for quite some time.

In Ahmedabad in Suicide case of PSI Rathod Family creates ruckus and denies to accept dead body at Civil Hospital if police complaint is not filed. Family accused to suspended DySP NP Patel for pressurizing their son Devendra Rathod to take extreme step of committing suicide.
Rathod had mentioned name of DySP Patel in his suicide note and requested police to suspend him. Family accused that police did not return Rathod's 3 page long suicide note.
PSI Devendra Rathod was medalist PSI of Gujarat Police Academy at Karai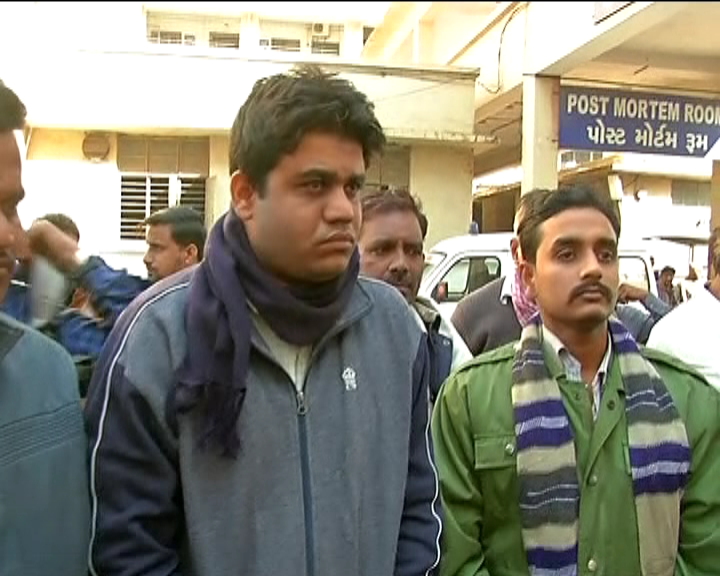 Family of victim PSI met Ahmedabad Police Commissioner, who ensured high level of enquiry in the case.
As a latest update, Ahmedabad Police Commissioner ordered to record statement of DySP NP Patel. CCTV footage of Karai police academy also being obtained fro investigation.
Police Commissioner setup enquiry comprising the team of 1 DCP, 1 ACP and 1 PSI in the case. DGP orders Crime Branch to investigate the matter.
Complaint by brother of PSI Devendra Rathod made in Sola police station to book DySP NP Patel under section IPC 306 for instigating to commit suicide. Copy of complaint marked to Gujarat CM.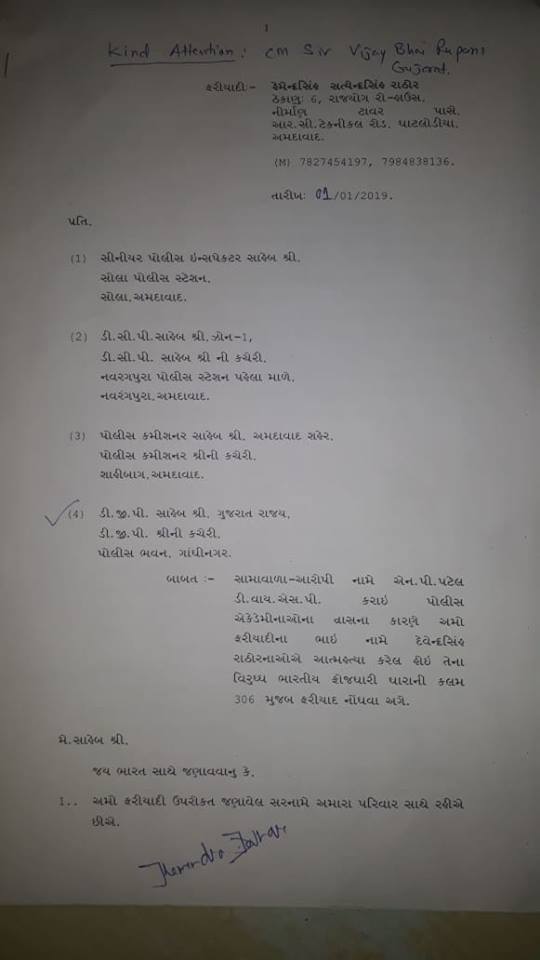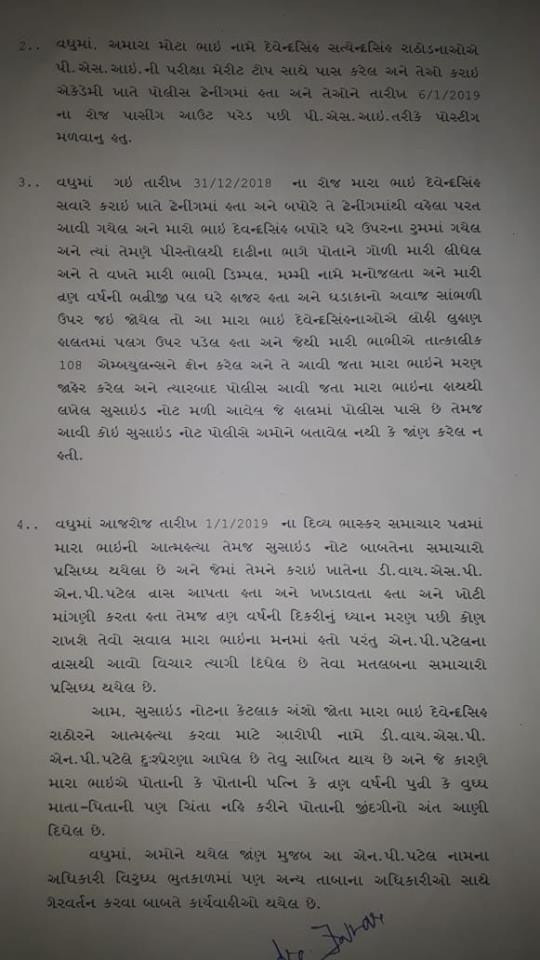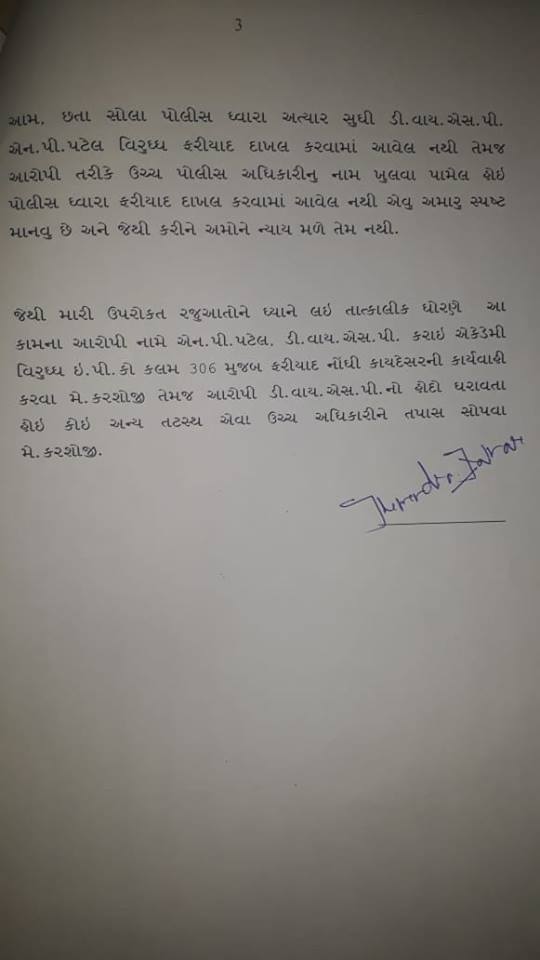 Yesterday committed suicide with his service revolver at his residence in Sola area.
As per source.