The last season's finalists are raring to go once again with new energy – "Phir se Garjega Gujarat". The Giants have added fresh and energetic players to their squad. The brand new season of the Pro Kabaddi League Season-6 is all set to mesmerize and entertain its fans with exciting matches and so are the Gujarat Fortune Giants (GFG).
The PKL-6 will raid minds and hearts of the people beginning from October 7. GFG, led by right cover Sunil Kumar shall commence its campaign against Delhi Dabangs in Chennai on October 9. GFG's home leg will be held from November 16 to 23 during which they will play six matches.

"We have a good balance of young and seasoned players, who have promise. We have an experienced Mahendra Rajput and K Prapanjan to handle the team during crisis on one side, while young turks like debut season star Sachin and Shubham Palkar who have the ability to dismantle the opposition with their swift raiding ability on the hand.  I am confident, like last season, this time too we are going to have a great success," said Manpreet Singh, coach GFG.
Echoing similar sentiments, coach GFG Neer Gulia said, "Success of Gujarat Fortune Giants in PKL-5 was a result of perfect amalgamation of talent and hard work. We have new challenges in the upcoming PKL-6. Few areas gave us a few sleepless nights in the maiden season, but we are trying to rectify them during rigorous practice sessions this year. I feel proud when my boys show willingness to learn and rectify their mistakes."
"After success and overwhelming support Giants garnered during the debut season, GFG plan to generate stronger connect with its ever growing number of fans. To make them feel that they are part of GFG, we are coming up with various GFG products including women, men and kids fashion range and other categories like stationary and collectibles are being launched. I am confident our players will continue to win hearts of Kabaddi fans," said Sanjay Adesara, CEO Gujarat Fortune Giants.
GFG became the first franchise of PKL to have its own fashion range.  Launching the vast range, fitness expert Sapna Vyas said, "This is an endeavor to establish an association with kabaddi fans not only during PKL but beyond and we hope it goes a long way."
Talking about the GFG team, Sapna added, "As a Gujarati, I felt proud when Gujarat Fortune Giants finished finalists in their debut season. It was an outstanding team performance by coach Manpreet Singh's boys. Talking as a fitness professional, I appreciate the stamina and endurance displayed by Gujarat Fortune Giants during the long season. Considering the fast-paced nature of the Pro Kabaddi League it is not easy, but Giants were up to the mark and remained injury free. Credit goes to the support staff too. This is also remarkable achievement. I wish Manpreet Singh and his boys the very best for the upcoming season – Phir se Garjega Gujarat."
"We were among three new teams in the PKL season 5. But not once the team looked raw. Players came up with matured performance on and off the field. We played as one unit, as one family. There was never a room for individual glory as it is a team game. No 'I'- it is always 'We'. And that has been the hallmark of our dressing room. It is well captured and reflected in the GFG coffee table book. On behalf of GFG, I wish to thank local media, vernacular in particular, for their constant support and wish this bond continues forever. Without their support it will be difficult to develop and popularise the game in Gujarat," said Sanjay Adesara, CEO of GFG.
Talking about the launch of their trendy merchandise, Sanjay added, "It's been just one season but GFG is already a hot favourite amongst PKL fans. Taking this fandom into account, we are launching some trendy merchandise for our fans. The categories range from backpacks to magnets, badges to stickers, sippers to notebooks, and keychains to fashionable t shirts. With creative slogans and fun messages, the merchandise has been designed with the choice of young fans in mind."
"We have a good balance of young and seasoned players, who have promise. GFG has always encouraged young players as it believes in shaping these raw players into champions, who are going to be part of India team in future. Our dynamic raider Sachin has justified our faith and inspired many. We want few more Sachins in our team, who can not only shoulder the responsibility of the team but also inspire Gujaratis to take up kabaddi. We intend to have Gujarat-based players in GFG. I am confident, like last season, this time too we are going to have a great success" said Manpreet Singh, the visibly excited Head Coach of GFG.
Athang Jain, Director Jain Farmfresh Foods Limited said, "Jain Farm Fresh is proud to associate with GFG as their principal sponsor for PKL 2018-19. As a new player in the FMCG food products space, we feel our products are the right fit for such an association. Kabaddi requires lots of energy and needs the players to perform at a high level of health and fitness. FRU2go is a 100% Natural Fruit Snack that provides Health, Nutrition and Energy. The sport of Kabaddi and the brand complement each other very well."
He added, "Kabbadi, a home-grown sport of India connects to every segment of the society. It cuts across gender and age demographics. GFG, the youngest team in PKL, is a set of highly energetic players. These are the characteristics that have brought about the association between our brands. We look forward to the start of the new season."
Ranjit Bhagchandani, Owner, Ranjit Hosiery) said, "We are very excited to announce our association with the Gujarat Fortune Giants Kabbadi team.  Our brand Ranjit Rocky has always been actively associated with sports. Our product portfolio boasts of various products for active sports use. It is after all the team of our company's home state!  We, at Ranjit Hosiery, also believe that sports is essential for the all-round development of any individual."
Ayaz Mansuri, Director, Productive Creations (India) Pvt. Ltd, said, "Odayo is a brand from the stable of Productive Creations that aims to help people find the entrepreneur in them. We are glad to team up with Gujarat Fortune Giants as their Associate Sponsor since we believe the Pro Kabaddi League is the perfect platform to introduce Odayo, considering the target audience we want to reach. As this platform aims to take Kabaddi to the people of India, we aim to take business to every individual and help them to not just dream but also equip them to make their dreams come true. Last year, Team Gujarat Fortune Giants did really well to reach the finals, and we hope our association will bring luck to both of us in this season ahead."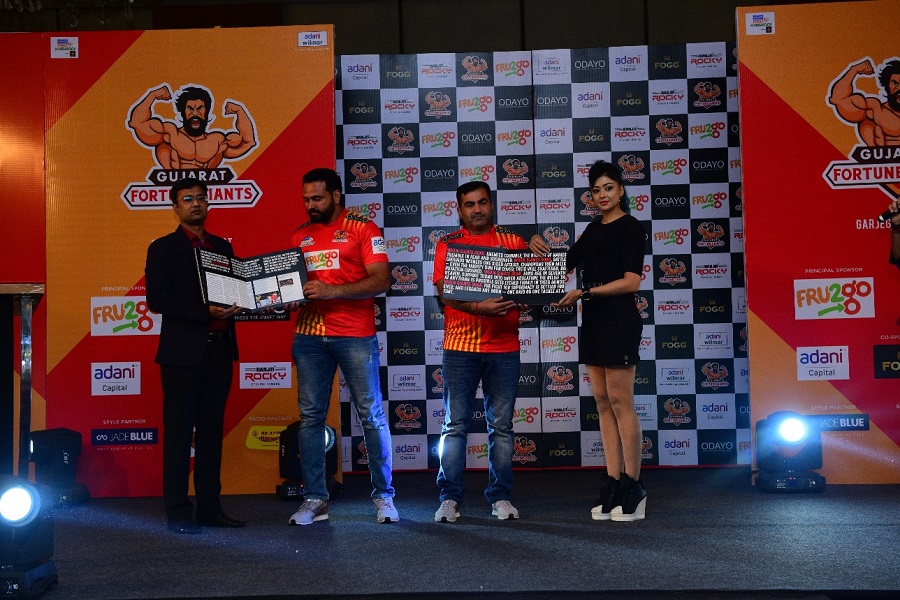 Amman Anup Kumar, R. Kumar Opticians said, "Kabbadi has established the fact that such home-grown sports could be taken to a mainstream platform. Last season is witness to Gujarat Fortune Giants's extreme dedication and focus which has led the team to realise their vision. Hence, we are happy to be associated with one of the most loved team of the previous season."