The Kapoor's Sons and there Girl Next Door in an Candid Chat with GujaratHeadline. Kapoors and Sons Team Sidharth Malhotra, Alia Bhatt and Fawad Khan was recently spotted in Ahmedabad promoting and "Chulling" there Next Film "Kapoor and Sons".
Here are some excerpts from the Quick Chat with all of them.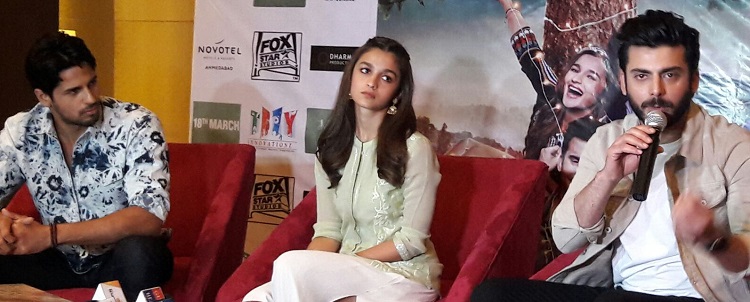 Q to Alia, What changes do you see in Sidharth after your Debut Movie ?
Ans– Sidharth has changed a lot from before. He is more aware now and He has been an AD before so Technically he helps me a lot while having shot. At the Time of Student Of The Year (SOTY) we both were very nervous and learning, so we didn't got time to enjoy. On sets of Kapoor and Sons, I found out that Sid likes to have Fun on sets with AD's, Cameramen, Director and Actors. Sidharth organized a Special Party after we wrapped up the movie. Alia also added in a naughty way, One more thing I found out that Sidharth is a Comedian.
Q to Sidharth, What changes do you see and experience in Alia ?
Ans– Rather than her age her Maturity has also changed. Alia has got amazing command over her Language Skills which she didn't had before. She has become smarter now. She has now learnt to listen her instinct.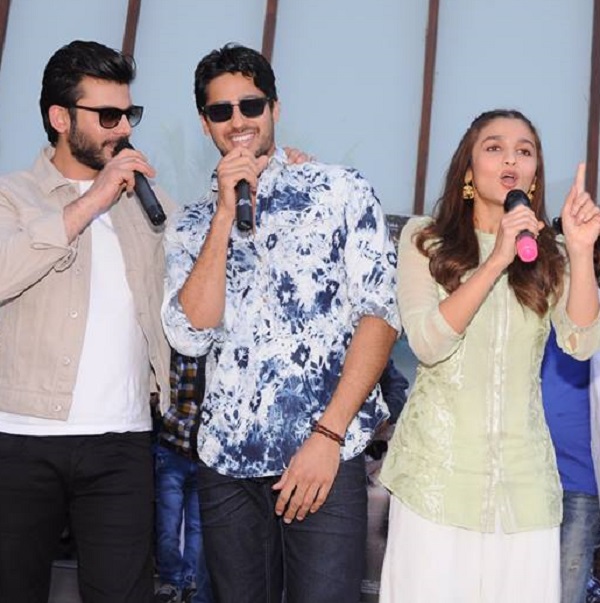 Q to all, Tell us something about Kapoor and sons?
Ans– Alia enthusiastically answered,  Kapoor and Sons story revolves around A Family and there relations. Importance is given too Family relations. In these movie also Sidharth's Comedy side will be revealed.
Q to Fawad, Share your Bond with Sidharth Malhotra?
Ans– While Fawad "Quiet" Khan was thinking about the answer,  Sidharth instantly gave the answer he told, We have done Fight sequences, Lots of Masti, More of Cricket..We shared almost everything like brothers. Fawad consented to Sid's reply.
Q to Alia, Who according to you is Good Listener and who is Good Speaker between the Kapoor Sons?
Ans– After a pause, Alia revealed, Well everyone thinks that Sidharth is good speaker but NO, Sid is a Good Listener, He listens to everyone very calmly and than reacts to it. Where as its totally opposite with Fawad, Fawad is a very Good Speaker, He is very good at narrating stories and he is sarcastic.
Q to all, famous  "Kar Gayi Chull" song from your Film has grabbed lot of attention in youth. So share you experience shooting it.
Ans-Alia – It feels good to get such a response, it was Fun to shoot the song. I was back from the shoot of Udta Punjab, and this song was shot in early days of the Film. I personally loved the set up of the song. It is Full House Party Theme song.
Sid- The song is a typical style of Shakun Batra's Chull. You can also call it Shakun Batra's Item song from the movie.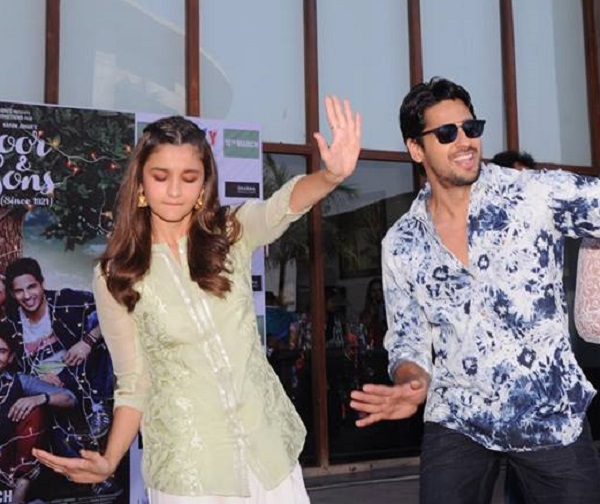 Q to Alia, One thing you Like and Dislike from the boys?
Ans-Like in Sid- He is very Simple. very ground to earth person. He is not corrupted in these world.
Dislike in Sid- One thing I dislike in Sid is that he is very impatient and Gussewala sometimes.
Like in Fawad- As a co-actor he gives me a lot of Space. I learnt a lot from him.
Dislike in Fawad- He doesn't take care of Himself. He is careless in his eating habits.
By Hiral Jamindar