'Tea and Cheese' event for food entrepreneurs in Ahmedabad
Wine and cheese have long been popular companions, immemorially indulging the taste buds in a riot of complex flavours. But, how about teaming tea and cheese?
Tea and wine share the same complexities. And with finer teas now becoming available for restaurants, cafes and lounges, a new culinary experience await people to savour in Gujarat, where prohibition is in force, by pairing food with teas.
High- tea cheese parties have become popular in other states too. There is a growing market for alcohol-free dining options due to issues related to getting bar licenses, heavy penalties for drunk driving and religious beliefs.

Oolong and green teashave begun to appeal health-conscious diners who want to resist sugary and fizzy drinks. These teas go well with multiple gourmet foods too, feelsFood Entrepreneurs Ahmedabad (FEA), an informal Facebook group of stakeholders hailing from multiple strands of the food industry, who held an exclusive "Tea and Cheese Tasting Session" at Soho Il Forno today.
FEA group members are associated with restaurants, cafes, tea lounges, hotels, resorts, heritage hotels,  banquets, catering companies, bakeries, ice-cream manufacturers, while some are home- based entrepreneurs such as bakers, chocolate makers and tiffin providers. Food writers/bloggers and professionals who can contribute the industry have also been included in the group.
The event was supported by Parag Vyas of Zero One Sales Corporation, Rajesh Francis of Magson Fresh and Frozen, Saurin Sheth of Manna Agencies and Cheese Solutions & more and Hemant Singh of Sahib Fine Foods.
Preeti Singh Rajawat of 27 Art Street curated the event.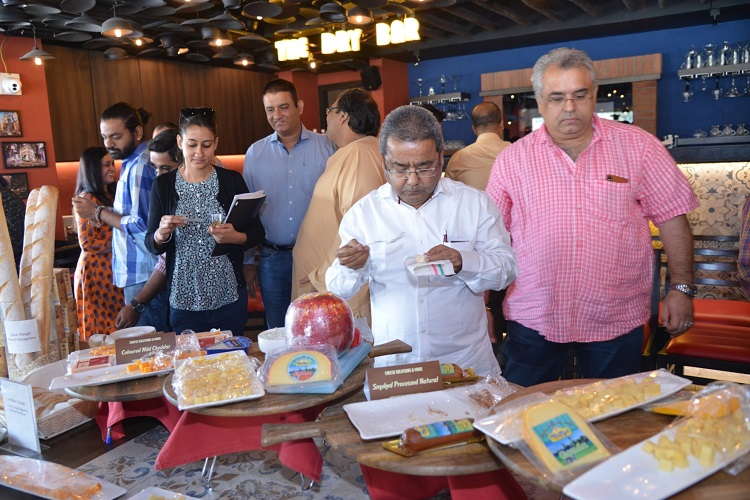 Karma Kettle, a Kolkata-based company, sponsored teas in the presence of owner Dhiraj Arora. Healthy Browns provided the breads and crackers to be paired with the cheeses, meats and teas.  About 100 food entrepreneurs, including owners of hotels, resorts, heritage hotels, restaurants, cafes, bakeries and home-based food enterprises, were present to taste teas, cheeses and gourmet food, and initiate a conversation on the increased availability of artisan and imported cheese in Ahmedabad and Vadodara.
Mind you, this isn't the fast moving teas simmering in milk. On offer were a range of floral, fruity and herbal blends, gourmet teas, exotic teas and even mocktails made using teas. This was paired with a soft, buttery and pungentblue cheese smothered over a warm baguette, washed down with smoky Lapsang Souchong, a black tea variant or the astringent Darjeeling First Flush.
There was cheddar on crackers, the bite taken with a spiced oolong. Purvi Kotak, a woman entrepreneur who makes her own chai masala, made tea to go with the creamy bocconcini. There were even paneer pakodas to go with the freshly brewed masala chai.
"New age consumers are much more aware about cheeses and other food products. In my opinion, the number of consumers who are buying imported or artisan cheeses has grown 35—40% in the last couple of years. The customers who ask for food with different cheeses in them at restaurants have also grown 18—20% in the new areas of the city. While earlier restaurants limited their cheese purchases to one or two Indian brands, and Mozerrala for pizzas, there are cafes and restaurants who now buy seven or eight different cheeses for specific dishes. The young entrepreneurs can distinguish cheddar from a sharp cheddar. There is a massive demand among home bakers, patisseries and restaurants for cheeses used in making desserts like mascarpone, fresh ricotta and Philadelphia cream cheese," saidSaurin Sheth.
Deciphering an understanding of different types of cheeses and how they pair with teas, was fascinating for those who attended. The eclectic mix had variety of textures, intensity of flavours ranging from strong, gentle to sharp made of cow milk, buffalo milk, goat milk and vegan methods too. A selection of handmade breads, crackers, cold cuts, condiments and hot food added up to curate an afternoon dedicated to this exciting market.
"It is through such tête-à-tête for the love of food that we understand changing landscapes in the culinary zone better. We have had meetings to make the restaurant industry stakeholders share information about various essentials like software and technology, taxes, human resource and skill development, licenses, etc. This is the first of such meetings to focus on knowledge- sharing about food and beverage. This was indeed enriching and we will muster all strength to carry this forward and salute the city's new generation search for fine foods," said Darshan Rawal of Soho Il Forno.
Approximate industry estimates have pegged the Indian cheese market growth rate at 16—17% per annum in value terms nearly 2 years back. The cheese market in India is worth over Rs. 1,250 crore with consumption largely city-driven. Processed cheese controls more than half of the pie and artisanal cheese ends up only in the 10% of the spectrum still. The food retail industry is indeed upbeat about the growing awareness about fine food and beverage.
Parag Vyas of Vadodara-based Zero One, one of Gujarat's top suppliers of foreign and exotic foods to hotels, restaurants and companies, and Rajesh Francis from the MagsonFreshandFrozen chain of stores selling delicatessen food, say there is a large set of globally aware consumers, many of whom have travelled internationally, studied or worked abroad, are well-read or are regularly watching food shows on TV. They are in a mood to explore.
"These new consumers are driving the demand for imported and artisan foods, fine teas, cheeses, cold cuts, sauces, both at household and restaurant level," says Francis. MagSon has grown in recent years to 9 stores in Ahmedabad, 4 in Vadodara and others in Surat, Rajkot, Jamnagar and Gandhidham.
To add to the excitement, Food Entrepreneurs Ahmedabad has planned to hold a series of trials forsuch food and beverages in 2018 to liven up the food scene in Ahmedabad.