After beginning of Coronavirus pandemic, lockdown and recession, now the business world-business is slowly recovering. Trade is also booming in Gujarat. Now India and foreign companies are showing readiness to come to Gujarat again. This is evidenced by today's meeting of Gujarat Chief Minister Bhupendra Patel with Vibrant Gujarat oriented meeting with different companies. As well as the investment of various companies is going to come in the state. It is hoped that this investment will create a large amount of employment in the state through this invetments. About 20 MoUs Memorandum of Understanding were signed worth Rs 24,185 cores today.
The investment will create about 36,925 new jobs in the state, Chief Minister Bhupendra Patel said on the occasion. Vibrant Gujarat Summit was launched when Prime Minister Narendra Modi was then Chief Minister of the state.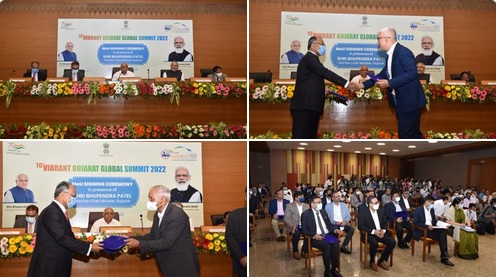 10th Vibrant Summit begins today. CM assured the government on first day that it was our responsibility not to cause any trouble. It is our responsibility to ensure that MOU is completed on time.
CM stated that it is important for the industries to fulfill the responsibility of commencing the operations on time. He also expressed the commitment of the Gujarat Govt to provide necessary help and assistance to the industries investing in the State.
It is to be mentioned that with this MOU, information has been received that about 35,000 jobs will be created. MOU signed today includes two projects in Prime Minister Narendra Modi's dream project Dholera Special Investment Zone (SIR). It is learned that Rs 8,500 crores will be invested in it. In addition, Meghmani Fintech will invest Rs 600 crores in Dahej. The project will employ 700 people in Dahej. It is learned that Rs 100 crores will be invested in Jaghadia. According to further information, IOC is going to invest Rs 1595 crores, in which 5760 people will get employment.