More than 2,000 delegates and speakers from across India and the world will take part in the conference on February 11 and 12
9th February 2023 Ahmedabad: The 60th Diamond Jubilee National Conference of the Indian Association of Physiotherapists will take place in Ahmedabad on February 11 and 12. More than 2,000 delegates from all over the country and the world will be taking part in the two-day conference.
The theme of the conference is 'Workout for Fit India', which is inspired by Prime Minister Narendra Modi's Fit India initiative. Incidentally, the prime minister will also address the inaugural session of the conference via video link on February 11.
"We are delighted to organise the 60th Diamond Jubilee National Conference of the Indian Association of Physiotherapists in Ahmedabad. It is a big landmark in the Association's journey and we look forward to welcoming delegates from India and other countries to the conference. It will be a unique opportunity to meet some of the biggest names in the world of physiotherapy," said Dr. Sanjiv Jha, President of the Indian Association of Physiotherapists.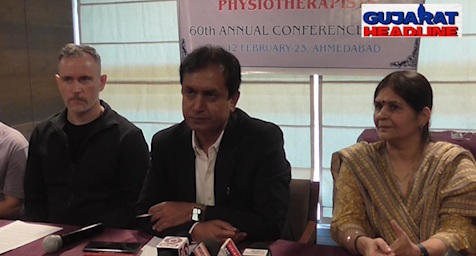 Chief Minister Shri Bhupendra Patel will be the chief guest at the conference, while Home Minister Harsh Sanghvi and Cooperation Minister Jagdish Vishwakarma will be the guests of honour.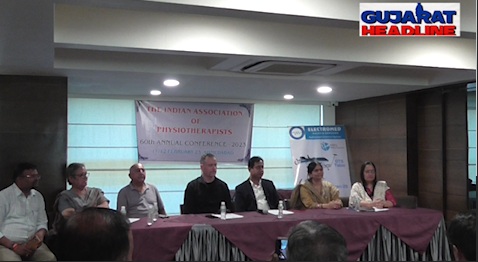 Emma Stroke, President of the World Confederation of Physiotherapy, and its CEO Jonathan Kruger will be among the distinguished guests at the conference and will share their vision and mission for physiotherapy. This is the first time the international office bearers will be taking part in any physiotherapy conference in India.
International and national speakers will be sharing their insights and experiences at the conference. Around 400 scientific and research papers will also be presented at the conference, which will also have activities such as workshops on advances in physiotherapy practices, quizzes, debates, and other programmes. Cultural programmes will also be organised to give a glimpse of Gujarat's and India's rich culture and heritage to the guests.
Dr. Theodoros Papasavas from Qatar, Dr. Elena Marques from Spain, Dr. Hady Etef, Dr. Arun Samuel and Dr. Carol Clarke from the UK, Dr. Anil Bhave and Dr. Smita Mehta from the US, Prof Jenny Mcgilney from Australia and Dr. Omar Abbas are among the international speakers at the conference. Dr Anamalai and Dr Ruchi Varshney are centralCommitee members to guide the event.
A panel discussion on Cardio Pulmonary Rehabilitation between senior therapists is one of the highlights of the conference. There are also panel discussions on the topic of fitness.
Dr Vikram Shah of Shalby Hospital said he is very happy to be associated with conference and physiotherapy plays crucial role in recovery of all kind of orthopedic conditions.
Dr. Nehal Shah is the conference's organising chairperson and Dr. Dhara Sharma is the organising secretary. Dr. Neetaben Vyas and Dr. Yagna Shukla are the patrons of the conference. Dr Nehal bhai shah is state treasurer for event.