BY DARSHANA JAMINDAR
Garba goers, Garba players and Garba enthusiasts hold your breath to dance on track of Aishwarya Majumdar. Count down has began. Stay tuned for Amazing foot tapping Garba and Dakla by Aishwarya this Navratri long weekend of 2nd to 4th September, be there and grab opportunity to play the best Garba in Ontario, Hamilton at Hamilton Community Centre in Canada.
https://www.instagram.com/p/CgdglpbDVuD/
RUSH and get / book your tickets ! Only a few tickets left for 2nd September. Rush before 2nd September finally gets Housefull.
Looking at overwhelming response, unprecedented queries for Tickets from our Canadian friends and fans of Aishwarya. Organisers Hiral Jamindar, Hitarth Pandya, Jaydeep Patel and Dhaval Patel of Millennial Events decided to extend the Rangtaali 2022 Garba for one more day on 2nd September at the same place. Aishwarya too was kind enough to give her consent for consecutive third day for the gala musical event.
GTA, get ready to play Garba with the mesmerizing beats of Garba Queen, Aishwarya Majmudar…!!!
This Navratri, the sensation, the winner of Amul Voice of India, Aishwarya Majmudar's voice will impel you to play Garba…!!!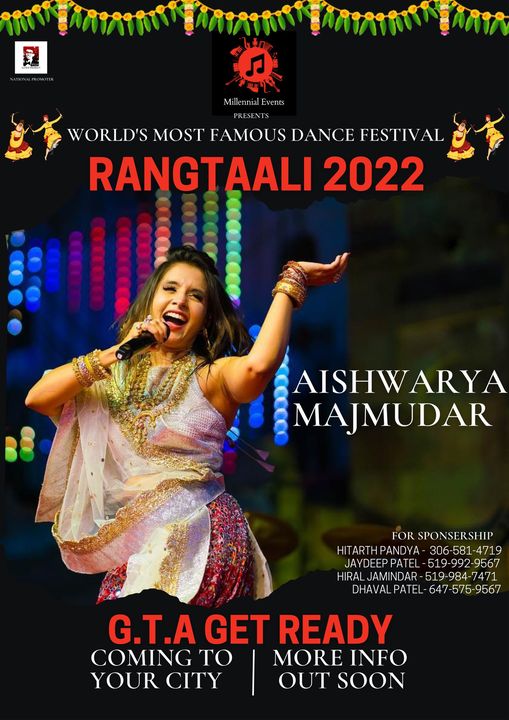 Millenial Events proudly presents Dandiya Queen Aishwarya Majmudar on 3rd and 4th September at Hamilton Convention Center.
Get ready to groove yourself on the Garba tunes!! Watch this space for more exciting news.
Tickets will be out soon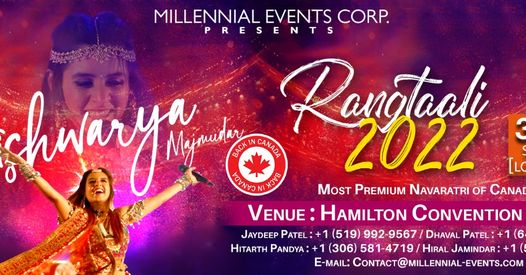 Reach out to us for any sponsorship, booth space, vendor stalls and banners.
Contact:
Hitarth Pandya: +1(306)581-4719
Jaydeep Patel:+1(519)992-9567
Hiral Jamindar: +1(519)984-7471
Dhaval Patel: +1(647)575-9567
Email: contact@millennial-events.com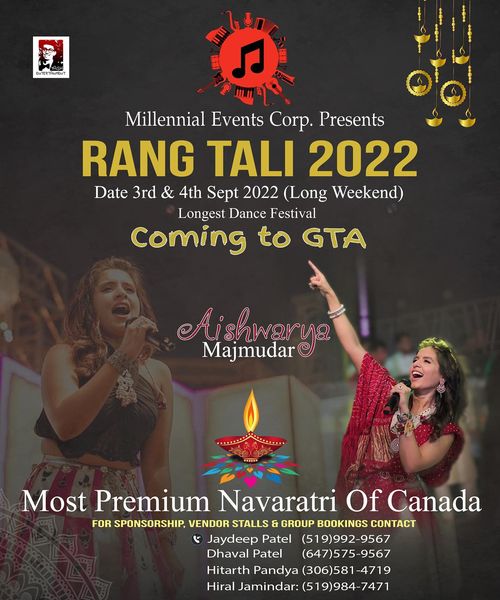 Millennial Events presents Rangtaali 2022…!!!
September 2, 3 & 4, 2022 (Long Weekend)
For Sponsorships, Vendor Stalls & Group Bookings,…
ONTARIO — Are you ready for this??
THE WAIT IS FINALLY OVER!!!!!! Join us for the most premium Garba Night!!
TICKETS ARE LIVE NOW!!!! Buy your tickets for 2nd September
NAVRATRI GARBA RANGTAALI 2022 WITH AISHWARYA MAJMUDAR at
https://www.facebook.com/reel/745197416913995