2655 candidates are in fray for 980 seats in 31 district panchayats, with 955 BJP candidates contesting. While 117 seats out of 4774 seats of 231 taluka panchayats have been declared uncontested.
Vote Counting began at 9 a.m.. The counting of votes for the 81 municipal elections will begin. Out of 980 seats of 31 district panchayats, 25 seats are uncontested.
12,265 candidates are in fray for 4774 seats of 231 taluka panchayats. In which 4,657 BJP candidates are contesting. In addition, 95 out of 2720 seats in 81 municipalities are uncontested. 7246 candidates are in fray in 81 municipalities.
The local body elections 2021 saw a record-breaking turnout of more than 60 % in most constituencies. BJP and Congress are the main rival parties, contesting for supremacy over rural Gujarat. Now, before today's referendum, both the major political parties are keen about results.
Political experts point out that atmosphere in 2015 was different. The Patidar reserve movement was a factor, including lower prices of agricultural products. Rural voters were outraged. This is the result of 31 district panchayats.
Today is the result of 980 seats of 31 district panchayats of Gujarat. Ahmedabad (34), Amreli (34), Anand (42), Aravalli (30), Bharuch (34), Bhavnagar (40), Botad (20), Chhotaudepur (32), Dahod (50), Dang (18). , Devbhoomi Dwarka (22), Gandhinagar (28), Gir Somnath (28), Jamnagar (24), Junagadh (30), Kutch (40), Mehsana (42), Mahisagar (28), Morbi (24), Narmada ( 22), Navsari (30), Panchmahal (38), Patan (32), Porbandar (18), Rajkot (36), Sabarkantha (36), Surat (36), Surendranagar (34), Tapi (26), Vadodara ( 34), Valsad (38).
Out of 25 uncontested 31 district panchayats, the total number of seats is 980 out of which 955 are from BJP, 937 from Congress, 304 from AAP and 460 others with a total of 2655 candidates in the fray. While 25 seats have been declared uncontested.
In Saurashtra, BJP has captured Una Nagar palika in the morning. After BJP had won 20 seats unopposed before the elections, now the BJP has won 3 seats in Ward No. 2. When an independent candidate won one seat. BJP has won 23 out of 36 Una taluka panchayats. Thus, BJP opened its account from Una municipality today.
Polling for the municipal, district and taluka panchayat elections was held on February 28. Its results are coming out today on 2nd March. Victory flag of AAP Aam Aadmi Party has opened acoount in Beraja of Kalawad taluka panchayat election. Thus, after Surat, Aam Aadmi Party has now registered its presence in Saurashtra as well. It may be mentioned that Aam Aadmi Party veteran leader and Deputy Chief Minister Manish Sisodia had organized a massive road show in Rajkot besides Surat. The effect of which is now slowly beginning to appear in Saurashtra.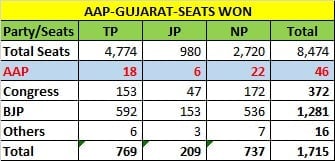 State average ———
Taluka Pt District Pt. Nagar Palika
BJP …….. 1036 246 803
CONGRESS …… 388 55 159
INDEPENDENT … 26 1 43
AAP ….. 1 1 1
BSP …. 1 0 0
Others – 0 0 6
BJP Bharatiya Janta Party starts celebration at its head quarter Kamalam in Koba Gandhinagar. There is a big festivity of Diwali celebration like atmosphere.