Finance Minister Nitin Patel Gujarat's largest budget of Rs 2.27 lakh crore for the year 2021-22 presented today. FM provided a healthy allocation of Rs 31,955 crore for education, Rs 11,243 crore for health, and Rs 7,423 crore for the agriculture sectors. Provision of Rs 13034 crore for Energy and Petrochemical Department.Rs 910 crore has been provided for the Climate Change Department. A provision of Rs 6599 crore has been made for Industry and Mines Department.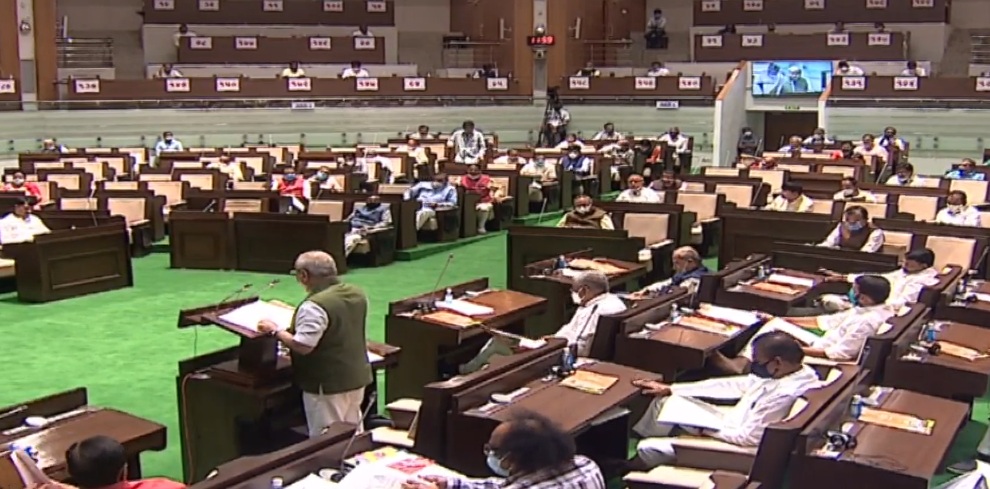 Highlights of Budget 2020-21 :
The total size of the Budget was ₹ 2,17,287 crore, which is higher by ₹ 12,472 crore over the previous Budget in 2019-20. Rs 3511 crore has been provided for Women and Child Development Department. RS 3974 crore has been allocated for water supply.
Gujarat government gave a self-sufficient package of Rs 14,000 crore. Financial assistance of Rs 1,000 in the account of 76.38 lakh families of the state.
In a big relief for cold storage infrastructure, religious places, small traders, businessmen and artisans, the budget provided for a Rs 330.16-crore relief in electricity duty Gujarat Budget, Special vaccination cell to be set up to ensure smooth vaccination process. Rs 3 crore allocated for more vaccine stores in nine more districts. For ceramic industry of Morbi the Morbi- Halvad and state highway connecting Morbi industrial zone to be converted into 4 lane.
Provision of Rs. 8796 crore for Panchayat Rural Housing and Rural Development Department. Rs 13493 crore has been provided for urban development and urban housing. RS 1502 crore has been provided for Labor and Employment Department.
Rs 7232 crore for Krishi Khedut Kalyan Yojana Rs 5, 494 crore for water resources, Rs 32,719 crore for education , Rs 11,323 crore for health and family welfare department. Provision of Rs. 3974 crore for water supply. Provision of Rs. 4353 crore for social justice and empowerment. Allocation of Rs. 13493 crore for urban development 150 Provision of Rs.1502 crore for labor welfare and employment. Provision of Rs. 1814 crore for forest environment . Provision of Rs.1224 crore for food and civil supplies .
The revenue department has provided Rs. 4548 crore .Provision of Rs. 563 crore for Science and Technology .Provision of Rs. 1032 crore for destitute old age pension. Budget of Rs. 1500 crore for Ahmedabad-Mumbai bullet train .A budget of Rs 50 crore to buy a new vehicle for the police 48 Provision of Rs. 4548 crore for Revenue Department Allocated 100 Crore for crop credit in Co-operative Department.
Despite low income, the government has not stopped development works in Gujarat. We continued the development journey of the state during the Corona period. Continued to provide pensions to women and the elderly. people. Provision of Rs. 11185 crore for Roads and Buildings Department. Provision of Rs. 1478 crore for Ports and Transport Department. Provision of Rs. 13034 crore for energy and petrochemical sector. Provision of Rs. 910 crore for Climate Change Department 99 Provision of Rs. 6599 crore for Industry and Mines Department. Provision of Rs. 1814 crore for Forest and Environment Department. Provision of Rs. 7960 crore for Home Department Shocking statistics amid alcohol ban in Gujarat . Shocking figures presented by the state government in the Legislative Assembly 198 198.30 crore foreign liquor seized in the last 2 years in the state Despite the lockdown, more alcohol was seized in 2020 than in 2019
* Total provision of Rs. 3 crore for Agriculture, Farmer Welfare and Co-operation Department * A scheme to provide 4 lakh farmers in the state without a drum and two plastic tubs for seed and grain storage at a cost of
Rs. 2 crore provision Rs. Per unit for food processing. 10 lakh under the Central Government's scheme for assistance of Rs. 2 crore provision To encourage seed producing farmers, Gujarat State Seed Corporation has set up a foundation to provide assistance for certified seed production at a cost of Rs. 2 crore provision To meet the needs of effective backward and forward linkages through a plan for development of agri and food processing clusters, Rs. 50 crore provision. In order to encourage farmers to engage in natural farming with the objective of making Dang a completely chemical free farming district, Rs. 10 thousand and in the second year Rs. 3 thousand financial assistance scheme for Rs. 2 crore provision.
Provision of Rs. 20 crore for Organic Agriculture Market Scheme for direct sale of organic and natural farming based fruits and vegetable products by farmers of the state in urban areas of Ahmedabad, Vadodara, Surat and Rajkot. For the purpose of providing timely weather based guidance to the farmers, Rs. 12 crore provision. In order to encourage the farmers to get information about the pest through timely survey of disease and pests for effective control, Rs. For mobile crop clinics in 10 districts of the state on an experimental basis. 2 crore provision.