In Ahmedabad, today afternoon Gujarat Congress leaders and partymen held Jan Vedna Andolan against BJP government highlighting current and burning issues of downfall of economy with 4.5% GDP rate, price rise and unemployment at its high of 40 years. Issues of rape cases, liquor prohibition,non payment of crop insurance,copy cases in GPSC exams were also raised by Congress leaders.
Congress reminded forecast of Dr Manmohan Singh about worst effect on Indian economy after demonetization. GDP rate has fallen from then 7.8 % to now 4.5 %.
The Andolan was held opposite to Ahmedabad Collector Officer.
Congress leaders including Gujarat Congress President Amit Chavda, Paresh Dhanani, Incharge Rajeev Satav, Ashok Gehlot former General Secretary of Gujarat and Rajasthan CM, Arjun Modhwadia, Shaktisinh Gohil, Tushar Chaudhary, Madhusudan Mistry, Siddharth Patel, Hardik Patel, Rohan Gupta,Amiben Yagnik and Manish Doshi were on the dias.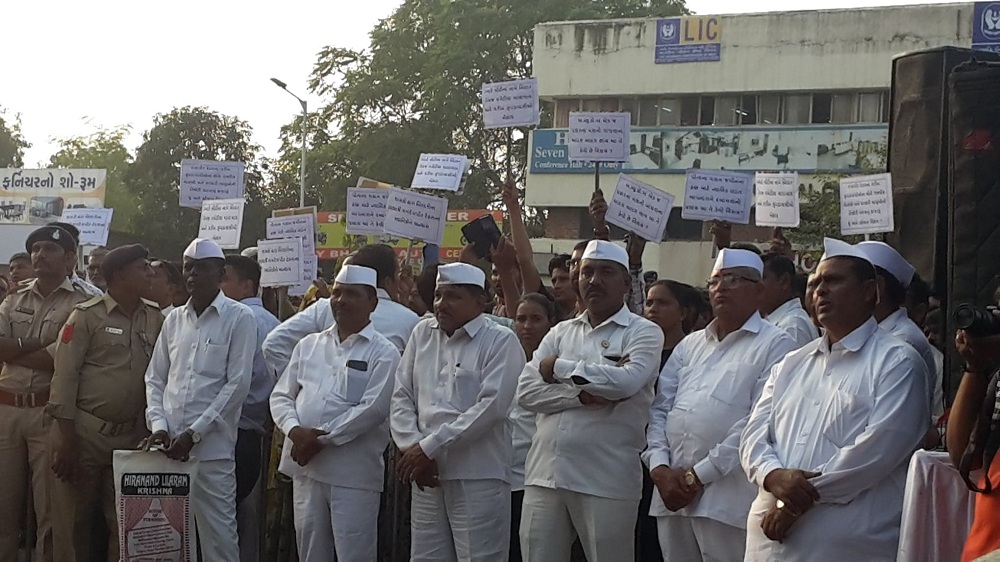 Congress leaders criticised that this government does are wrong things in night like demonetization, GST impelmentation and illegally forming government in Maharashtra.
Shaktisinh slammed government and said Khata Nahi Aur Khane Nahi Deta wale person is missing now.
Andolan was well received but remained peaceful.