Cyclone Biparjoy Live Updates: A cattle-rearer duo of father and son died while trying to save their goats stuck in a flooded ravine in Bhavnagar district on Thursday.
A man and his son died trying to save their livestock in Gujarat because of cyclone Biparjoy on Thursday. In addition to the two deaths, three people were injured in nearby Devbhoomi Dwarka district. About 1 lakh people evacuated in the western state after weather officials issued a red alert warning. The cyclone is now moving towards Rajasthan on Friday, causing heavy rainfall in Jaisalmer, Ajmer, Udaipur, and other southern districts.
Cyclone Biparjoy is centered 30 km from Bhuj in Gujarat. IMD said. "Biparjoy will convert into a deep depression over Saurashtra and Kutch and adjoining areas with 50-60 kmph to 70 kmph," IMD added.
The National Disaster Response Force (NDRF) is resuing cyclone-affected people in Gujarat.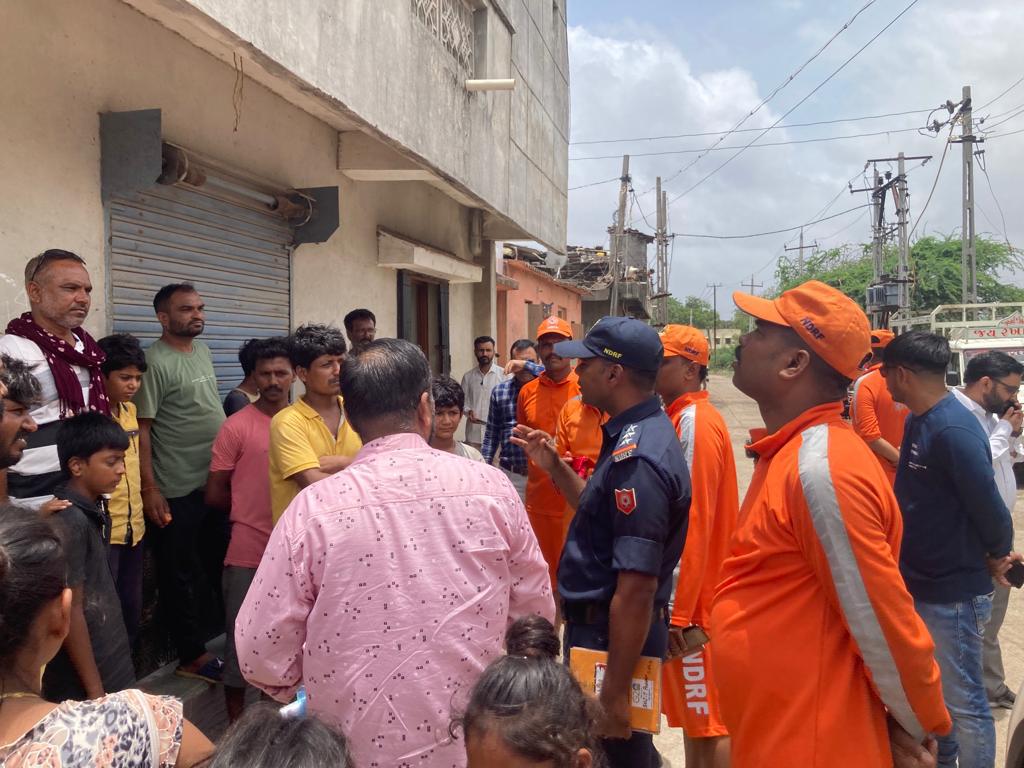 Rajasthan braces for cyclone Biparjoy deploys 8 SDRF teams
Rajasthan government has deployed eight companies of the State Disaster Response Force (SDRF) in Jaipur, Kota, Bharatpur, Udaipur, Ajmer, Jodhpur, Bikaner, and one company of the National Disaster Response Force (NDRF) in Kishangarh in Ajmer district as precautionary measures as cyclone Biparjoy moves toward the southern part of the state.
The local administration in the affected districts has also made preparations, such as the arrangement of pumps and deployment of civil defence and disaster management teams, because of the "red" and "orange" alerts.
India Meteorological Department has sounded an 'Orange alert' for parts of Rajasthan — Barmer, Jalore, Jaisalmer, Sirohi, Jodhpur, Pali and nearby places — and predicted heavy to very heavy rainfall on Friday.
Cyclone 'Biparjoy' is expected to weaken further by Friday morning and move into a 'depression' in the subsequent evening, the India Meteorological Department (IMD) said today in the wee hours
IMD officials said that the 'severe' cyclonic storm Biparjoy lay centred over the Saurashtra-Kutch region and is expected to move northeastwards, adding that heavy rains are expected in Rajasthan on Friday.
"The severe cyclonic storm Biparjoy lay centred over the Saurashtra-Kutch region, 30 km north of Naliya as of 0230 IST today," IMD said in a tweet.
"It is expected to move northeastwards and weaken into a Cyclonic Storm by early morning on June 16, and into a depression by the same evening over south Rajasthan," it said.
IMD Director Mrutyunjay Mohapatra said that the cyclone has now moved from sea to land and is centred towards Sauarashtra-Kutch.
"Cyclone Biporjoy moved northeastwards and crossed the Saurashtra-Kutch adjoining Pakistan coast close to the Jakhau
Two people died before landfall, says NDRF
There were no casualties after landfall. 24 animals have also died. 23 people have sustained injuries. Electricity supply has been interrupted in about a thousand villages. 800 trees have fallen. It is not raining heavily anywhere except Rajkot: NDRF
2 trains cancelled, 1 train short-terminated and 2 trains short-originated today
With this, a total of 100 trains have been cancelled so far, 40 trains have been short-terminated, while 40 trains short-originated as a precautionary measure, in view of the safety of passengers & train operations, in view of cyclone Biparjoy: Western Railway