Eight COVID-19 patients died in a fire that broke out in the intensive care ward of a private hospital in India's western city of Ahmedabad early on yesterday at 3 am in ICU ward, officials said as they launched a probe into the tragedy.
Police stopped angry relatives from entering the Shrey Hospital located in Navrangpura area of Ahmedabad after the tragedy which, according to emergency services, was caused by a medical staff member's personal protective equipment (PPE) catching alight. A staffer whose PPE caught fire ran out of the ward to douse it but the fire spread rapidly to the whole ward said fire officer of the Ahmedabad Fire and Emergency Services.
https://www.facebook.com/gujaratheadlinenews/videos/2391295564504415/

Five men and three women, who were undergoing treatment for the novel Coronavirus could not escape. They died due to smoke and heat caused by the fire he said. Prime Minister Narendra Modi of India in a tweet said he was saddened by the tragic hospital fire in Gujarat.PM has suggested for financial support and Gujarat CM has ordered enquiry in the tragic incident and sought report within 3 days. Sangeeta Singh, Additional Chief Secretary, Home Department, Senior IAS Officer of Gujarat and Mukesh Puri, Additional Chief Secretary, Urban Development Department has appointed to conduct enquiry of the incident.
https://www.instagram.com/p/CDiJvYuHUE3/
https://www.instagram.com/p/CDiJTm7HYpO/

On probe by AMC and Fire Officers, shocking fact was revealed that Fire Safety equipments were of expiry date of year 2009. FIR For the tragic fire incident which happened in night was lodged in the afternoon.
In a shocking revelation it was found that the Hospital did not have Fire Safety Certificate issued by AMC. However the Hospital was made Covid Hospital during Covid-19 outbreak.
AMC authorities including Sanjay Srivastava, Rajiv Gupta , Commissioner Manoj Kumar and Fire Officers had called high level of meeting.
Gujarat Congress has criticised the tragic incident of eight persons burnt alive in fire incident in Ahmedabad based hospital.
Hospital owner Bharat Mahant is arrested by Navranpura police of Ahmedabad , Bharat is said to have political influence in BJP Bharatiya Janta Party.
Today Shrey Hospital was sealed by authorities after the fire incident.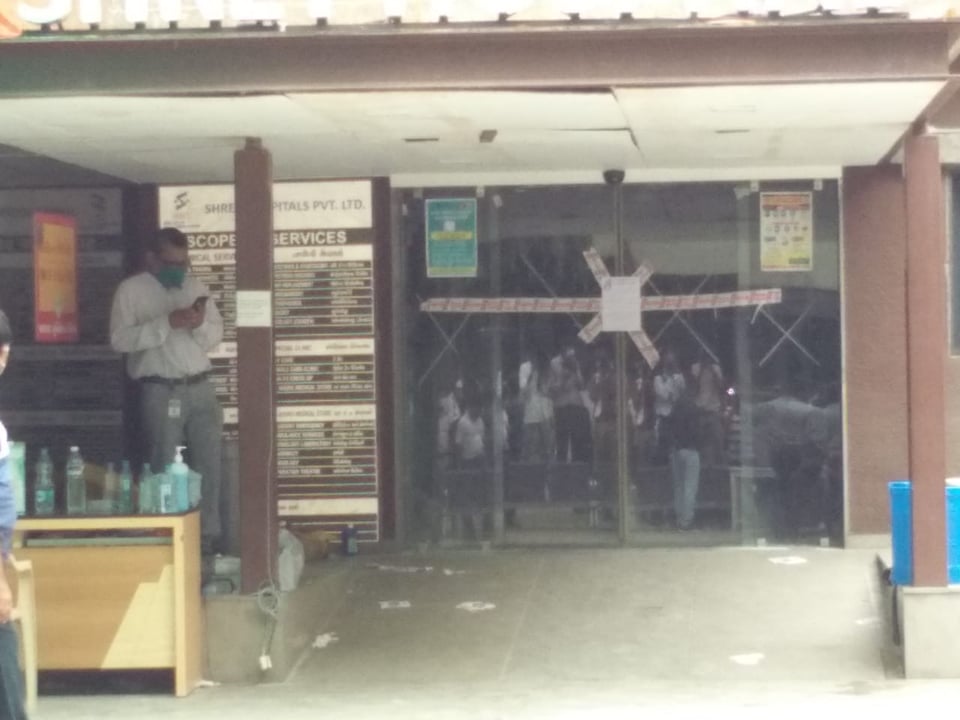 As per media source.