By Darshana Jamindar
Today afternoon oath ceremony of Gujarat cabinet ministers was held in capital city of Gandhinagar. The oath ceremony was administered by Gujarat governor Devvrat Acharya.
Following ministry / departments were allocated to cabinet minister (independent charge) and state level ministers including chief minister. Twenty five new cabinet ministers included in the cabinet.

Prime Minister Narendra Modi and Union Home Minister Amit Shah congratulated new cabinet ministers of Gujarat.


Bhupendra Patel : General Administartion, Administrative Reforms and Planning, Housing and Police Housing, Information and Broadcasting, Capital Planning, Urban Development and Urban Housing, Industry, Mines and Minerals, Narmada, Ports, All Policies and any other Ministry unassigned

CABINET MINISTERS

Rajendra Trivedi : Revenue, Disaster Management, Law and Justice, Statutory and Parliamentary Affairs
Jitu Vaghani : Education (Primary, Secondary and Adult), Higher and Technical Education, Science and Technology
Rushikesh Patel : Health Family Welfare, Medical Education, Water Resources and Water Supply
Purnesh Modi : Road and Building, Transport, Civil Aviation, Tourism and Pilgrimage Development
Raghavji Patel : Agriculture, Animal Husbandry, Cow Breeding
Kanu Desai : Finance, Energy, Petrochemicals
KiritSinh Rana : Forest, Environment, Climate Change, Printing and Stationery
Naresh Patel : Tribal Development, Food and Civil Supplies and Consumer Protection
Pradipsinh Parmar : Social Justice and Empowerment
ArjunSinh Chauhan : Rural Development and Rural Housing Development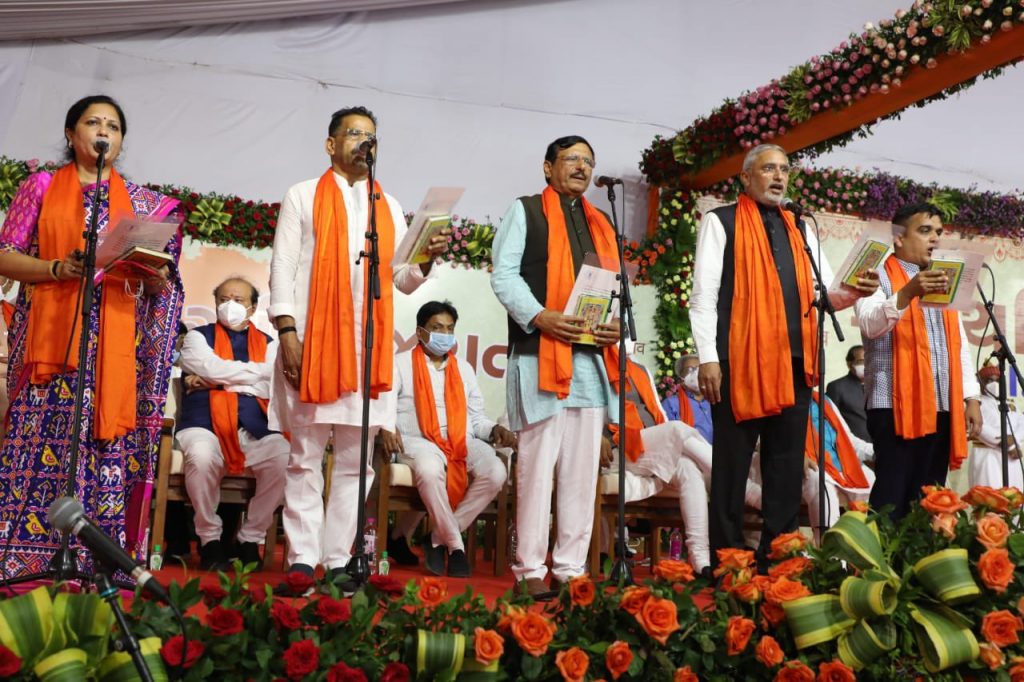 MINISTER OF STATE (INDEPENDENT CHARGE)

Harsh Sanghvi : Sports, Youth Service and Cultural Activities, Coordination of Voluntary Organizations, Division of Non-Resident Gujarati, Home Guard and Village Guard, Civil Defense, Drug Enforcement, Excise, Prison, Border Security (Independent Charge), Home and Police Housing, Disaster Management
Jagdish Vishwakarma : Cottage Industry, Co-operation, Salt Industry and Protocol (Independent Charge), Industry, Forest Environment and Climate Change, Printing and Stationery
Brijesh Merja : Labor, Employment, Panchayat (Independent Charge), Rural Housing
Jitu Chaudhary : Kalpsar and Fisheries (Independent Charge), Narmada Water Resources and Water Supply
Manisha Vakil: Women and Child Welfare (Independent Charge), Social Justice and Empowerment

STATE LEVEL MINISTERS

Mukesh Patel :Agriculture, Energy and Petrochemicals
Nimisha Suthar: Tribal Development, Health and Family Welfare and Medical Education
Arvind Raiyani : Transport, Civil Aviation, Tourism and Pilgrimage Development
Kuber Dindor : Higher and Technical Education, Legislative and Parliamentary Affairs
Kirtisinh Vaghela: Primary, Secondary and Adult Education
Gajendrasinh Parmar: Food, Civil Supplies and Consumer Protection Matters
R.C. Makwana : Social Justice and Empowerment
Vinod Mordiya : Urban Development and Urban Housing Development
Deva Malam : Animal Husbandry and Cow Breeding