* Dandi to Dilli 1300 kms Motor Cycle Rally representing NCC's Journey from Salt to Software Self-Reliant India
Today morning Gujarat Chief Minister Bhupendra Patel flag off 1300 kms Motorcycle Rally from Dandi to Dilli as a symbol of self-reliant India's journey from salt to software. NCC National Cadet Corps Cadets participate in 1300 kilometer Java-Yezdi motorcycle rally starting from Gandhinagar for Delhi. As part of celebration of 75th year of foundation of NCC, a cycle rally was organized by NCC Directorates of Gujarat, Dadra-Nagar Haveli, Daman and Diu from Sabarmati Ashram to Dandi.
The NCC cadets of cycle rally reached Dandi, where the cadets of motorcycle rally from Dandi to Delhi joined and these NCC youths prepared salt in Dandi. The NCC software has been developed by Bhaskaracharya National Institute of Space Applications and Geo Informatics-Biseg, Gujarat. State Governor Acharya Devvrat had earlier presented salt and software to NCC cadets in a function held at Raj Bhavan in Gandhinagar. Now 30 cadets with this salt and software will reach New Delhi as a motorcycle rally and will present this salt and software to Prime Minister of India Narendra Modi on 28th January. State Chief Minister Patel flag off this rally from Gandhinagar to Delhi.
Under inspiration and guidance of PM Narendra Modi, a self-reliant India has developed an arts from salt to software, while youth of NCC will spread new consciousness, new enthusiasm and new passion among the youth wherever they go as a motorcycle rally with this message said CM Bhupendra Patel. Expressing the hope that this motorcycle rally from Dandi will strengthen spirit of unity and integrity on the way to Delhi, the Chief Minister applauded national love of NCC students.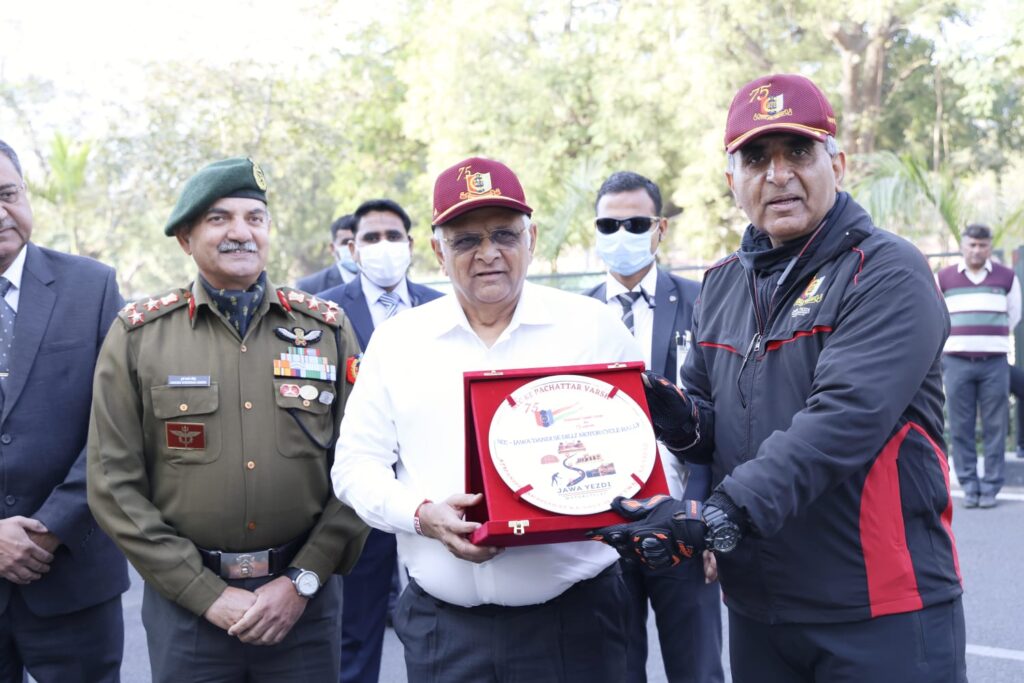 On the occasion, Principal Secretary Education Haider, Additional Director General of NCC Gujarat. Major General Arvind Kapoor and other senior officers and NCC students were present.