Today in Ahmedabad new General Secretary and Incharge Gujarat Congress Mukul Wasnik , GPCC President Shaktisinh Gohil,Ex GPCC President Arjun Modhwadia, Ex GPCC President Amit Chavda, Shailesh Paramar, spokesman Manish Doshi,Hiren Banker and other partymen were present.
GPCC Incharge Mukul Wasnik and GPCC President Shaktisinh Gohil addressed Congress partymen and slammed BJP government.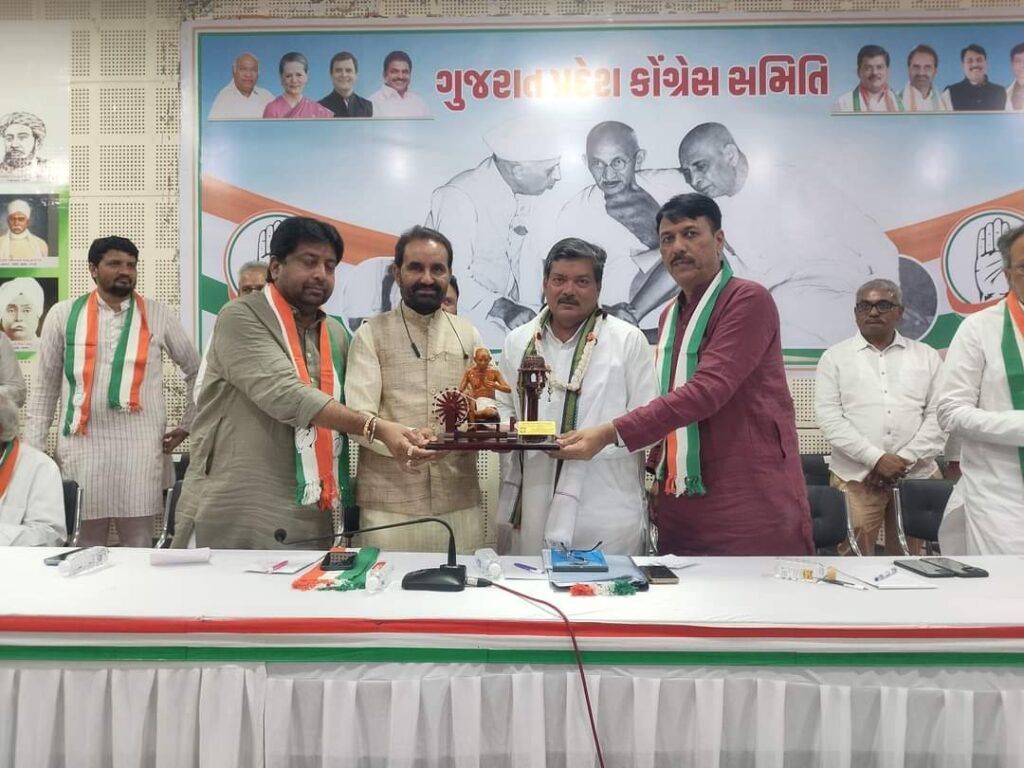 Incharge Mukul Wasnik said In coming days, organization of Gujarat Congress will be made more stronger, with assigning of specific responsibilities at taluka-district and regional level. Talented People will be given a place in the organization with proper responsibility and accountability. In upcoming Lok Sabha elections 2024, Congress party will keep its commitment to 'Go To The People',  programs of approaching public, for positive results like shocking results of 2004. Due to anti-people policies of BJP Bharatiya Janta Party government ruling in Gujarat for 27 years, common man, middle class, women, farmers and youth of Gujarat are upset. For last several years, the incidents of atrocities on people belonging to Dalit, tribal, deprived and minority communities are increasing in the state. Whereas the conviction rate in it is much less than national average rate. Atrocities are being committed on women in rule of BJP government who talks about women empowerment.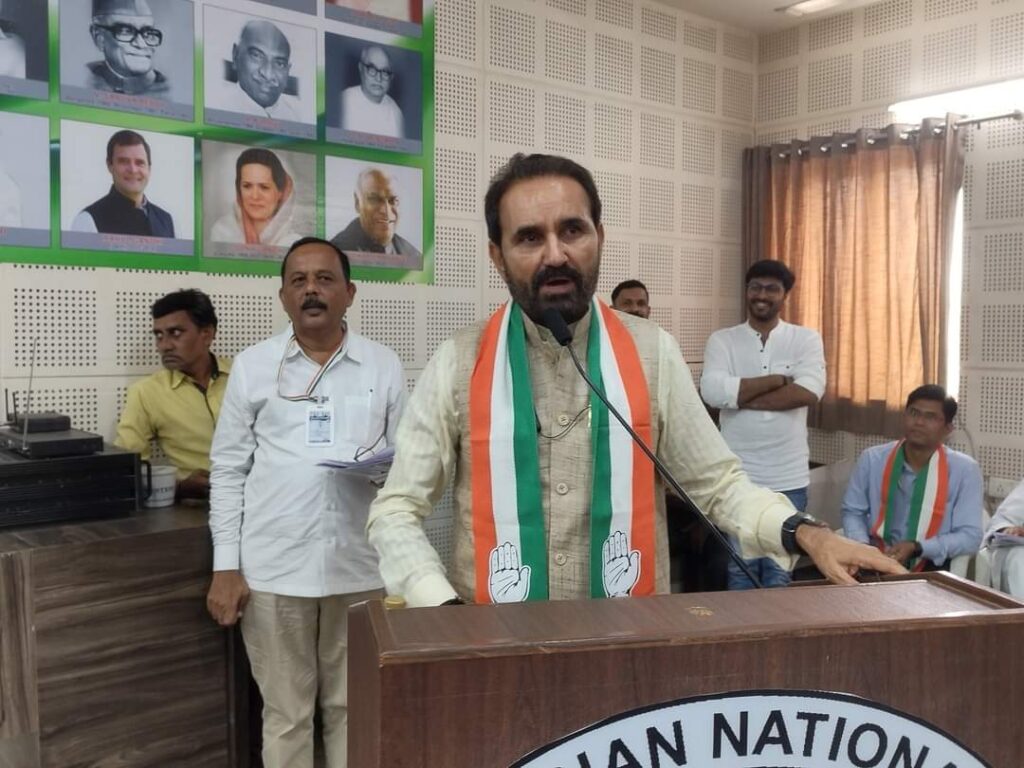 In Manipur state, women were paraded naked, which has never happened in the history of India, even though Prime Minister did not utter a single word, which is a very serious matter. Whenever there are incidents of rape-murder-atrocity on a woman, it is like an attack on India's pride, dignity and pride. Due to leak of government recruitment papers including TET-TAT, Junior Clerk, Talati, Energy Department in the state, BJP's big shots are exposed in the matter of tampering with future of lakhs of youth. In spite of widespread complaints of irregularities in the recruitment of Talati, Gram Sevak, Sachivalaya Clerk, Gujarat Electricity Board, Nayab Chitneesh, Chief Maid, BJP government is protecting culprits and on the contrary trying to make the complainants as accused. Even more "widespread recruitment scam" bigger than "Vyapam Scam" of Madhya Pradesh is taking place in Gujarat under BJP rule.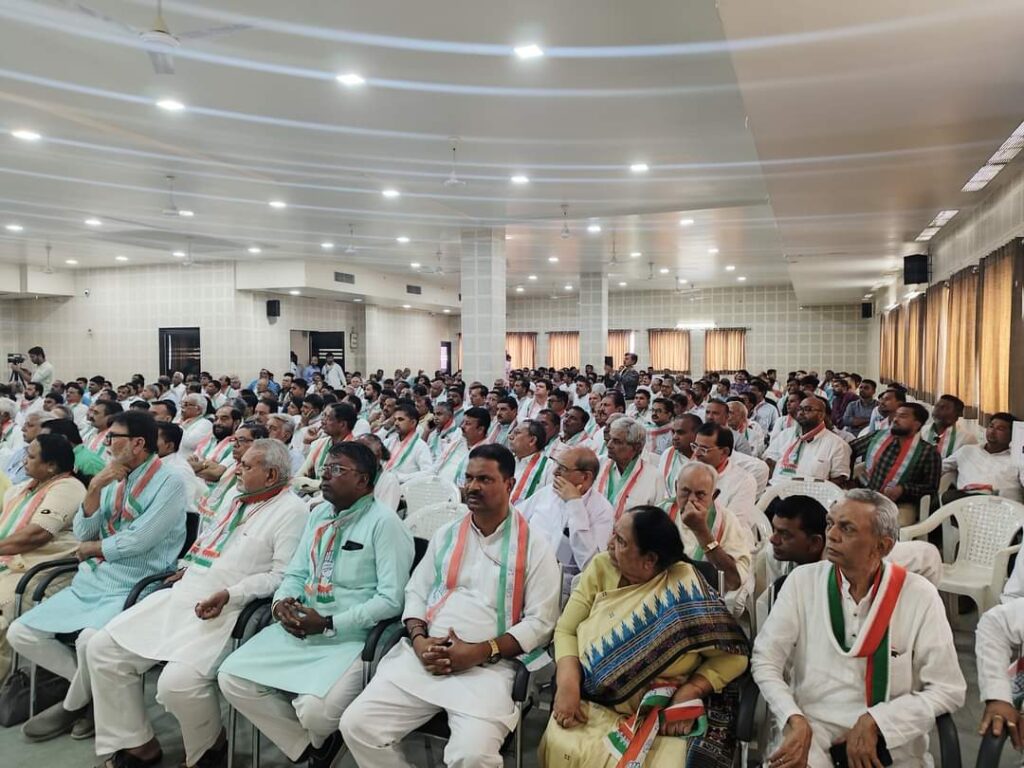 Today, 47.51 lakh farmers of Gujarat have a total debt of more than Rs 1 lakh crore, while the total debt of about 16 lakh crore farmers in the country is Rs 21 crores. There is an average debt of Rs 1.35 lakh on each farmer of India, whereas farmers of Gujarat have a debt of Rs 56868. Youth of state should get employment with dignity. Congress party will fight against economic exploitation in the name of fixed salary, contract outsourcing as well as Anganwadi, Asha workers Ladies, mid-day meals workers. Corruption in government jobs-recruitment should stop.
Newly appointed In-charge of Gujarat Congress Organization, and Senior General Secretary of AICC and MP Mukul Wasnik of Gujarat Pradesh Congress Committee. Thanked party high command and warm welcome by Gujarat Pradesh Congress Committee President.
Congress MP and GPCC President Shaktisinh Gohil said that BJP government is looting government treasury for the benefit of 'friend' industrialists, scams worth crores of rupees happen and the government turns a blind eye, the time has come to ask for an account of it. Long queues of Demonetisation, small businessmen caught in the trap of GST, farmers committing suicide, families are facing difficulties.
​