Gujarat Police will now be equipped with Body Worn Cameras, taking a step forward towards intensifying security and law enforcement by Gujarat police.
Demonstration of Body Worn Camera held at GCCI in the presence of Minister of State for Home Pradipsinh Jadeja of Gujarat.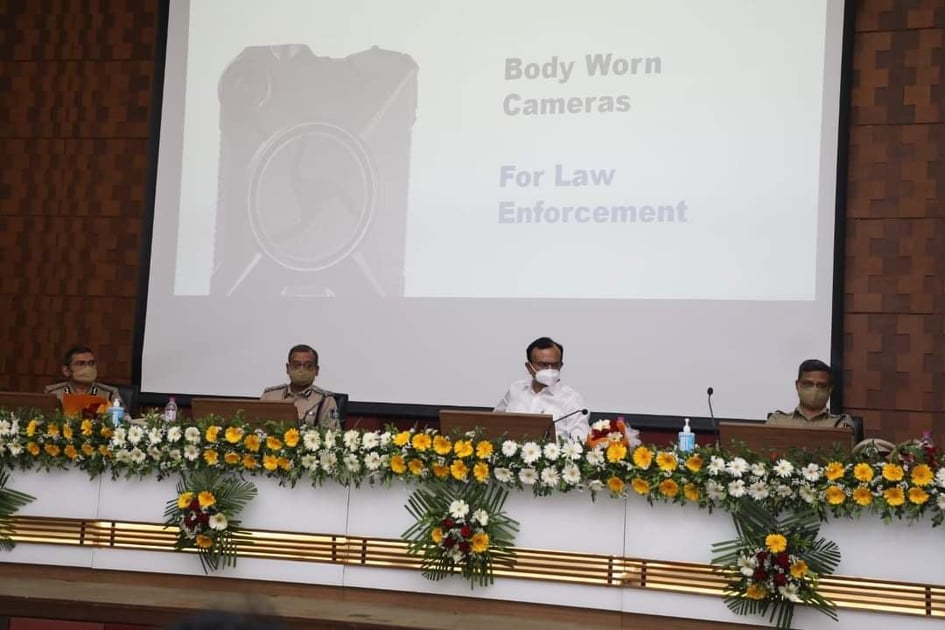 A press conference was held on demonstartion of Body Warn Cameras.
State Agencies including Traffic Police, Crime Branch will use body worn cameras Body Worn Cameras in daily work or operation.
Minister of State for Home Affairs Pradipsinh Jadeja "Gujarat is the first state in India to make extensive use of Body Worn Cameras": Minister of State for Home Affairs Pradipsinh Jadeja
10 thousand cameras will be operational.
• Body Warn Cameras will communicate discipline to the police-public. New uses of technology will make it easier to catch criminals
• Gujarat government allocates Rs 7,960 crore in law and order budget
Minister of State for Home Affairs Pradipsinh Jadeja "Gujarat is the first state in India to make extensive use of body warfare cameras," he said on the occasion. The initiative will not only make the state's police smarter and sharper, but also enable them to investigate serious crimes more effectively with the help of technology upgrades.
This camera will prove to be an effective weapon in the peace and security of Gujarat, he added. Describing the usefulness of 'Body Worn Camera', the Minister said that it would be possible to use this 'Body Worn Camera' on police uniforms, helmets or other attire in various police operations like traffic regulation, law and order, VVIP security. Explaining the role of technology in the police force, he said that in the changing times, not only growth of manpower in police force will work, but also the modern technology has to be used.
Gujarat is a leader in the expansion and modernization of police service in the entire country, and concrete steps are being taken in this regard in the state. Giving an example, he said that from 2017 to 2020, the Gujarat government has recruited 30,419 youths in the cadre from Lokrakshak to Police Inspector and this year the state government has allocated Rs. 7,960 crores.
HM Jadeja elaborated on the amendments made to the law for peace and security in the state and said that for the safety of sisters and daughters, the state government has expressed its commitment to amend the anti-drug laws and punish the criminals. He also said that the Gujarat Land Grabbing Prevention Act has been enacted to curb anti-social elements in Gujarat.
Home Minister further added that the state government has submitted the Gujarat Goons and Anti-Social Activities (Prevention), 2020 to the Honarable President for approval to crack down on goons. Outlining a series of measures being taken by the state government for the peace and security of people in the state, the minister said that under the 'Vishwas' project, district headquarters, religious places and the Statue of Unity across the state have been equipped with more than 7,000 cameras. On this occasion, the Minister of State for Home Affairs also mentioned eGujCop App, which is important in modernization of Gujarat Police Department. He said that this digitization project of the police force has been appreciated at national level.
He added that the 'pocket cop' project has an important place in police modernization. The use of modern technology has been widened to further strengthen Gujarat police force. Home Secretary Nipuna Torvane, Chief of State Police – Ashish Bhatia, Additional DGP of Law and Order and Police Modernization Narasimha Komar, Ahmedabad City Police Commissioner Sanjay Srivastava and other senior police officials were present on the occasion.