Gujarat Rajya Sabha election result: Congress demands countermanding from EC of two votes
Today evening all the eyes are glued to Gandhinagar in Gujarat over a tough political contest between BJP Bharatiya Janta Party and Congress over the results on 3 seats of Rajya Sabha seats.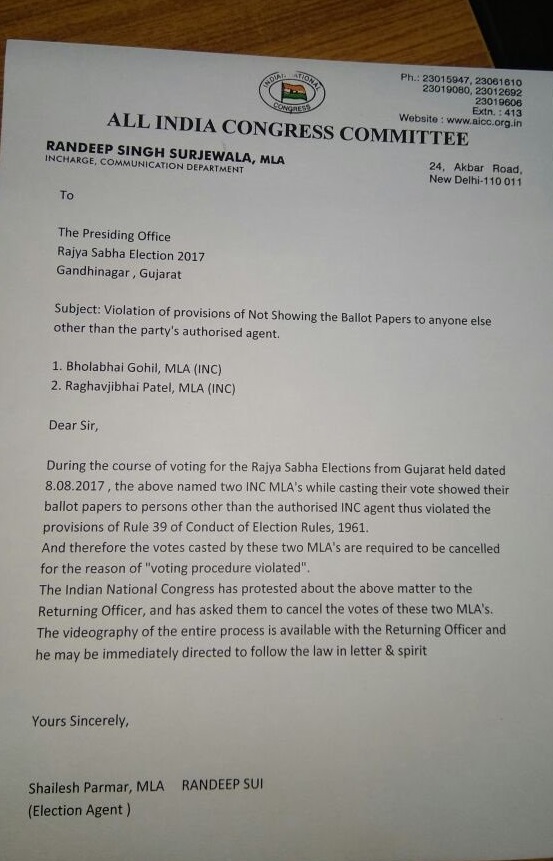 From Congress Ahmed Patel and from BJP Amit Shah, Smriti Irani and Balvantsinh Rajput. Total 176 MLAs casted their votes using Ballot Papers.

As far as 2 NCP votes are concerned, 1 vote has fallen to Congress and other to BJP. Chhotu Vasava says he has casted his vote in favour of Congress.

After 5 pm vote counting was to start but Gujarat Congress came to know that 2 of their MLAs Bhalbhai Gohil and Raghavji Patel opened their vote publicly and then casted their votes.

Congress demanded to demanded to countermand 2 votes of Congress MLAs.
Gujarat Congress has written to Presiding Officer to check on Video Recording quoting similar situations happened in Haryana and Rajasthan states in election.
In Delhi, meeting of Working Committee is going with representation from both the parties BJP and Congress.