Hardik Patel on fast unto death: Hardik visited by Bihar ex CM
Today on 9th day of his fasting Patidar Leader Hardik Patel
was visited by former Bihar Chief Minister Jitram Manjhi.
Bihar ex CM said that if one has a larger support then he will be able to have social justice.

Manji inquired about his health.
Yesterday more than 50 youth shave off their head and played Ram Dhun in Aravalli in support of Hardik.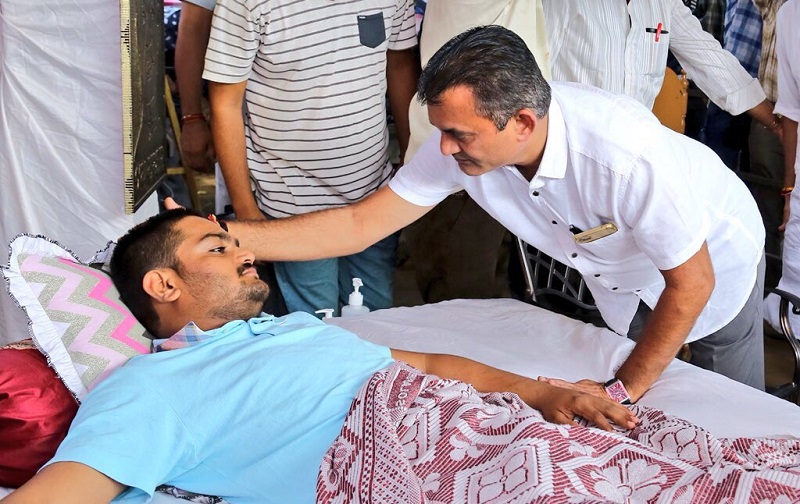 Also, opposition leader Paresh Dhanani visited Hardik and inquired about his health. He showed faith in Congress saying that it would bring some bill in Assembly protecting interest of Gujarat farmers.
मेरे निवास पर आए लोगों पर ज़ुल्म और लाठीचार्ज बंद नहीं होगा तब तक मैं सरकारी या किसी भी डॉक्टर से चिकित्सा जांच नहीं कराऊँगा,पूरे प्रदेश से आए किसानों पर लाठीचार्ज किया एवं उनकी गाड़ियाँ जप्त की जा रही हैं,डर का माहोल खड़ा किया हैं।गांधी और सरदार का गुजरात लाचार होता जा रहा हैं।

— Hardik Patel (@HardikPatel_) September 2, 2018
Hardik denied to take treatment from government, till the atmosphere of fear ends and lathi charge is stopped on peope trying to meet him at Greenwood resort.
His agitation Gujarat government for Patidar reservation and loan waiver of Gujarat farmers.