Under leadership of Prime Minister Narendra Modi and Union Home Minister Amit Shah, we will achieve goal of Surajya Amaro said CM Bhupendra Patel
Inauguration of 67th Bodakdev Police Station of Ahmedabad City was done by Gujarat Chief Minister Bhupendra Patel today morning. Government is committed to provide modern technology and equipment to Home Department. Appreciable performance of the police in cracking down on usury and drugs and ensuring that no innocent goes unpunished. Effective operation in last 100 days to bring out the citizens trapped in vicious circle of interest, more than 750 cases and arrest of about 500 criminals – Harsh Sanghvi. The newly constructed Bodakdev Police Station has drone camera units, cyber intelligence and narcotics task force facilities. Speaking on the occasion of inauguration of newly constructed Bodakdev Police Station of Ahmedabad City Police, Chief Minister Bhupendra Patel said that both Mahatma Gandhi and Sardar Vallabhbhai Patel gave our country Freedom, while duo of Prime Minister Shri Narendra Modi and Union Home Minister Amit Shah have given us sovereignty. He said that Gujarat government is always working so that people donot face any problem. Our goal is good governance with use of technology and modern tools under leadership of Prime Minister Narendra Modi. If the functioning and system of the police department is smooth, the results are good. Meanwhile, Gujarat government is also determined to provide modern technology and equipment to the home department.
The newly constructed Bodakdev Police Station is 67th police station in the entire Ahmedabad city, which is included in Zone 7 of Ahmedabad city. In the coming time, this police station will be expanded to 60,000 square feet by constructing a new building. The newly built police station has drone camera unit, cyber intelligence and narcotics task force facilities. Bhupendra Patel, as Chief Minister and MLA of the area, congratulated residents of this place, expressing his happiness for getting a new police station. He further added that responsibility of the police is like 'shooting an arrow and saving a bird'. Police is working in such a way that no innocent goes unpunished along with strict action against usury and drugs. For which entire Home Department deserves congratulations. As police is with people, it is necessary that people also support the police. The government is doing construction works including offices and housing in modern style to serve the people. It is expected that society will cooperate in building a safe society. Minister of Home Affairs Harsh Sanghvi, who was present on the occasion, said that goal of Home Department under leadership of Chief Minister Bhupendra Patel is to create an environment where no one has to come to the police station.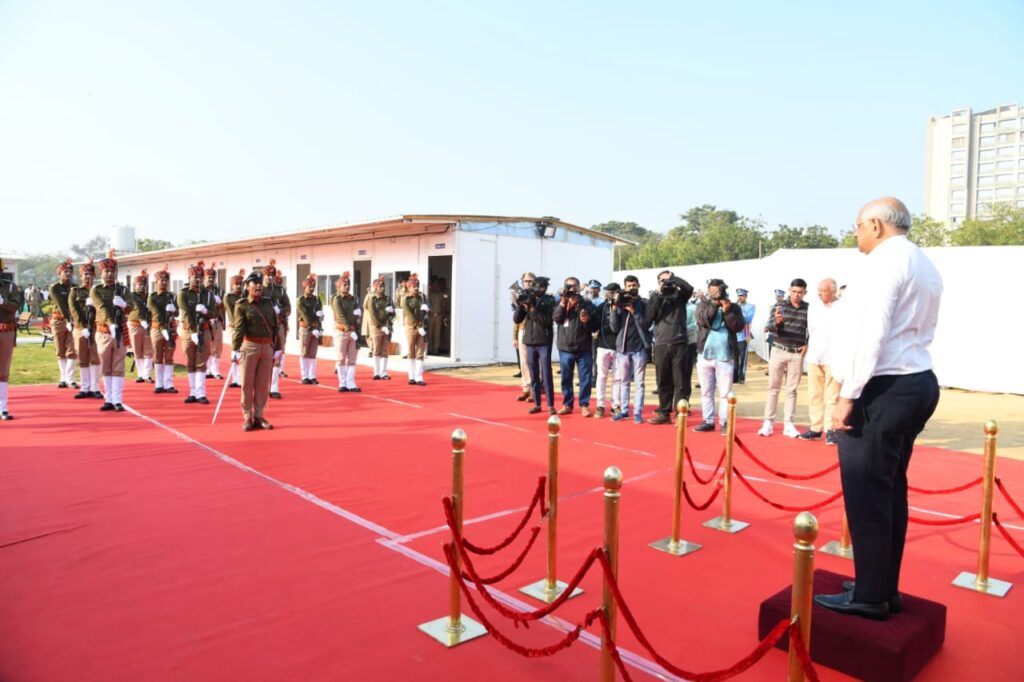 It was Chief Minister's idea to build a new police station here for peace and security of this area. Which has been realized with the support of Home Department and donors. He said that Bhupendra Patel, after getting responsibility as state Chief Minister, first gave instructions to conduct anti-drugs campaign. Gujarat Police has seized drugs worth Rs 9006 crores in last one year. Also, 46 Pakistanis involved in drug trafficking have been imprisoned. Referring to the statewide campaign against usury, Harsh Sanghvi added that more than 750 cases have been registered so far by holding Lok Darbars across the state and about 500 usurers have been jailed. He said that the police is not only working to arrest usurers but also taking action against those who deliberately try to mislead police by filing a false complaint. Effective work has been done in last 100 days to remove the citizens trapped in the vicious cycle of interest and to ensure that no one gets trapped. Police is also helping in availing various schemes of central and state government to meet the reasonable financial needs of the small traders. He thanked Chief Minister Patel for guiding entire government working for welfare of people.
Ahmedabad City Police Commissioner Sanjay Srivastav while giving a welcome speech on the occasion at inauguration of Bodakdev Police Station said that entire city is divided into several divisions and the police stations operating in each division are working for the peace, security and service of the public.
A new police station was required following maximum area covered by Ghatlodia, Sola and Vastrapur police stations in western part of the city. Bodakdev Police Station has been made operational in a few of these areas, I feel happy in making it public. He said that. It is duty of police that people of entire city can be assured of peace and security. In order to make people of the society living in western area feel safe and secure, it is equipped with the most modern digital facilities to accelerate the developed commercial area here and considering growing facilities on Sindhu Bhawan Road. The police station will help in curbing criminal activities in the area. He expressed such confidence. Chief Minister Patel inspected the various facilities constructed here on occasion of inauguration of the police station. First entry in station diary was made by the Chief Minister and first name in the visitors' list was also written by the Chief Minister.