BY DARSHANA JAMINDAR
Today AMC Ahmedabad Municipal Commissioner M. Thennarsan presented draft budget for the year 2023-24 before Standing Committee
Budget of Rs 8400 crores was presented against last year's draft budget of Rs.8111 crores
AMC Commissioner's draft budget proposes to increase all types of taxes
After 10 years, property tax of Ahmedabadis was increased
For residential properties per square meter Rs 7 increased to Rs 23
For commercial properties per square meter Rs 9 increased to Rs 37
No increase in water and conservancy tax for now
The current taxes came into effect earlier in 2013
For the first time in the matter of environmental protection, amc proposed to charge user
Environment improvement charge was also imposed on citizens
User charge proposed for residential properties ranging from Rs 5 to Rs 3000 depending on area
Charges proposed for commercial properties range from Rs 150 to Rs 7000 depending on the area.
New taxes were imposed to reduce the use of private vehicles by increasing the use of public transport services
Door-to-door garbage collection service charges have also been hiked
Rs 2 per day from the current Rs 1 per day for residential properties
Different rates are prescribed for commercial properties
Taxes were increased keeping in mind the rising costs of the system, various development projects and income
Only after discussion with the government, the provision of tax increase was made in the draft budget
The Standing Committee will amend the draft budget presented by the Commissioner and give final approval in the coming days

AMC Commissioner presented before the Standing Committee
AMC Commissioner suggests increase in property tax
Residential property tax increased from Rs.16 to Rs.23
Major parts of the budget
– Five railway lines will be made gate free
– Flyover Bridge at Panchvati Junction
– Flyover bridge at Mansi Junction
– Speed flyover bridge at Vast Junction
– Speed flyover bridge at Panjarapol junction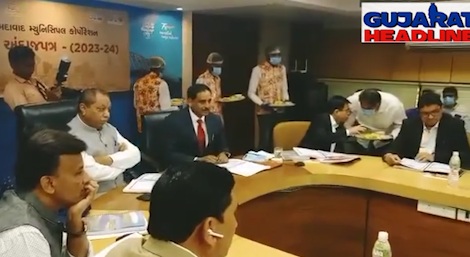 – Pedestrian Road from Nikol Raspan Char Road to Shelby Hospital – Pedestrian Road from Khokhra Circle to Anupam Cinema – Pedestal Road from Vastral Tanmay Bhajipav to Madhav School to Metro Rail
– Airport Circle to Indira Bridge Iconic Road – Airport Circle to Dafnala Circle Iconic Road – Visat Circle to Jundal Circle Iconic Road – Visat Circle to Tapovan Circle Iconic Road – Rajpath Club to SP Ring Road Iconic Road
– Storm water for rainwater drainage in Chandlodia, Oganaj, Gota area – Storm water will be laid on Science City Road – Three lakes, Sola, Bodakdev Mahila and Asarwa will be developed under Amrit Sarovar.
24×7 Water Supply Scheme in Ahmedabad
Applicable at Jodhpur, Sola Bhagwat Vidyapeeth, Bagban Party Plot, Tragad, near Nikol Bhojaldham and near Abjibapa flat
– Water will be supplied from water meter- Planning to supply water from water meter only for connections larger than half inch
– Waterpark as per taxbook for first 20 thousand liter consumption and charge separately for above consumption
– Planning to levy telescope based water charges for water consumption in excess of fixed water consumption
– New water distribution centers and networks will be established in Naroda Muthiya, Hanspura, Kathwara and Nana Chiloda areas.
– White topping roads will be constructed at 16 places
Travel and health service to Ahmedabadites
About 600 e-rickshaws will be placed on about 100 routes of BRTS – AMTS
– More than 2000 pedal assisted or e-bikes will be launched – 13 new urban health centers and one community health center will be created
21 new health and wellness centers will be built
– Fire stations at Chandlodia and Gota
– Community Halls in Jodhpur and Sarkhej
Renovation of the town hall will be done
– Re-development of Paldi Sanskar Kendra Heritage Building – Drainage line in central and eastern zone will be completely replaced
Two vegetable markets will be found in each zone making a total of 14 vegetable markets – City Square will be built near Vastrapur Lake – Food parks will be built at three different places – Reading rooms will be built at 21 places – 10 lakes will be developed – 12 new gardens will be built – 11 gardens will be developed
– Development of 6 crematoriums, 3 new ones – Beautification of 1.5 km heritage route road with cobalt stone – Barrage cum bridge between Torrent Power to Camp Sadar Bazar – Women hostels for working women in east and west zone – 1 she lounge for women per zone – Sound will be installed on the bridge near hospitals and schools – Automatic parking, map and digital payment – Spat parking – 25 Kadianaka area will be developed – Drainage and water system draft and final master plant will be made this year keeping in mind the requirement of year 2050
In residential Rs. 23 and in non-residential Rs. suggested an increase of 37
Property tax has increased. In which currently per square meter is 16 rupees for residential, 28 rupees for non-residential. By amending it, the Commissioner has suggested a new increase. 23 rupees for residential, 37 rupees for non-residential. In the budget presented by the Commissioner of Ahmedabad Municipal Corporation for the year 2023-24, for the first time, user charges have been proposed as environment improvement charges. This suggestion has been made keeping in mind that urbanites should use public transport more and pollution in the city will spread less. The Commissioner has suggested this user charge as citizens do not use public transport and use their own vehicles and cause pollution. In which it has been suggested to charge from Rs 5 to Rs 3000 per square meter in residential properties and from Rs 150 to Rs 7000 in non-residential properties.