By Darshana Jamindar
MEIL serving India with its Indigenous Rigs supply to ONGC
The rig, which became operational on Wednesday, is part of an order for 47 drilling rigs worth Rs 6,000 crore
Of the remaining 46 rigs, two are being assembled in oil fields of Rajahmundry, while the remaining rigs will be supplied to ONGC oil fields in Assam, Tripura and Tamil Nadu
In a big boost for the government's flagship Make in India programme, Megha Engineering & Infrastructures Ltd (MEIL) said on Wednesday that its first indigenously-developed oil drilling rig has started operations in ONGC's Kalol oil fields in Ahmedabad, Gujarat. With this, MEIL has become the first company in the private sector to manufacture and use oil rigs, the company said in an official statement. The rig, which became operational , is part of an order for 47 drilling rigs worth Rs 6,000 crores.
MEIL continues to do well in terms of its growth year on year and also in terms of improving efficiencies and project delivery times. I am sure that this comes as no surprise to any of you. My hearty congratulations to all the team members for keeping MEIL on an aggressive growth trajectory year after year. Right from the inception of the company, with the exception of only one year, we have consistently maintained a growth rate of 20 to 30 percent.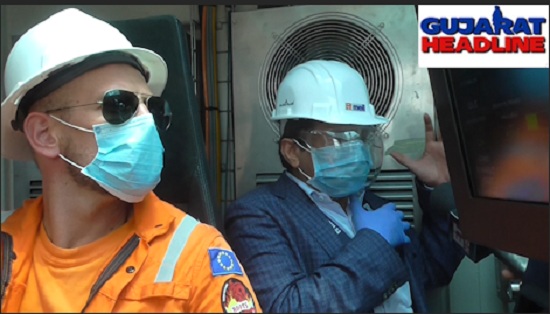 In the coming years – as clients expect more and more from MEIL – the pressure to perform will definitely increase. The only way to handle this pressure of increased expectations is to work with a sense of ownership and belonging.
In the past, my vision was to achieve a turnover of 100 crores. In due course of time, we achieved it. Then we gradually climbed to 1000 crores in a span of 3-4 years. We achieved this success with the support of all team members. We took initiatives and we took risks. Gradually everything paid off. When we had experience in just 33 kV line, we started bidding tenders for 765 kV line. We were always prepared to go the extra mile. With the same mindset and zeal, we entered into new sectors and accomplished engineering wonders. We succeeded on 95% of the occasions, let it be transmission lines, oil & gas, or power generation. After reaching 1000 crore, I never really thought about my vision in monetary terms. I told myself that I have a big family, (the MEIL family) to support me at all times. Back then, we were about 1000-1500 employees. I promised myself that I will strive to give the best in the industry to all the MEIL family members.