Preethi Kitchen Appliances, the brand endorsedand guaranteed by every customer; and pioneer in Kitchen Appliances category product innovations, today inaugurated its first Exclusive Preethi lounge in Star Bazaar, Ahmadabad. The new lounge is an exclusive branded retail store where Preethi's entire range of  products will be displayed for customers' choice. Preethi recently expanded its business to Gujarat with a strong vision and mission to capture the market leadership position across the state. As in other markets, the company's three pillars – Quality, Innovation and Service – will help to lead in the market.
The Preethi Guarantee Shop-a first of its kind exclusive store in India- is located on the 1st floor of Star Bazaar. The 760 sq. ft. store will offer the complete range of Preethi products. Preethi at the helm of the kitchen appliances industry in the country enhances customers' lifestyle by offering a diverse range of high standard designs and concepts.The Preethi-Philips merger has helped Preethi move beyond just being a mixer grinder brand and the improvement in efficiencies across value chain has allowed the business to invest back in I&D (Innovation and Development) to deliver Meaningful Innovations to the Consumers.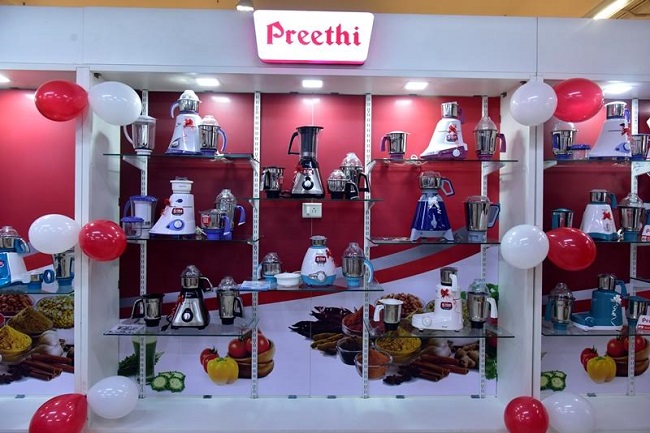 Inaugurating the exclusive store A. Gowarthanan, GM – Marketing, Preethi Kitchen Appliances said "We are excited to launch our first exclusive store in Ahmedabad. The store will act as an experience zone with live product demonstrations that will enable consumers to understand the superior quality and unique features of Preethi products. A special launch offer has been planned for the consumers with up to 25% discount on select range of Preethi products.""Preethi has been the No. 1 Mixer-Grinder brand in India due to our focus on three pillars of growth-quality, innovation and service. To strengthen the service for our consumers, we have dedicated Preethi owned service centres to provide excellent and quick service that will uphold the brand promise of Life Long Free Service." he added.
Commenting on the performance in Gujarat he said, "The kitchen appliances market size in Gujarat is estimated to be Rs. 500 Cr in the categories Preethi operates in. Gujarat is an extremely important market for our core categories like mixer-grinders, gas stoves and induction cook tops. In 2017-18, the West Zone is expected to be the largest contributor to the overall mixer-grinder sales with a significant contribution from Gujarat. Gujarat is also a crucial market for high end gas stoves where consumers are not hesitant to
spend more for products that will provide higher value. Additionally, Gujarat is the 2nd fastest growing market for Induction Cook Tops, thus, providing a pivotal reason for further expansion in this market.
In order to affirm the decision of expansion, we are also planning to customise our products to suit the Gujarati taste, cooking style and cuisines. Though we are only 2 years old in the Gujarat market, the strong support from our dealer network have helped us register a sturdy growth. We are bullish about our plans to consolidate our retail presence in Gujarat and this new exclusive lounge in Ahmedabad is a step in that direction. The Gujarat market with a strong dealer base holds strong expansion opportunities. We believe, Preethi has the potential to become one of the top players in the next few years in Gujarat."
Preethi mixer grinders have been exported to 18 countries worldwide and expecting strong growth potential through range expansion. Export business continues to grow with backing of Philips in markets of Middle East and parts of Africa where Preethi has leveraged the Distribution Strength of Philips.
Preethi, all through these years has been leading category innovations by establishing functional supremacy of its products with three state-of-the-art manufacturing facilities in Tamil Nadu and Himachal Pradesh. Its I&D facility is responsible for leading industry innovations in its portfolio and helps Preethi to retain the competitive edge in the category by offering unparalleled brand experience.