The culture of the Indian royals from the historic land of Hyderabad gets closer to home this Ramadan with the 'Dawat-E-Nizam' food festival at The Square by Novotel from May 10-19, 2019
Ahmedabad, May 10, 2019: The spicy and tangy in the delectable palate, the combination of the traditions of North and South India, the stir of the cultural diversity and linguistic sophistication – all blends in the same vessel known as Hyderabad. Perpetually locked in this city are the flavours, influenced by the Persian and Mughal cuisine, which over the centuries have embraced the authenticity of each ethnicity that brings its own spice to the platters.
Recreating the distinguished era of aromatically appeasing and appetizing fare, The Square by Novotel is all set to make your taste buds experience the real Hyderabad. 'Dawat-E-Nizam' begins from May
10, 2019, with a range of rich non-vegetarian options such as Murgh Dum Biryani as well as a complete spread of vegetarian choices such as Paneer pasanda, Lokey chenna, Kadhai sabzi, and much more. This
selection has been handpicked and prepared entirely by the chefs specially flown in from Novotel Hyderabad, Chef Mohammed Iqbal and Chef MD. Zahid.

"Being a benchmark in organising large scale food festivals on fresh themes, thoughtfully brought onboard from the corners of India, concocting and replicating the original flavours of another region
will be a mammoth task. But this time it isn't just the celebration of a theme or the festival of Ramadan, but our habitué", said Mr Ridul Deka, General Manager, Novotel Ahmedabad.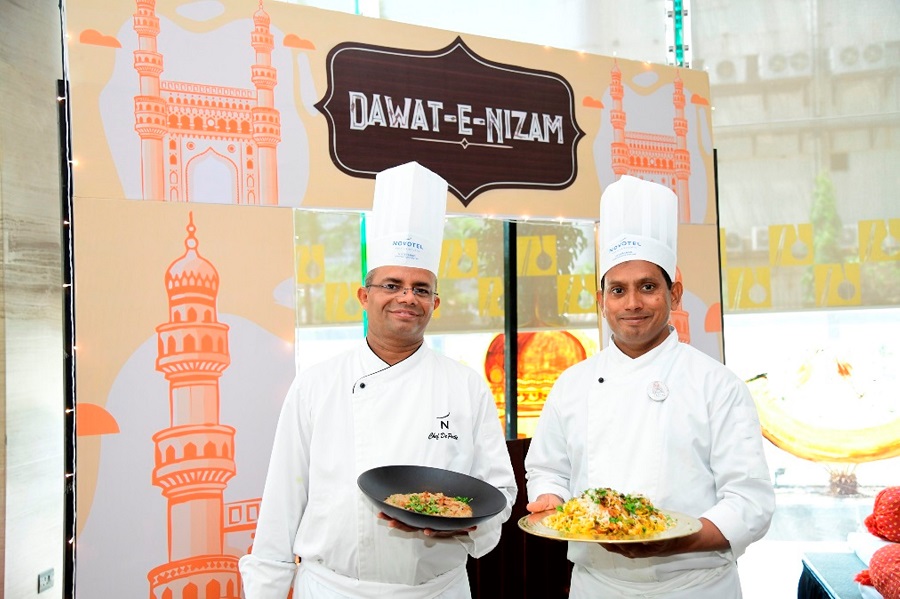 Moreover, to present the grandeur of the Nizami legacy of food in its truest sense, the placement of live counters for Haleem, Nalli ki Biryani and Patthar ka Gosht ensures to accentuate the piquancy. The
delicacies of Hyderabad will also be a part of the Sunday brunch served at the hotel.
Executive Chef at Novotel Ahmedabad, Mr. Ravi Shankar Sharma also highlighted the importance of the festival by saying that Ahmedabad has been oblivious to the Hyderabadi style servings, but the
distinctive taste of this cuisine, complete with the sweetness of Sheer Khurma and Badam ka Halwa, assures to entice their love for food, even more.