A Discourse by YSS/SRF President Sri Sri Swami Chidananda Giri on "The Transformative Power of Kriya Yoga" at YSS Noida Ashram (Feb. 26)
Noida, Feb. 26, 2023: Offering an oasis of peace nestled in the I.T. hub of Noida's electronic city, Yogoda Satsanga Society of India's Noida ashram became the venue of an uplifting spiritual discourse on "The Transformative Power of Kriya Yoga" attended by over 1250 devotees and friends.
The speaker, Swami Chidananda Giri, revered president and spiritual head of YSS/SRF, presently on a month-long visit to India from the Self-Realization Fellowship headquarters in California, USA, offered these words of inspiration during this special programme also live-streamed to a global audience of YSS and SRF devotees: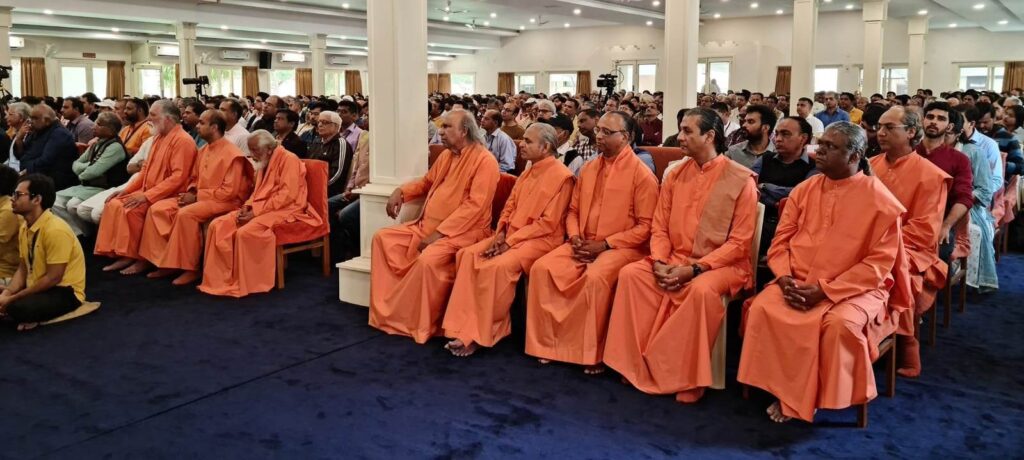 "By practising Kriya, and allowing the consciousness to dwell in that calm, still state it produces in us, intuition begins to develop. Kriya Yoga brings that energy into the cerebro-spinal centres, awakening those instruments of divine perception in the spine and the brain."

"We sit and we meditate and we realize we know what positive steps to take in any situation," Swamiji said, adding, "As we go along practicing Kriya year after year, decade after decade, it awakens in us those latent dormant powers of the soul. We have faculties — instruments of knowing that most people are not aware of. Kriya is there to awaken will power, the power to achieve, the power to concentrate, the power to resist negative influences in the world environment we have today, and the power to tap into the universal ocean of prana, of divine life, to bring well-being, to bring healing in body, mind and soul."
Drawing attention to the words of his Guru, Sri Sri Paramahansa Yogananda, on what India has given to the world, Swamiji said: "Since ancient times, India has prescribed a real art of living with the complete and balanced development of every human being. India's pragmatic philosophy shows that man's highest necessity is: one, permanent destruction of three-fold suffering — physical, mental and spiritual, secondly, positive attainment of ever-new joy."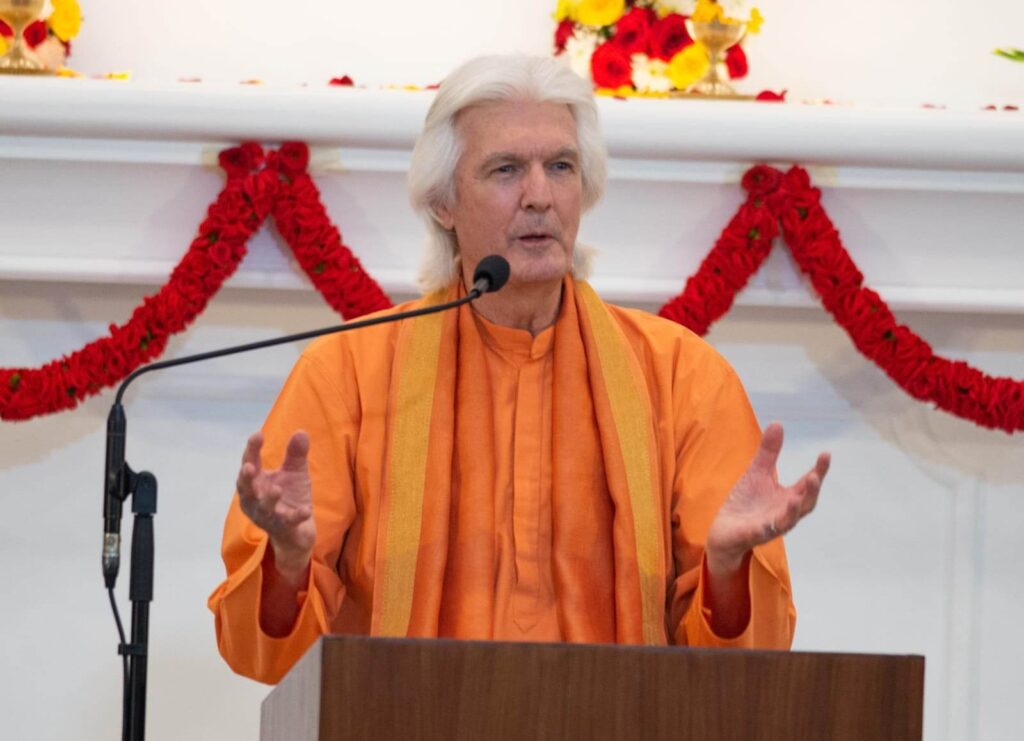 The way he showed to do that is through the practice of Kriya Yoga, shared Swami Chidanandaji, adding: "He (Yoganandaji) came to bathe the entire planet, the entire global human family in that enriching, purifying and rejuvenating flow of not just wisdom but practical techniques – practical methodologies for making our lives divine."
During the programme, the hardcover edition of "Yogi Kathamrit" — the Hindi translation of Yoganandaji's book, Autobiography of a Yogi was also released by Swami Chidanandaji. This book takes the seeker on an intimate, life-transforming journey into the world of spiritual inquiry and adventure. It is both a vivid account of an exceptional life and a profound introduction to the ancient science of yoga and its time-honoured tradition of meditation.
A management professional from Faridabad shared his takeaways from the talk: "Swamiji explained how we can burn the seeds of our karma through the practice of this Raja Yoga technique and break free from the lows and highs of modern life."
"I've been practicing Kriya Yoga for four years now, and it has helped me interiorize and develop devotion, bringing a sense of balance in my life as well as a sense of security that is unaltered by changing circumstances," said a young psychologist from Ahmedabad.
The spiritual organizations — Yogoda Satsanga Society of India and Self-Realization Fellowship were founded more than 100 years ago by the world-renowned spiritual master, Yoganandaji, who is the author of the best-selling spiritual classic Autobiography of a Yogi.
To learn more, visit: yssi.org/KriyaYoga
To view the live-streamed talk, visit: yssi.org/President-Noida