Yogi Adityanath visits poll bound Gujarat
Today Uttar Pradesh Chief Minister Yogi Adityanath visits poll bound Gujarat for 2 days.
Adityanath addressed people of Valsad at Pardi. Yogi Adityanath takes part in BJP's Gujarat Gaurav Yatra Taking on Congress did not bother to give Bharat Ratna to Sardar Patel when Atal BihariJi became PM he raised it added Adityanath. When there was a natural calamity in Gujarat, Rahul Gandhi escaped to Italy.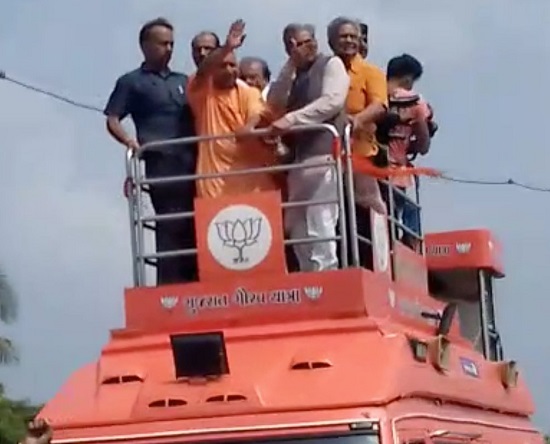 Gujarat's development is example for the nation, gives maximum employment iterated UP CM. We will implement Gujarat model in UP.
Adityanath said wherever Rahul goes to campaign, Congress loses.Even after ruling there for 14 years Rahul Gandhi did not facilitate building of a collectorate in Amethi.
SIMILAR LINKS "Yogi Adityanath"
Yogi Adityanath : Immorally district admin had denied permission for public meet under pressure from UP Govt https://www.gujaratheadline.com/yogi-adityanath-immorally-district-admin-had-denied-permission-for-public-meet-under-pressure-from-up-govt/
#UP CM #Yogi #Adityanath orders closure of #slaughter houses, bans #cow smuggling more at https://goo.gl/sHHycE #YogiAdityanath