Exactly after one month on June 20, Rath Yatra of Lord Jagannath will be taken out in Ahmedabad city.
In a big success to Ahmedabad Police, team lead by DCP Zone 5 Baldev Desai, there were notorious criminals hiding in Ahmedabad city who were absconding away from their localities after committing crimes. Ahmedabad Zone-5 DCP Baldev Desai got tip about these criminals were hiding in different places. He immediately formed a team of 65 policemen including 8 PI Police Inspectors, 13 PSI Police Sub Inspectors by uniting police officers of Zone 5.and executed a mega operation to nab culprits in wee hours. Police caught the criminals only when they had air in their main that no one could catch them.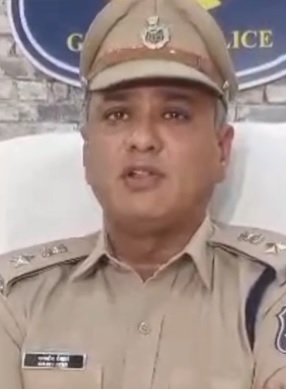 Over 49 Exiled and Wanted criminals from across the zone were nabbed overnight. DCP Zone 5 Desai successfully conducted the operation in Zone 5 which was once the most gangs-dominated zone of Ahmedabad city in which different gangs were committing crimes to spread their territory. The old and new criminals of this gang were absconding after committing a crime. Recently, DCP Zone 5 Baldev Desai came to know that some such criminals have come and hiding in five areas. So he immediately carried out a Secret Operation. The operation was carried out early wee hours, not in the day. In this operation, not in the day, but in the early dawn.
DCP instructed the team to go to house of each of the criminals, to trace their possible whereabouts and where from they could be lifted up. The challenging work was done by DCP Desai team. He has arrested and prosecuted as many as 49 accused in just one night.
Previously entire drive to arrest such criminals was going on ahead of Rath Yatra, DCP has done challenging work to put most of hardcore criminals behind the bars and chase them. In which combing was done in areas including Nikol, Bapunagar, Rakhial, Gomtipur, Amraiwadi, Khokhra, Odhav, Ramol in Zone-5 region of the city.
The entire operation was successfully carried out under the leadership of an ACP Assistant Commissioner of Police level officer. 49 accused were nabbed by different 13 teams during 4 to 5.30 in the morning across various areas. Out of which the police arrested 14 accused. Even 3 days ago, the police arrested 15 accused in Combing Operation in similar way. Police has arrested a total of 29 Exiled accused so far. On the other hand, Zone 5 police have registered 49 cases related to possession of small and large arms.