Gandhinagar – Asit Vora, Chairman of Gujarat Secondary Service Selection Board
Today I met Gujarat Chief Miniser Bhupendra Patel in person at 5 pm and resigned from my post as Gujarat Secondary Service Selection Board GSSSB Chairman. Asit Vora resigned today ahead of Non-Secretariat Head Clerk's examination to be held in March 2022.
He is Good Book of state government, there is a possibility of re-appointment in other Board Corporations in future.
No connection with Head Clerk paper leak said BJP spokesperson Yamal Vyas over Asit Vora's resignation as GSSSB chairman
The Paper leak scandal was raging in Gujarat. There was a serious case of tampering with the future of the students which led to AAP Aam Aadmi Party getting point of protest against govrnment. High command has ordered resignation of Asit Vora, Chairman of Gujarat Subordinate Service Selection Board, but the wait-and-watch policy was being adopted in view of certain aspects, which was finally fulfilled today.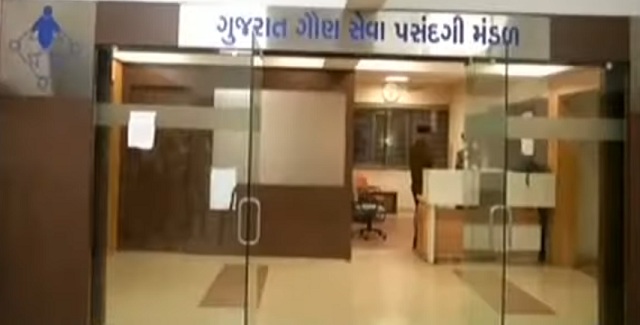 Today, Asit Vora has resigned as per the order of party High Command. In this whole issue, Asit Vora was also persuaded to resign in good faith and finally he has submmitted his resignation today. However, it can be said that the students got justice from his resignation. Following Paper leak scandal, High Command took note of the issue and decided to remove Asit Vora immediately. However, despite the decision being taken, there was a myth of political calculation behind not implementing it and a question of BJP's reputation. According to BJP insmates, party High Command had set stage for Asit Vora's resignation, but withheld the resignation of Asit Vora on the grounds that AAP Aam Aadmi Party's move would create a picture of political victory and BJP's mistake if the move was taken immediately,which has finally been completed today and Asit Vora has resigned. IK Jadeja and Balwant Sinh have also resigned from the board.

Paper Leaked in Head Clerk's examination held on December 12
Earlier, after GSSSB Gujarat Secondary Service Selection Board's examination paper for the recruitment of Head Clerk held on 12 December 2021 was exposed, the government was under pressure. After which there was a demand for removal of Asit Vora. Aam Aadmi Party and Congress workers across state staged protests over the issue. On the other hand, there were allegations that the government was harassing Asit Vora.
Two Paper leaks during Asit Vora's tenure
During tenure of Asit Vora, chairman of GSSSB, there were two incidents of paper leak. Most recently, a paper was leaked in the Head Clerk's examination held on 12 December 2021. Earlier in 2019 also, a paper was leaked in the examination of Non-Secretariat Clerk. Both the times Asit Vora was GSSSB chairman.
The examination of Head Clerk will be held on March 20
Recently, after paper was leaked by GSSSB Gujarat Secondary Service Selection Board, a new date for the examination of Head Clerk Class-3 was announced. The exam will now be held on March 20. Earlier, the examination of Head Clerk held in 2019 and on 12 December 2021 was canceled due to paper leak scandal.
Asit Vora's resignation was demanded by AAP and Congress
Aam Aadmi Party and Opposition Congress made serious allegations against Chairman Asit Vora in the paper leak scandal of GSSSB. Earlier, a meeting was also held with state Chief Minister Asit Vora in this connection. After police investigation, chairman of the board and owner of Surya Printing Press also came under suspicion and government also took action. At the end of 2021, 33 accused were arrested in the paper leak scandal of the examination conducted by GSSSB in Gujarat. Also Rs. 78,96,500 in cash was seized.
Ten competative exam papers leak scandal in 9 years
Recruitment of Chief Officer of GPSC: 2013
Revenue Talati Recruitment Examination: 2014
Chief Nurse: 2018
Deputy Chitnis: 2018
Police Lokarakshak Dal: 2018
Teacher Recruitment Test TAT: 2018
Non-Secretariat Clerk: 2019
Recruitment of Electrical Assistant in DGVCL: 2021
Sub-Auditor: October, 2021
Head Clerk: December, 2021
As per media source.