BY DARSHANA JAMINDAR
GTA, get ready to play Garba with the mesmerizing beats of Garba Queen, Aishwarya Majmudar…!!!
This Navratri, the sensation, the winner of Amul Voice of India, Aishwarya Majmudar's voice will impel you to play Garba…!!!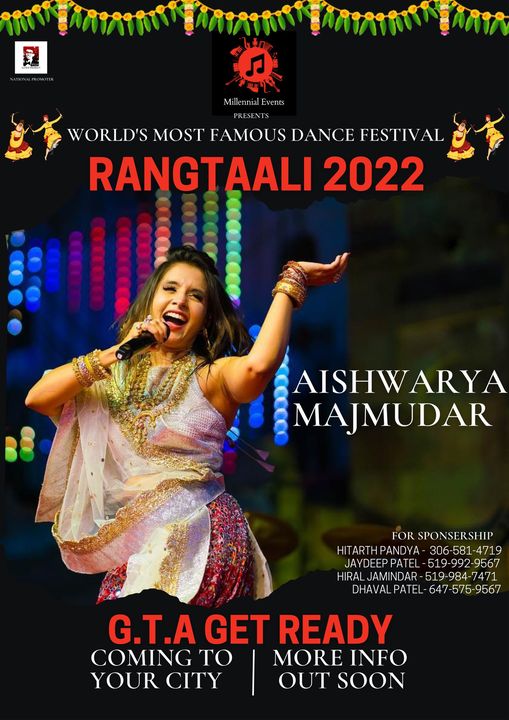 Millenial Events proudly presents Dandiya Queen Aishwarya Majmudar on 3rd and 4th September at Hamilton Convention Center.
Get ready to groove yourself on the Garba tunes!! Watch this space for more exciting news.
Tickets will be out soon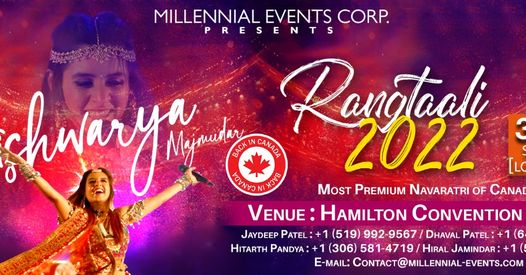 Reach out to us for any sponsorship, booth space, vendor stalls and banners.
Contact:
Hitarth Pandya: +1(306)581-4719
Jaydeep Patel:+1(519)992-9567
Hiral Jamindar: +1(519)984-7471
Dhaval Patel: +1(647)575-9567
Email: contact@millennial-events.com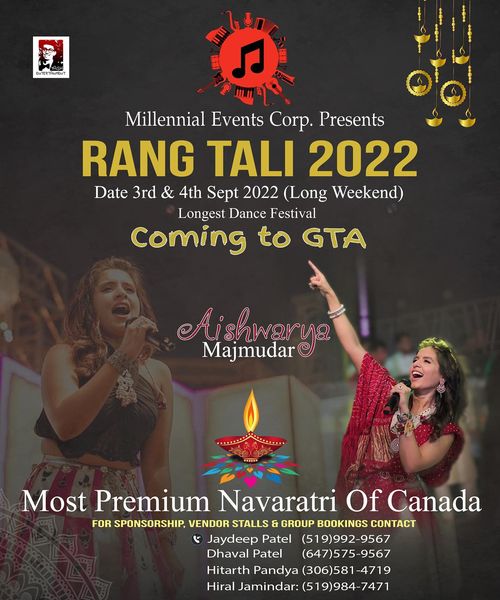 Millennial Events presents Rangtaali 2022…!!!
September 3 & 4, 2022 (Long Weekend)
For Sponsorships, Vendor Stalls & Group Bookings,…
ONTARIO — Are you ready for this??
THE WAIT IS FINALLY OVER!!!!!! Join us for the most premium Garba Night!!
TICKETS ARE LIVE NOW!!!! Buy your tickets online at- …
3rd September – https://events.sulekha.com/navratri-garba-rangtaali-2022_event-in_hamilton-on_361559 4th September – https://events.sulekha.com/navratri-garba-rangtaali-2022_event-in_shelton-ct_361763
NAVRATRI GARBA RANGTAALI 2022 WITH AISHWARYA MAJMUDAR at
https://www.facebook.com/reel/745197416913995
See more