Gujarat Secondary and Higher Secondary Education Board (GSHEB) Result of Class 10th (SSC) and Sanskrit Pratham Exam held in March-2023 have been declared on its official website of Gujarat Secondary and Higher Secondary Education Board www.gseb.org today on May 25 at 7-45 am instead of 8 am. The result was declared 15 minutes before the scheduled time.
Also the results were sent in WhatsApp message. Girls outperformed 11 % higher than boys this year.
Gujarat Board Class 10 Result has been declared today. SSC Students of Gujarat have done well in Mathematics which was evident in the results of Maths subject. Students have secured 100 out of 100 marks in class-10 exam.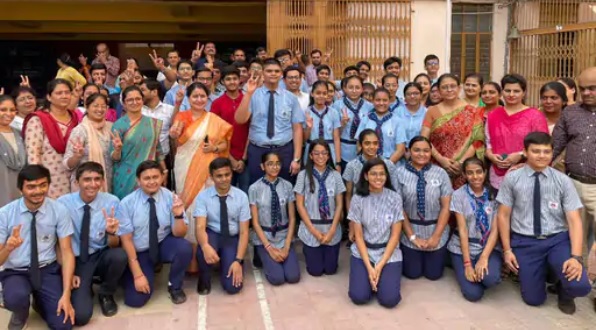 Apart from Mathematics, in Science and Social Science. also 100 out of 100 marks have also been secured in languages like Sanskrit, Persian, Urdu. However, not a single student has managed to get 100 marks in Gujarati in this regard. In Gujarati, the highest marks of 97 marks have come to a student. While in second language English, 48 students have got 99 marks. There are 96 marks in Hindi.
Center with the highest result was Kumbharia center in Banaskantha district with 95.92 percent and center with the lowest result is the rush center of Narmada district with 11.94 percent
District with the highest result is Surat with 76.45 percent and The lowest performing district is Dahod with 40.75 percent.
Gujarat Education Minister Kuber Dindor congratulated SSC class 10 students on their success in exam through a post in his twitter handle.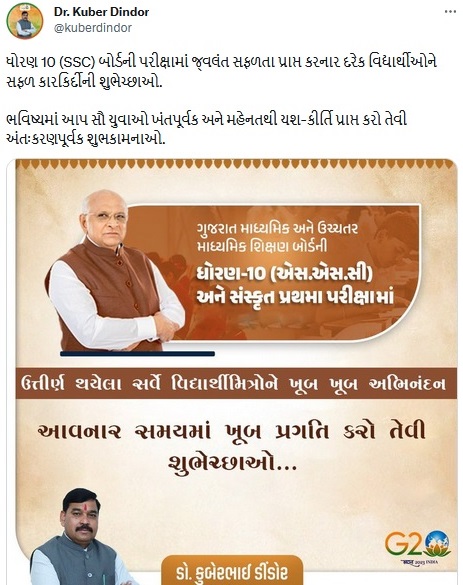 Percentage wise statistics
Number of schools with 100 % result are 272
Number of schools with less than 30 % result are 1084
Number of schools with 0 % result are 157
Number of students securing A1 grade are 6111
Number of students securing A2 grade are 44480
Number of students securing B1 grade are 86611
Number of students securing B2 grade are 127652
Number of students securing C1 grade are 139248
Number of students securing C2 grade are 67373
Number of students securing D grade are 67373
Number of students securing E1* grade are 3412
Regular male student result is 59.58 %
Regular female student result is 70.62 %

Medium of instruction wise result in percentage

Gujarati 62.11%
Hindi 64.66%
Marathi 70.95%
English 81.90%
Urdu 69.10%
Sindhi 100%
Oriya 90.77%
Subject wise result in percentage

Gujarati FL 84.60%
Hindi FL 89.78%
English FL 95.06%
Social Science 86.77%
Science 67.72%
Standard Maths 94.99%
Gujarati SL 89.73%
Hindi SL 87.34%
English SL 85.21%
Sanskrit SL 90.89%