White paper showing fact of repeated paper leak of various recruitment examinations of government departments should be presented: Jagdish Thakor

Hath thi Hath Jodo Pada Yatra held in Ahmedabad to spread message of love, goodwill and vital questions of people to all villages and towns of Gujarat: large number of people joined Pada yatra. Jagdish Thakor, President of GPCC Gujarat Pradesh Congress Committee, while inaugurating Hath thi Hath Pada yatra by offering tribute to statue of Mahatma Gandhi at historic Sabarmati Ashram, said that Rahul Gandhi started Bharat Jodo Pada yatra from Kanyakumari to Kashmir in September and walked 4000 kilometers across the country.Torch of unity and integrity is lit at every corner, a "Hath Thi Hath Jodo" yatra will be held to spread this message of love, goodwill and vital questions of the people to all the villages and towns of Gujarat. Jodo' walk was organized. Due to gross negligence and carelessness of the state BJP government, the occurrence of state government held competitive examination paper leak incidents is becoming common in Gujarat. Recently, question paper for recruitment of Junior Clerks was leaked due to which lakhs of unemployed youth of state became victims.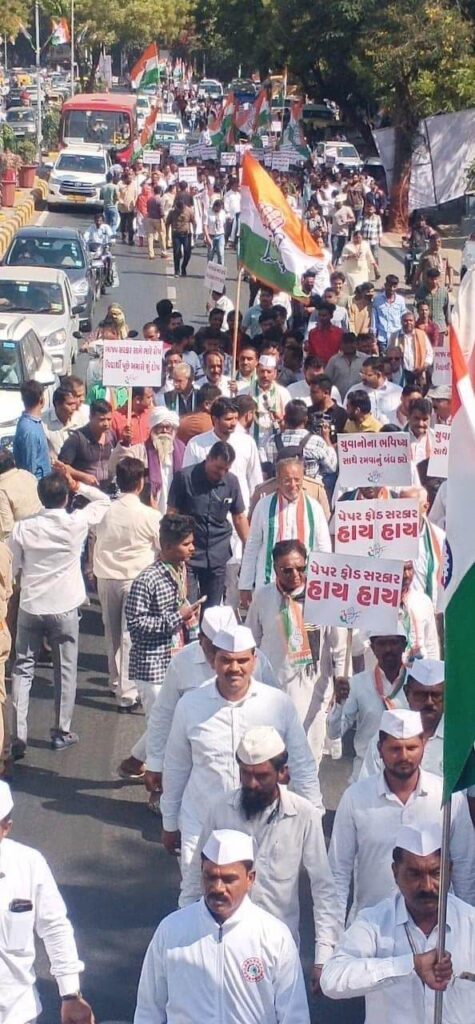 BJP government in the state is extremely insensitive to issues of youth. Lakhs of unemployed youth of the state already suffering from unemployment had to bear the expense, wastage of time and got hardship of appearing for written exam. This step of BJP government of state to increase plight of unemployed youth instead of making useful planning or policy is highly condemnable. The activist applicants who joined the pada yatra, citizens demonstrated play-cards with slogans such as "examination papers leak, youth's dreams broken".
As always, Congress party has been continuously active standing by people of state and voicing the people's questions. Under this circumstances, to express protest against the very serious and criminal acts of paper-leaking by BJP government, a symbolic rally-march from Gandhi Ashram, Sabarmati to Paldi Ahmedabad was organized by Gujarat Congress party for youth of Gujarat with the following five main demands. 1) white paper should be presented by government showing the fact of frequent paper leaks. 2) special court should be constituted for cases related to paper leaking and trial should be completed within one year. 3) Vacancy calendar of various departments of Gujarat Government should be announced.

Abolition of form fee for competitive examination and exam call letter should be considered as a pass for free transport in railway-bus.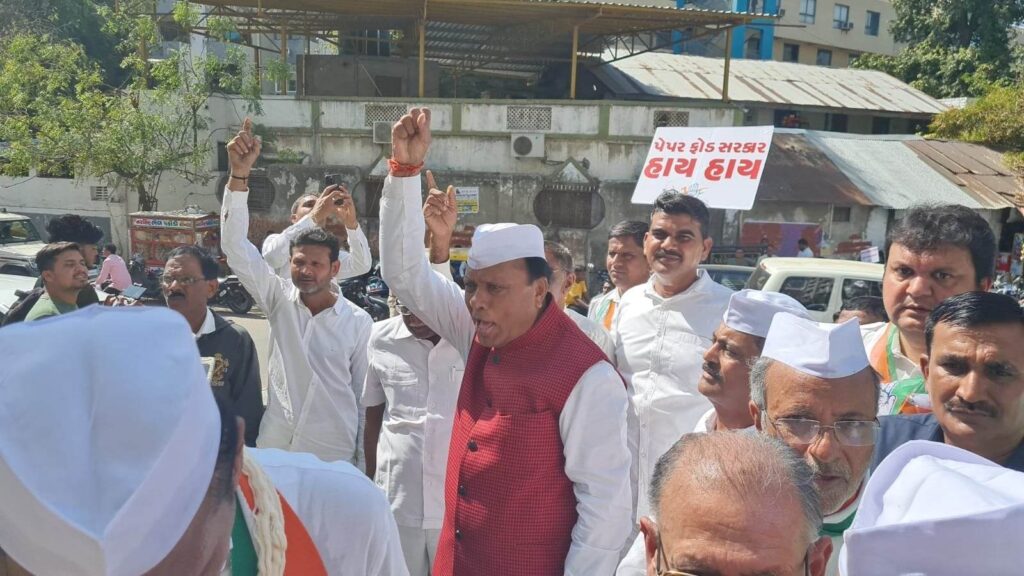 In 'Hath Thi Hath Jodo' yatra which started from Sabarmati Gandhi Ashram, Assembly Congress Party leader Amit Chavda, former president of Gujarat Pradesh Congress Committee Arjun Modhwadia, Siddharth Patel, former Union Minister Tushar Chaudhary, Working President of Gujarat Pradesh Congress Committee HimmatSinh Patel, Jignesh Mevani, Rutvik Makwana, Indravijaysinh Gohil, National President of Seva Dal Lalji Desai, MLA CJ Chavda, Imran Khedawala, Kirit Patel, Kanti Kharadi, GulabSinh Chauhan, Amrit Thakor, Dinesh Thakor, Former MLA ChandanSinh Thakor, Virjibhai Thumar, Senior Leader of Gujarat Pradesh Congress Committee Balu Patel, Kanu Kalasaria, Chandrika Chudasama, Vice President of Gujarat Pradesh Congress Committee. Jitu Patel, Bimal Shah, Gujarat Pradesh Congress Committee Media Convenor and Spokesperson Manish Doshi, Co-Convenor and Spokesperson Hemang Rawal, Spokesperson Hiren Banker, Amit Nayak, Nagji Desai, Gita Patel, President of Gujarat State Mahila Congress Jeni Thummar, President of Gujarat State Youth Congress HarpalSinh Chudasama, President of NSUI Narendra Solanki, Working President of Seva Praja Dal Kiranpati, Ahmedabad City Congress Committee President Nirav Bakshi, Large number of office bearers – leaders – district – taluka leaders – office bearers – activists of the region including Corporation leader Shehzad Khan Pathan joined the yatra.